A quick & easy breakfast idea for sleepovers, parties, holidays, brunches, large families and more.
If you're looking for breakfast ideas to feed a crowd, whether you have a large family or lot of people staying over for the holidays, this is the easiest way to make everyone happy.
In fact, you could make a couple of sheets and top each one a little differently; the topping options are endless. I prefer a variety of berries or chocolate chips with banana slices.
These pancakes do turn out quite a bit thicker and fluffier than traditional pancakes, so you really only need one or two pancakes per serving. I would say each sheet pan will feed about 8 people (unless you're feeding very large, hungry men or teenage boys).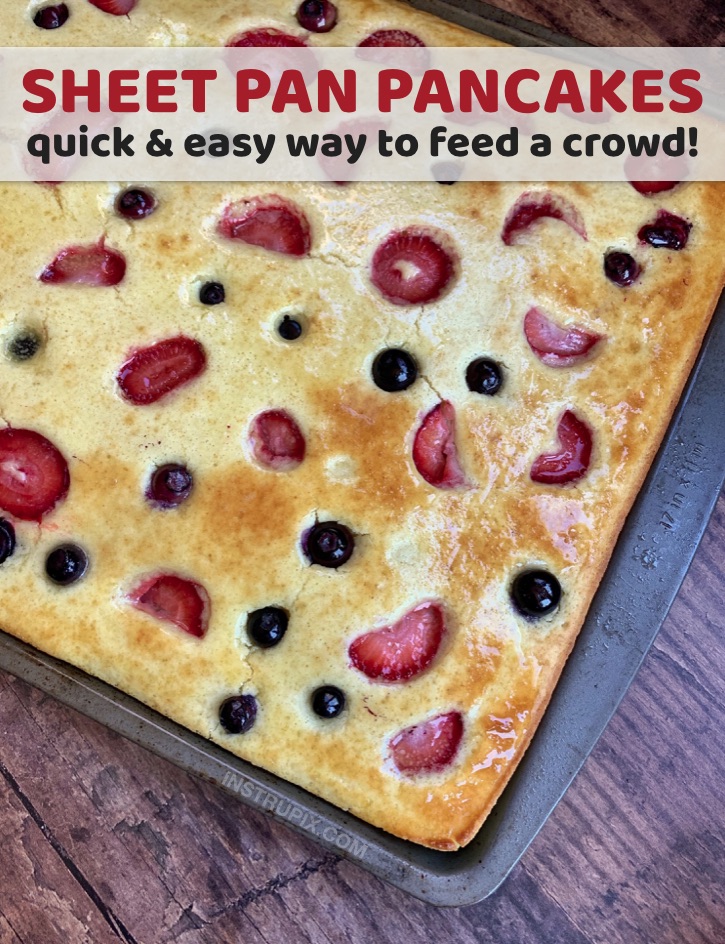 I know what you might be thinking: It's kind of intriguing, but why would I make pancakes in a sheet pan if I can just flip them on the stove?
The Benefits of Baking Pancakes in the OVEN!
It's quicker and easier.
It saves you from standing over the stove flipping one or two pancakes at time.
It's all done at the same time, so everyone can enjoy a hot breakfast together.
The butter is brushed on as soon as it's out of the oven, so no passing the butter tray around the table.
You can cut them to any size that you would like.
They taste just as good as regular pancakes, just a little more square. 🙂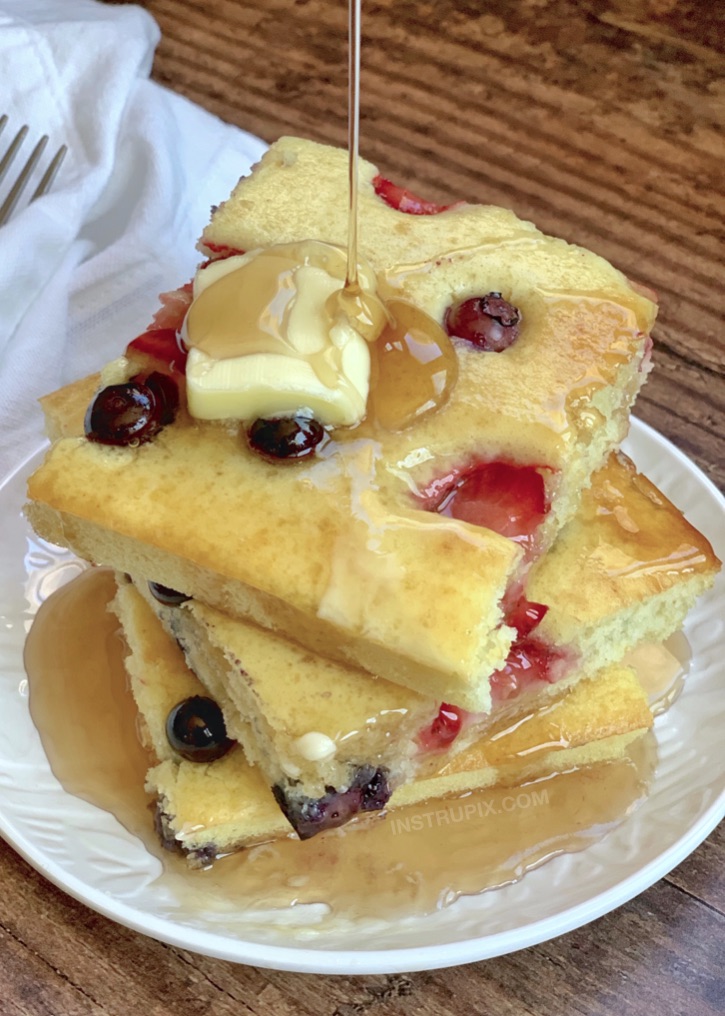 How To Make Sheet Pan Pancakes
Step 1Preheat your oven to 425 degrees and pour your pancake batter onto a large greased sheet pan.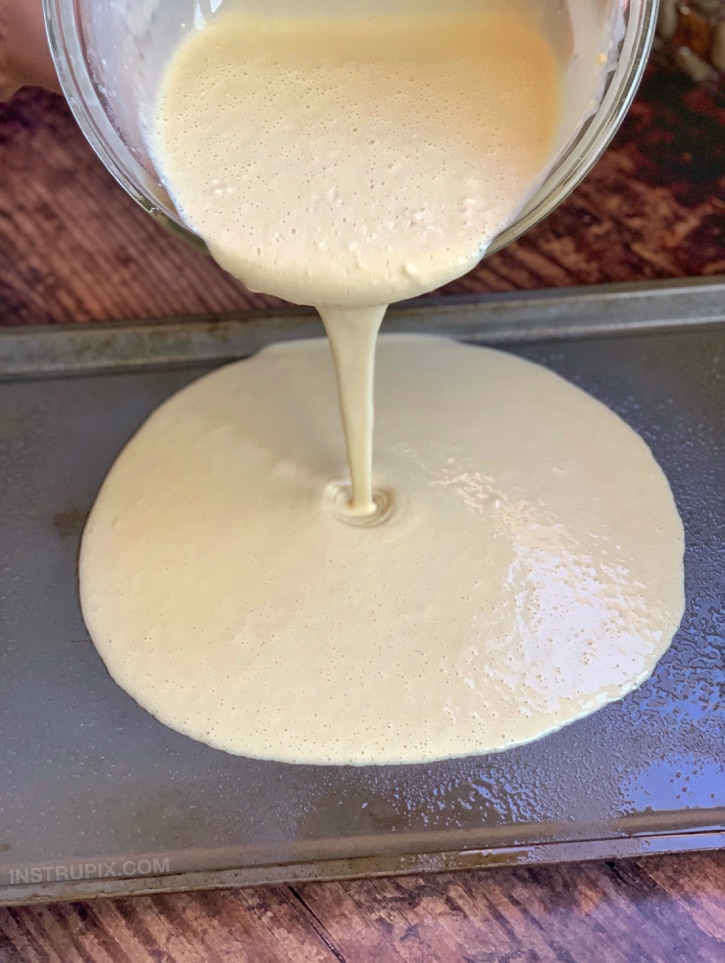 Step 2Top with anything you'd like such as berries, sliced bananas, chocolate chips, walnuts, cinnamon, or peanut butter. You could even choose different flavors for each half.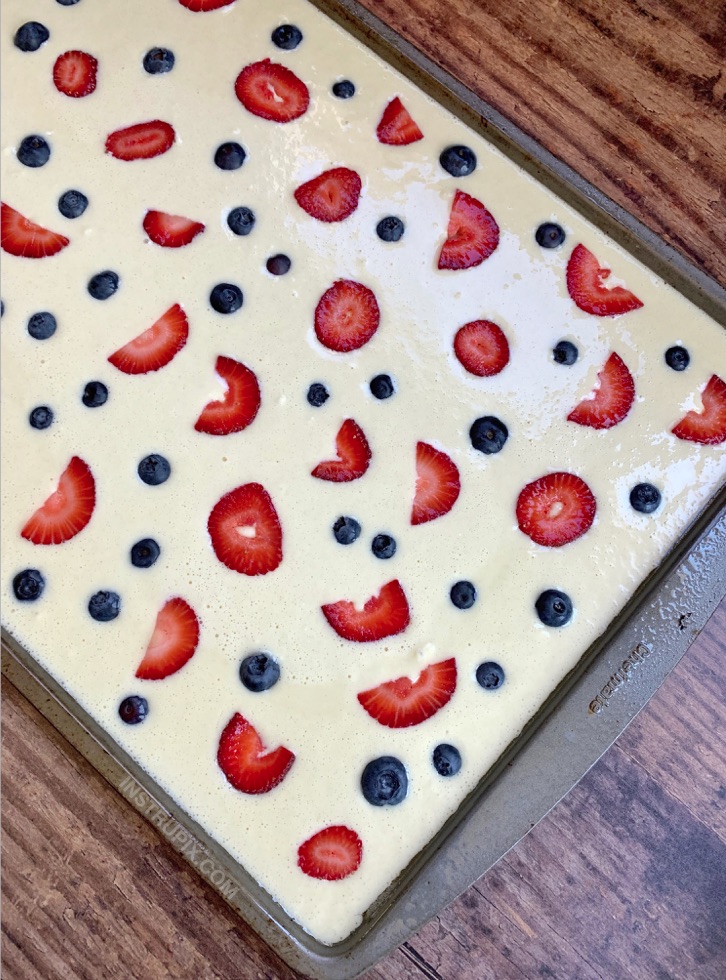 Step 3Bake for about 15 minutes, or until the batter turns a nice golden brown color. Once cooked, brush on about half a stick of melted butter. Do it.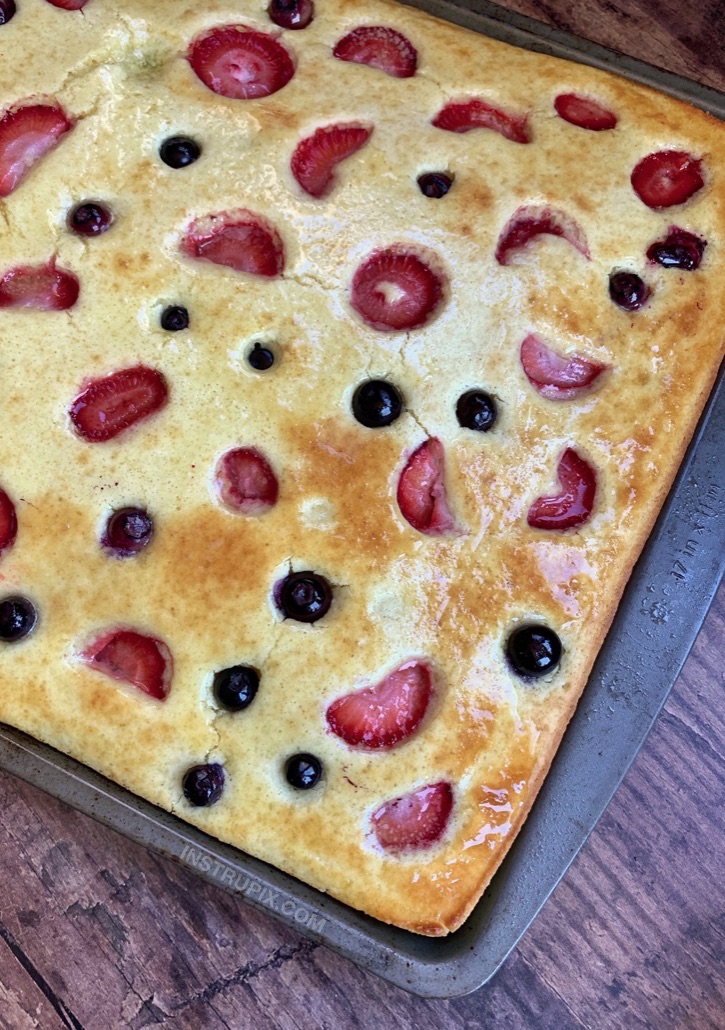 Step 4Use a pizza cutter or knife to make individual servings. I usually come out with about 15 generously sized pancakes.
Sheet Pan Pancakes (The Best Way to Feed a Crowd)
Are you looking for quick and easy breakfast ideas for a crowd? Here is the easiest way to make pancakes for a large family! These are awesome for holidays, sleepovers, parties, brunches, family reunions and more.
Keyword:
bisquick, breakfast, crowd, easy, pancakes, quick, sheet pan
Ingredients
4

cups

Bisquick Pancake Mix

2

cups

milk

4

eggs

toppings of your choice

(I used fresh berries)

8

tbsp

butter

(melted)
Instructions
Preheat your oven to 425 degrees and generously grease a sheet pan.

In a large bowl, whisk together the Bisquick, milk and eggs (you're basically doubling the pancake recipe on the box).

Pour the pancake batter onto your greased pan and top with the toppings of your choice.

In the center rack, bake for about 15 minutes or until golden brown. Brush with melted butter.

Use a pizza cutter or knife to cut the pancakes before serving.
Recipe Notes
You can use any classic pancake recipe for this, I'm just a Bisquick kind of gal.
Serving an extra large crowd? Make 2 sheet pans, and top each one with different toppings for variety.
I've had a few questions about the size of my sheet pans. I use the large 11x17 sheet pans and they seems to be just right for this recipe.
Would you like a few topping ideas? How about sliced bananas with chopped walnuts and chocolate chips, cinnamon and sugar, fresh blueberries or strawberries, cooked and chopped bacon or ground breakfast sausage, a peanut butter or Nutella swirl, canned pineapple and Maraschino cherries, birthday sprinkles, or candy like M&Ms! We may be getting a little crazy now.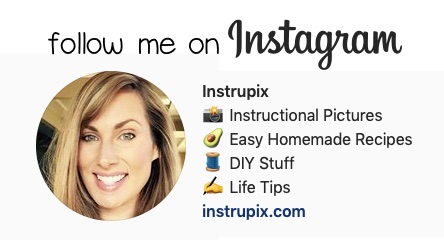 Don't forget to pin and save for later! 🙂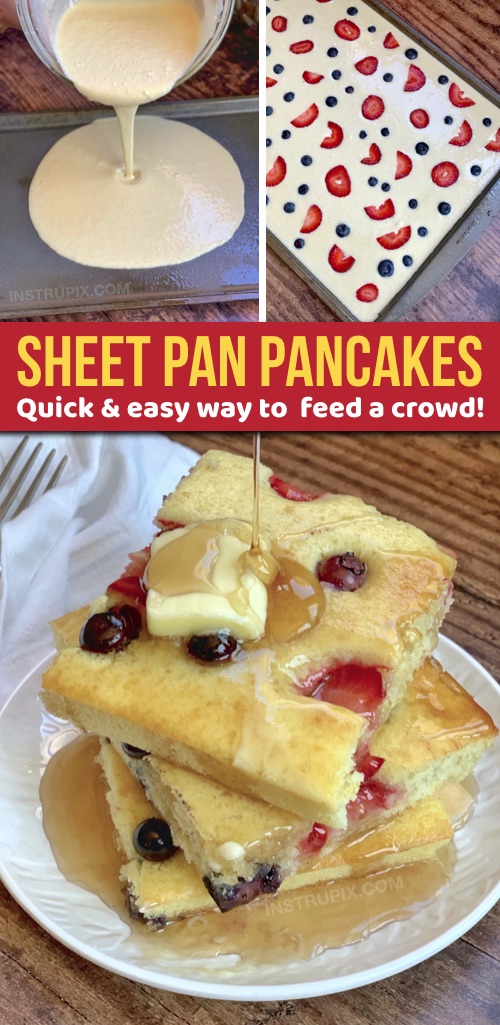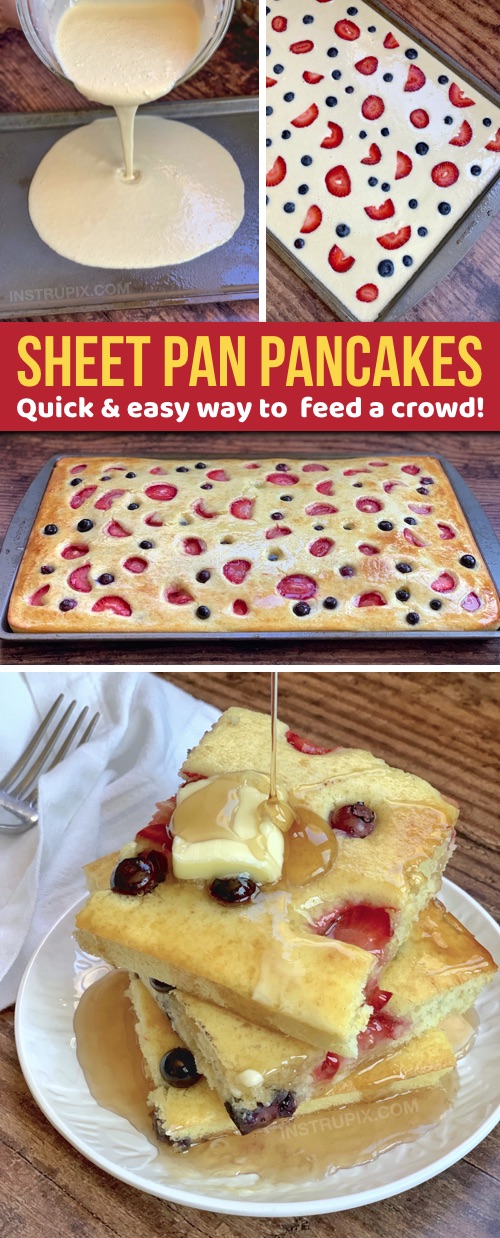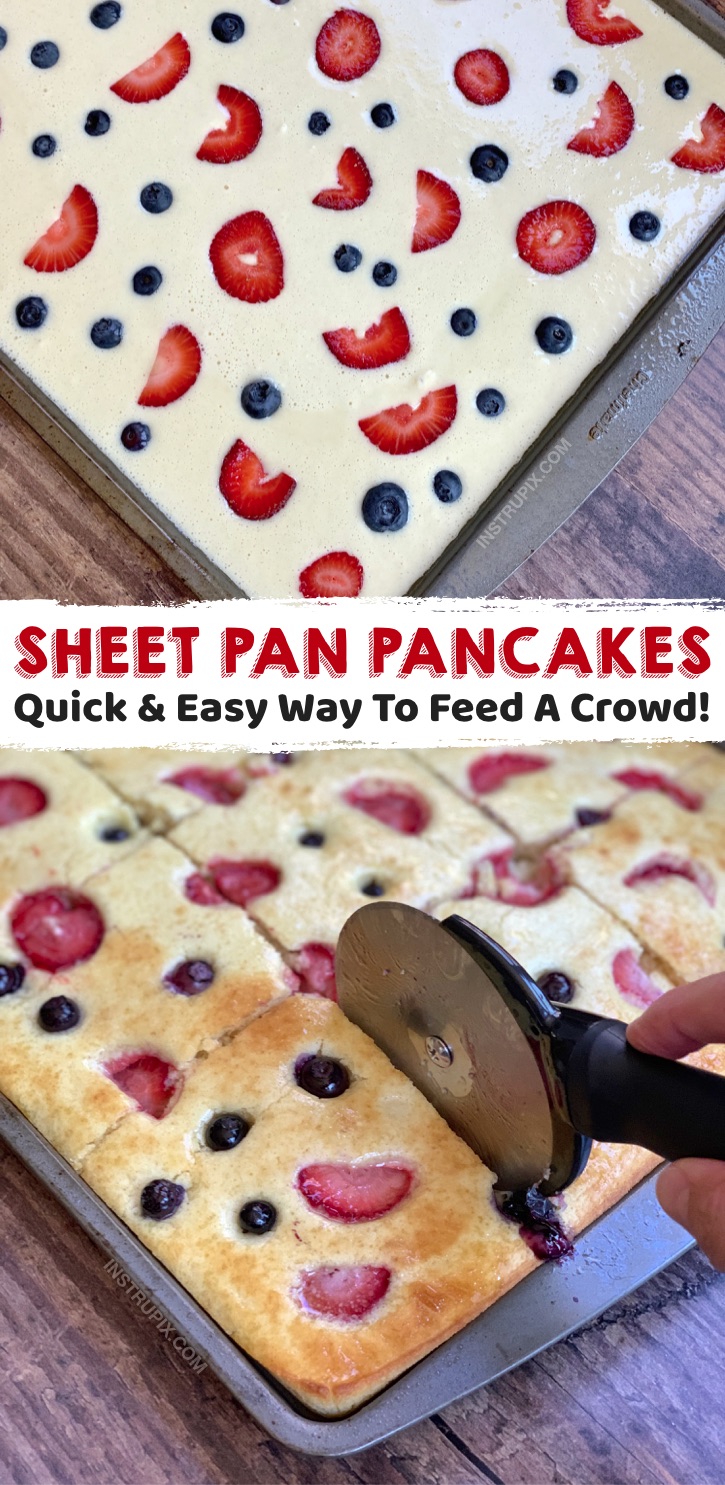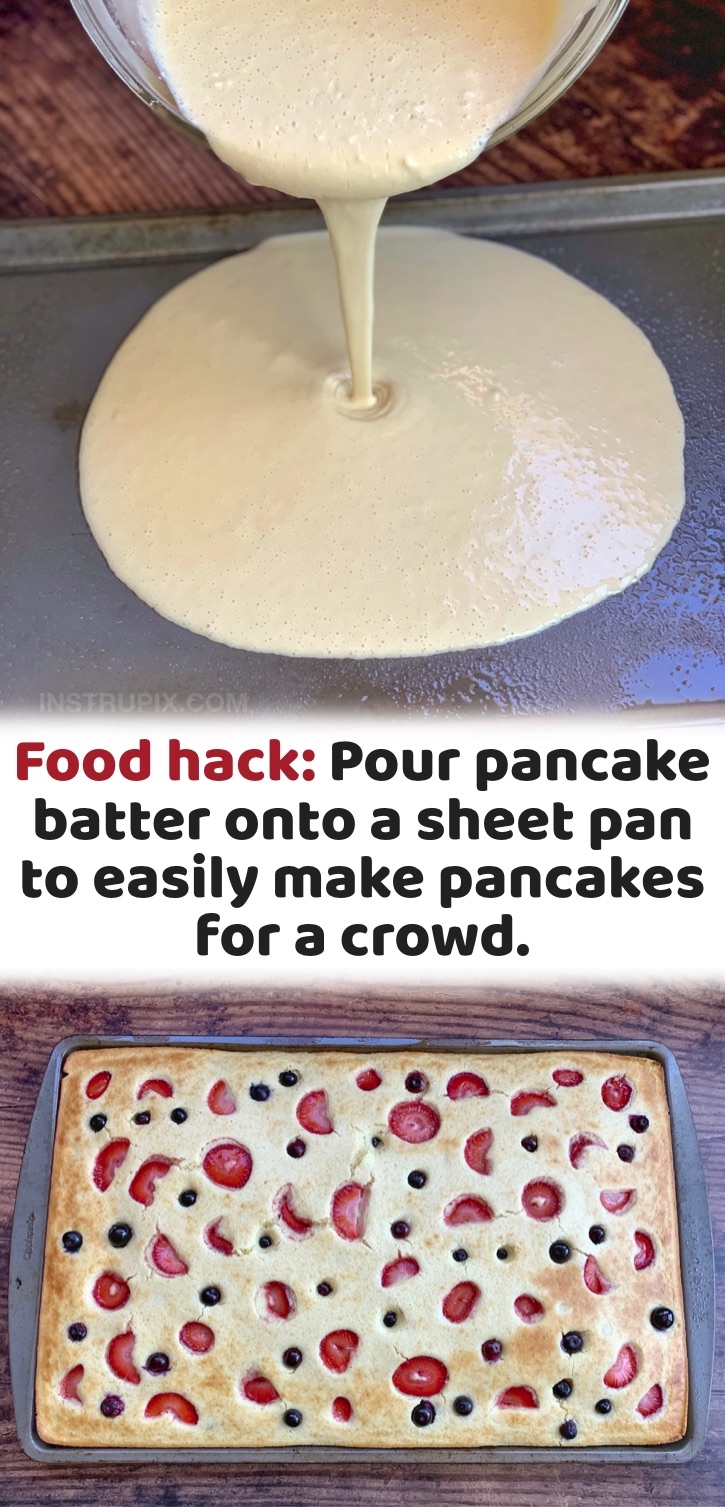 Leave a comment...