Homemade Oven Baked Cinnamon Sugar Donut Holes
This quick and easy dessert recipe (or breakfast idea!) is made with just 4 simple ingredients. It doesn't get any lazier than this thanks to Pillsbury biscuits. They are perfect for a lazy Sunday morning at home or even party treat. Kids love them!
You simply cut the dough into quarters, roll them into balls, drench the dough balls in butter and then roll them in the cinnamon sugar mixture. Now, line them up in a shallow pan and bake for about 20 minutes. Voila! The BEST easy homemade doughnut holes on the planet.
Donut tell me you donut want to devour these right now.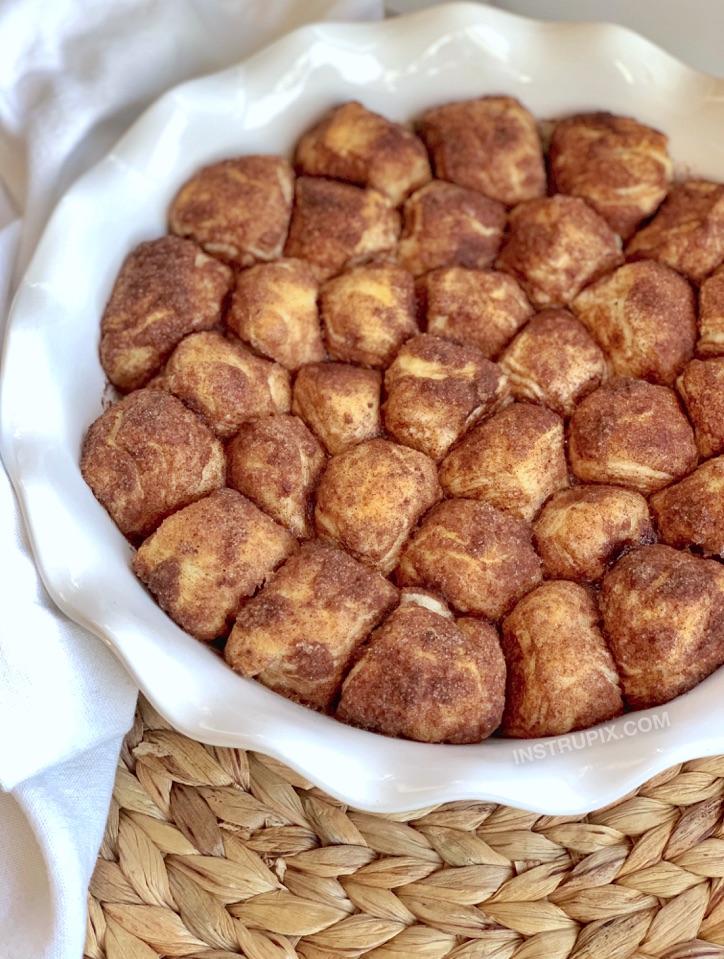 How To Make The Easiest Homemade Donut Hole Recipe With Pillsbury Biscuits
Honestly, you probably don't even need any instructions as these pictures pretty much explain it all, but I'm going to give them to you anyway. I don't want you messing these up.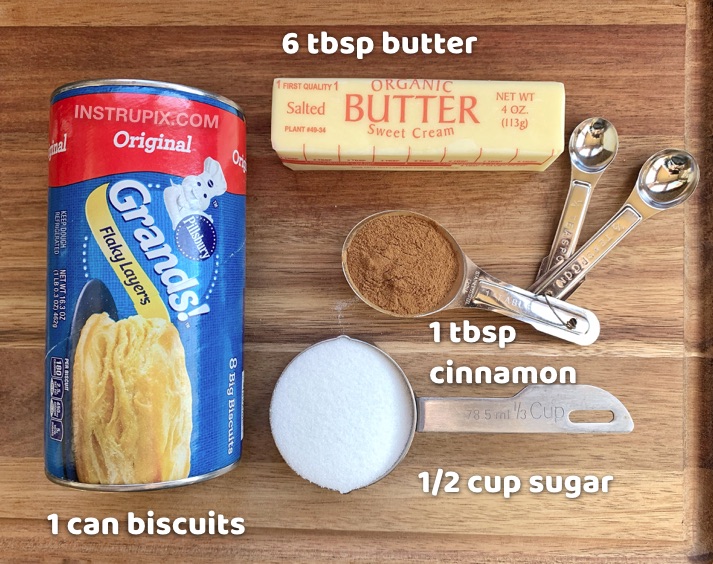 Preheat your oven to 350 degrees.
Microwave the butter in a small bowl until thoroughly melted.
In a separate bowl, combine the sugar and cinnamon together.
Open up the biscuits and cut all 8 of them into quarters.
Roll the dough pieces into balls, drench them in the butter and then roll them in the cinnamon-sugar mixture.
Place them in a greased shallow baking dish and bake for 15-20 minutes.
Try not to eat them all in one sitting.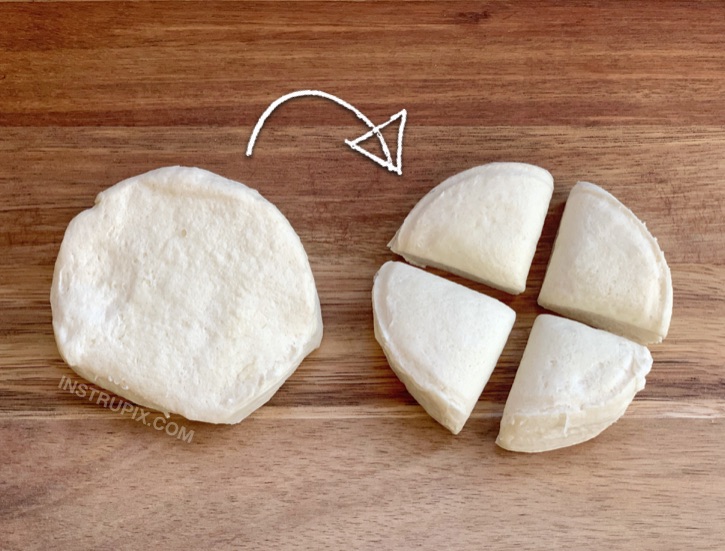 Here are the beautiful dough balls covered in sugar and cinnamon before baking. They just barely fit in this pie dish! I'd recommend using a slightly larger baking dish than what I used. Next time I'll probably try a 9×9 pan. I preferred the slight crisp of the outer donut holes compared to the soft ones in the middle.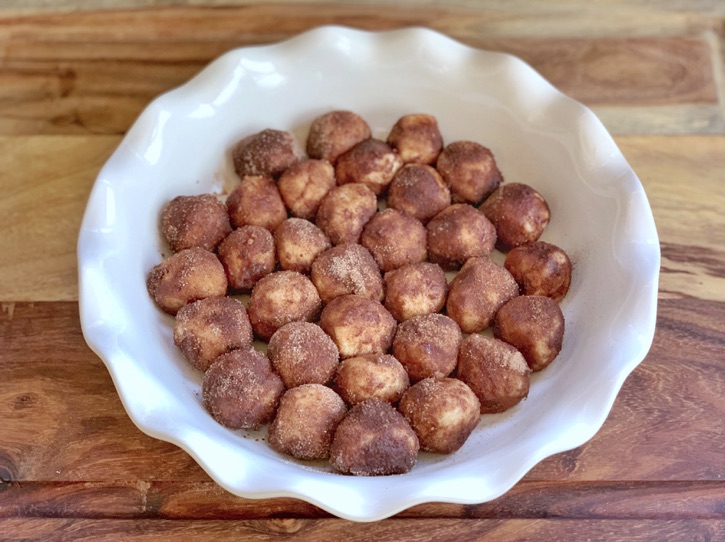 You could also melt a little cream cheese frosting in the microwave and then drizzle the donut holes with it after they get done baking. Whhaatt!?? Why did I just now think of that.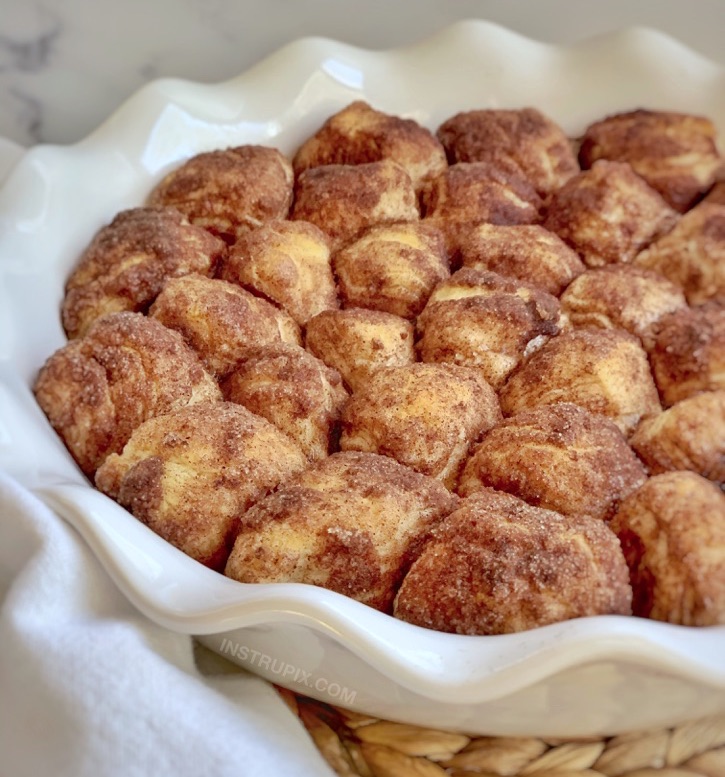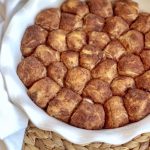 The Easiest Donut Holes On The Planet (Made with Pillsbury Biscuits!)
These quick and easy oven baked donut holes are THE BEST! They are so simple to make you'll want to make them all the time. I love easy dessert recipes like this, and this amazing treat is made with just 4 cheap ingredients: Pillsbury biscuits, butter, cinnamon and sugar. Delish!
Course:
Breakfast, Dessert
Ingredients
1

can

Pillsbury Biscuits

(8 biscuits)

6

tbsp

butter

1/2

cup

sugar

1

tbsp

cinnamon
Instructions
Preheat your oven to 350 degrees and grease a shallow baking dish. *Read Notes Below

Cut the biscuits into 4 equal quarters and then roll them into balls.

Melt the butter in a small bowl, and then mix the cinnamon and sugar together in a separate bowl.

Drench the dough balls into the butter and then roll them around in the cinnamon sugar mixture.

Line them all up in your dish and bake for 15-20 minutes.

Eat alone or with a little melted cream cheese frosting. Yum!
Recipe Notes
*The dish you choose for this recipe will greatly effect the texture and cook time of the dough. If your dough is touching you will get really soft donut holes that need a little more bake time, but if your dough has some space in between you'll get a crispier and more even result. The next time I make these I'll probably try them in a larger dish so that there's a little more space in between each dough ball.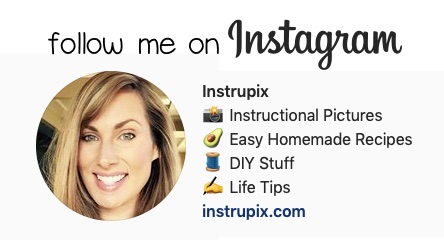 Don't forget to pin and save for later! 🙂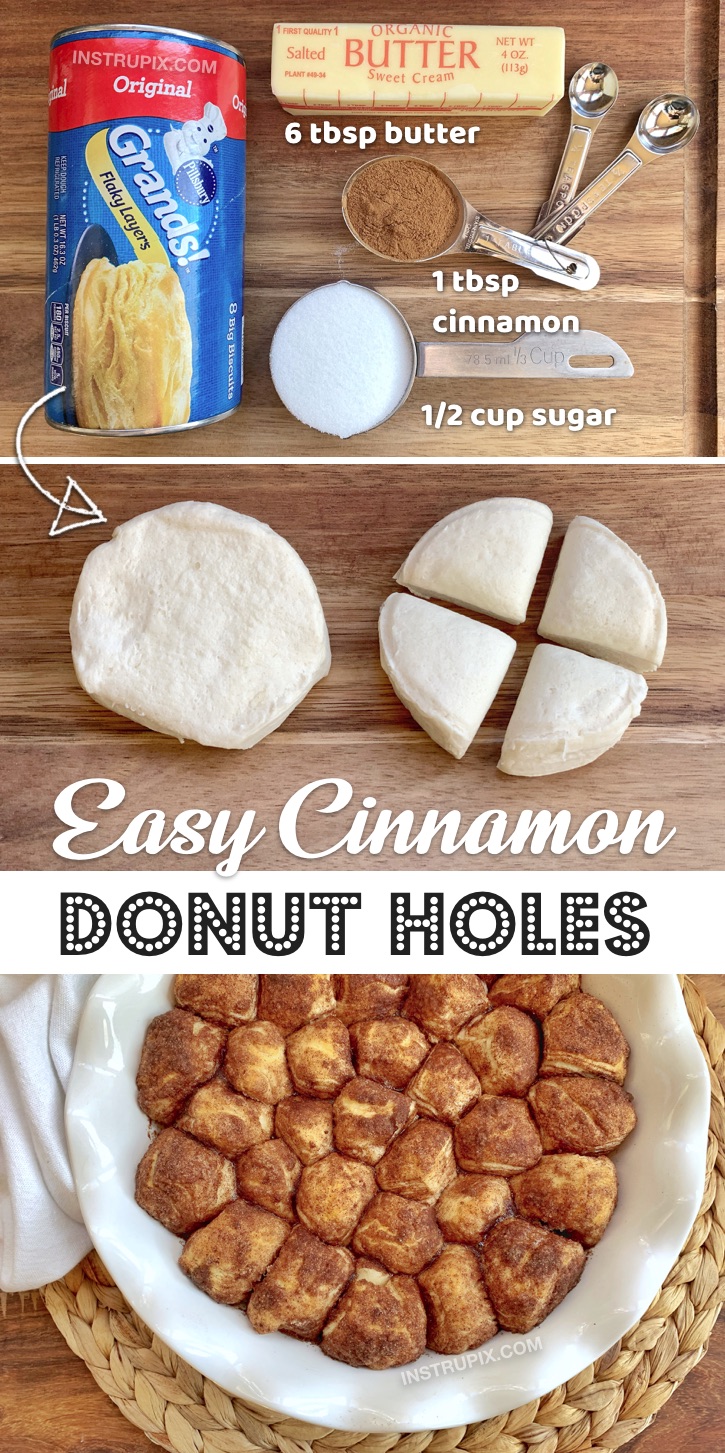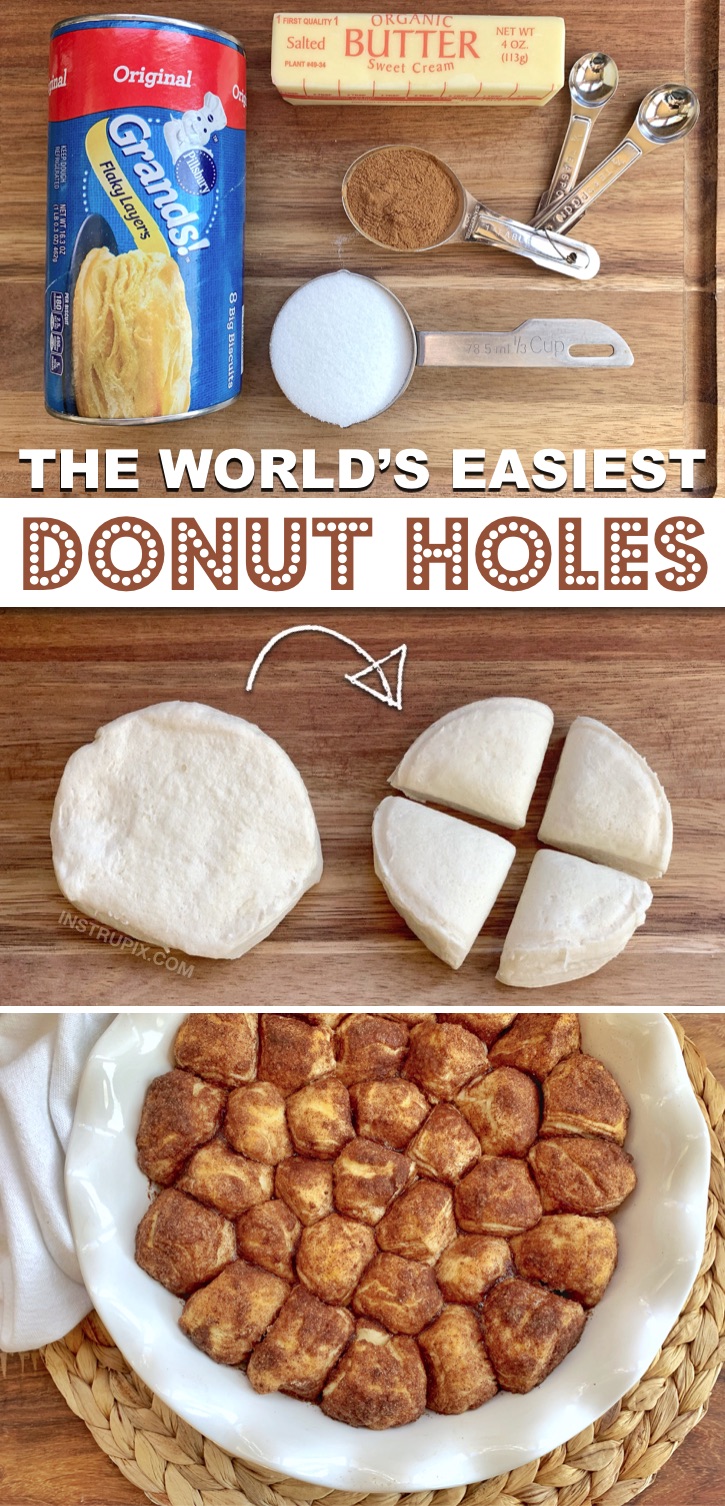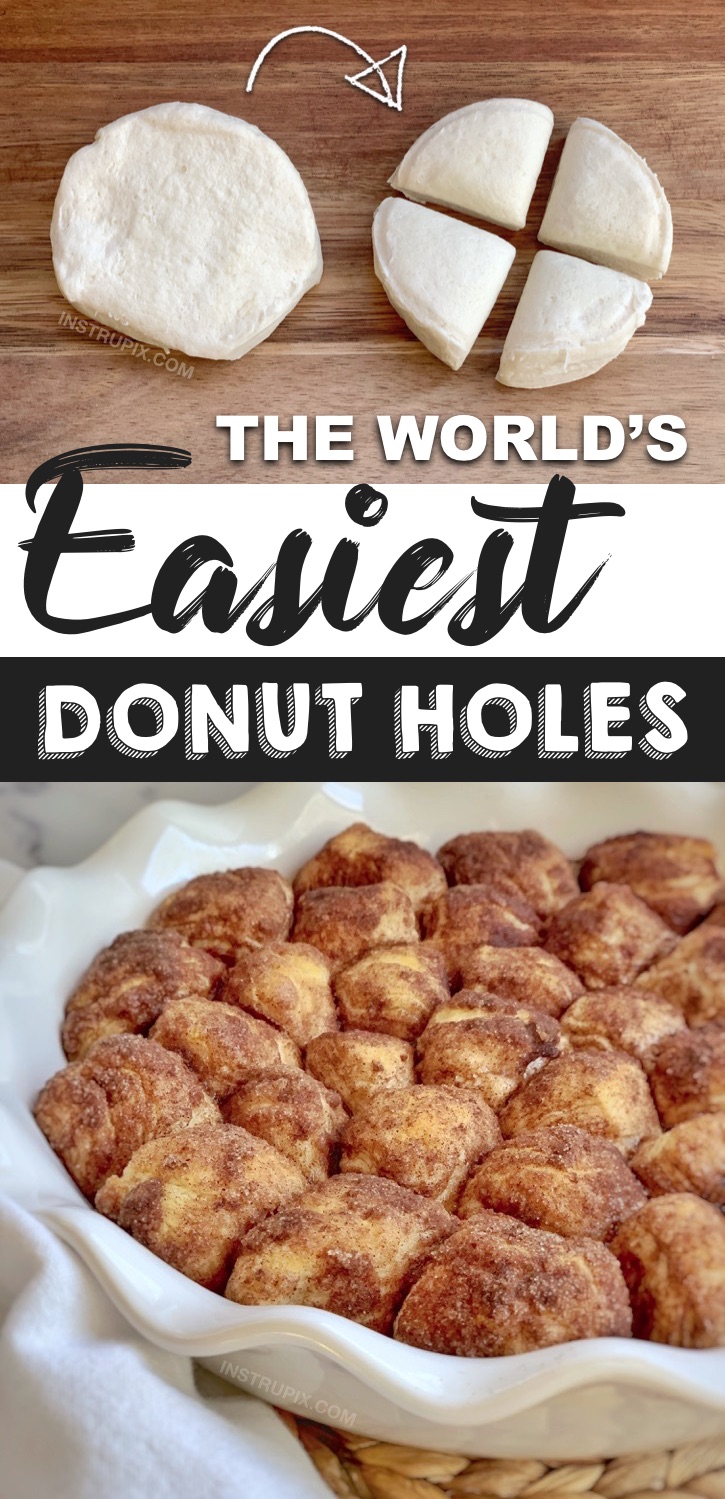 Leave a comment...