If you're looking for quick and easy pancake recipes that are a little more exciting than the traditional, these pineapple upside down pancakes are absolutely amazing! Kids and adults will both love this simple and creative pancake recipe made with Bisquick, pineapple rings and cherries.
My husband devoured almost the entire batch the first time I made these, and now it's a go-to breakfast recipe for us, especially during special occasions like back to school, pajama parties, sleepovers, birthdays or anytime we have family or friends staying the night.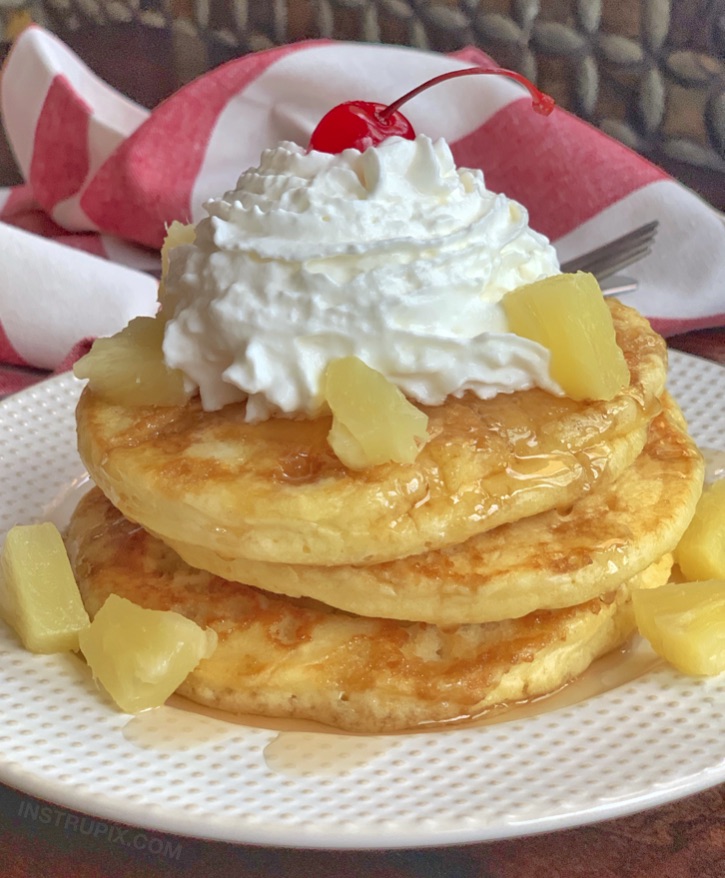 With the help of Bisquick, these pancakes are super quick, easy and cheap to make. You can, of course, make your own homemade pancake recipe if you'd like.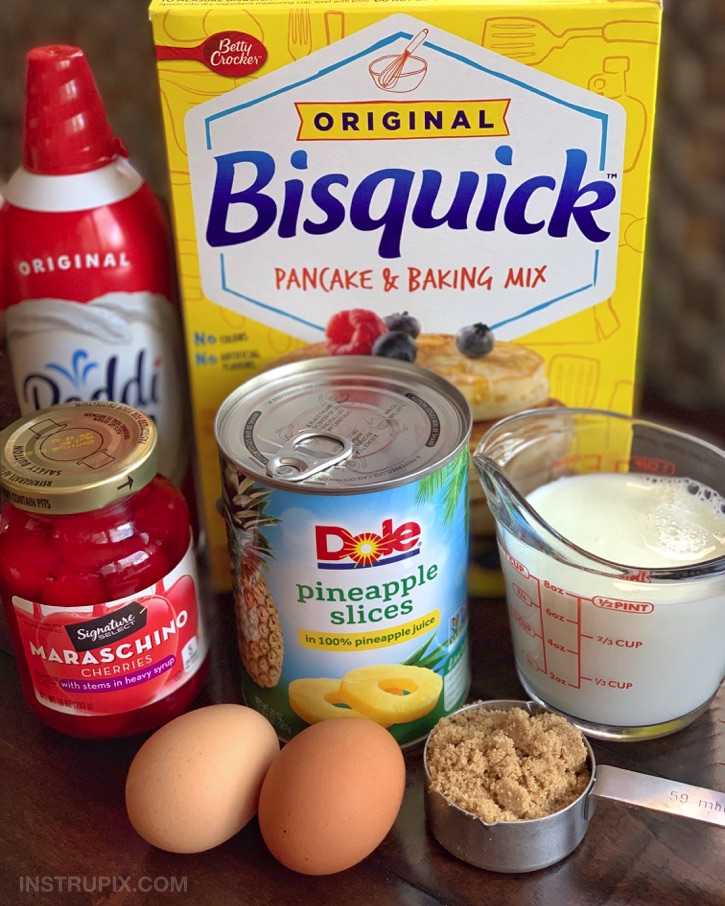 TIP: Be sure to pat the pineapple slices dry with a few paper towels, otherwise the batter around it doesn't cook very well.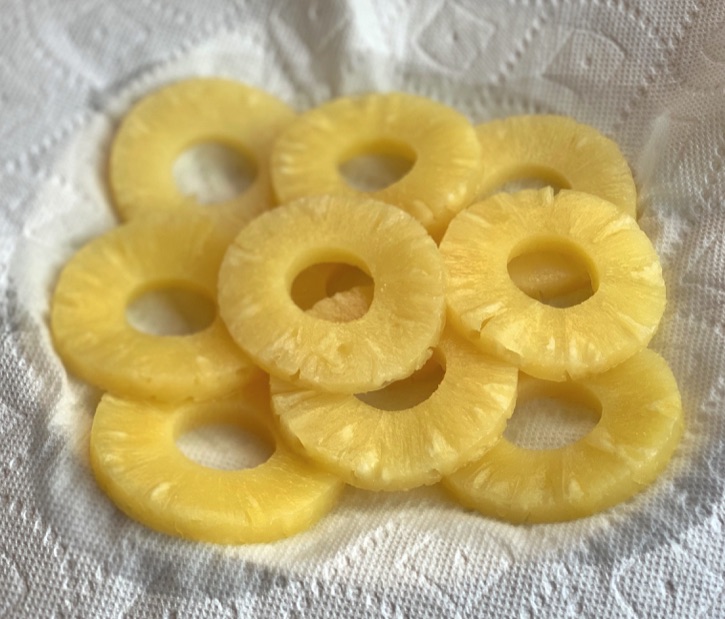 Heat up a large skillet to medium low and grease with butter. Place about a 1/4 cup of your batter onto the pan and allow it to cook for a few minutes.
Top with a pineapple ring and cherry in the center.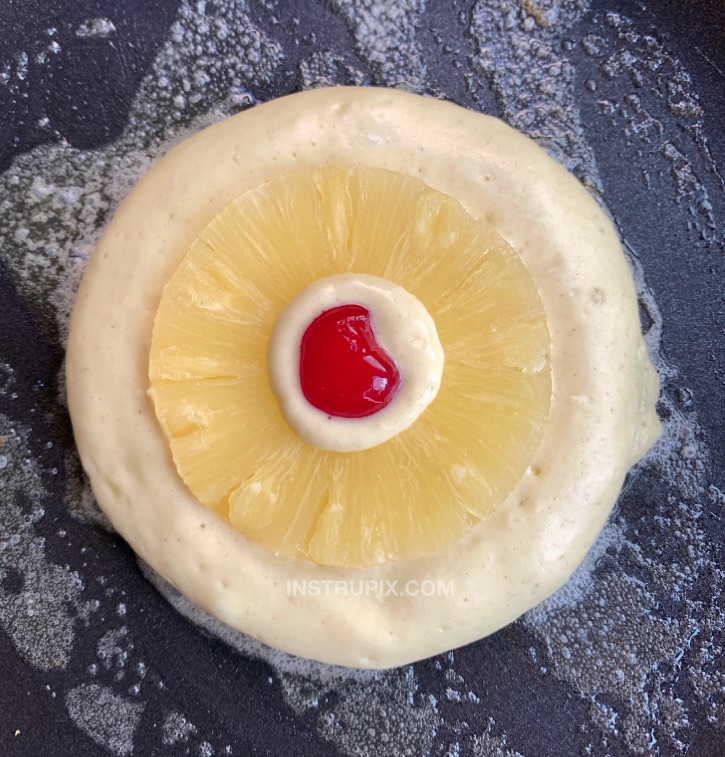 Sprinkle with brown sugar.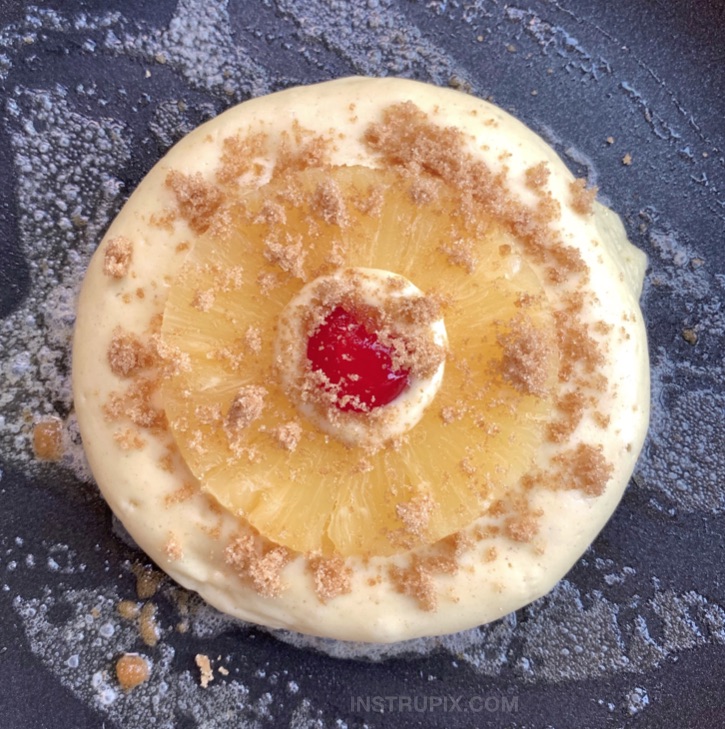 Flip and allow it to cook for another 2-3 minutes.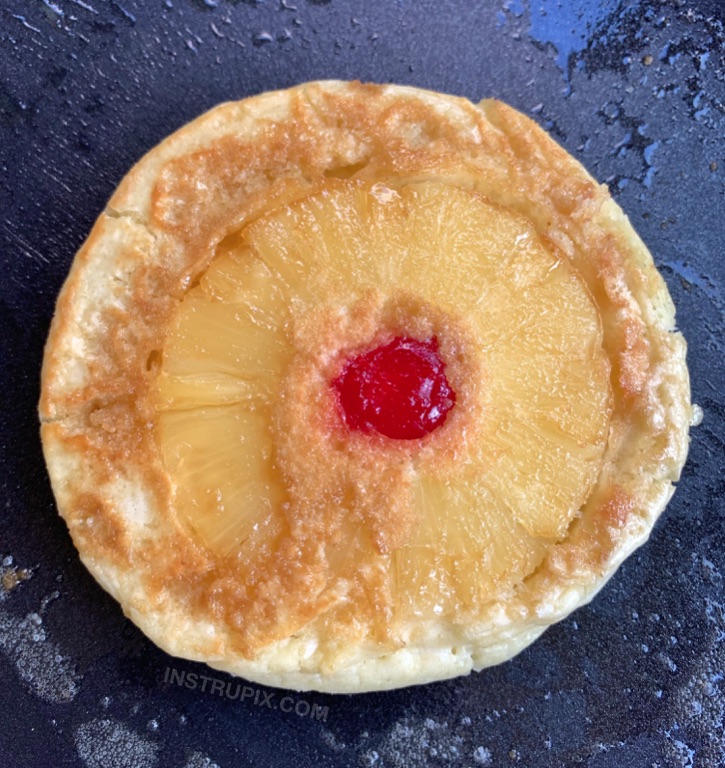 Yes, these are as good as they look!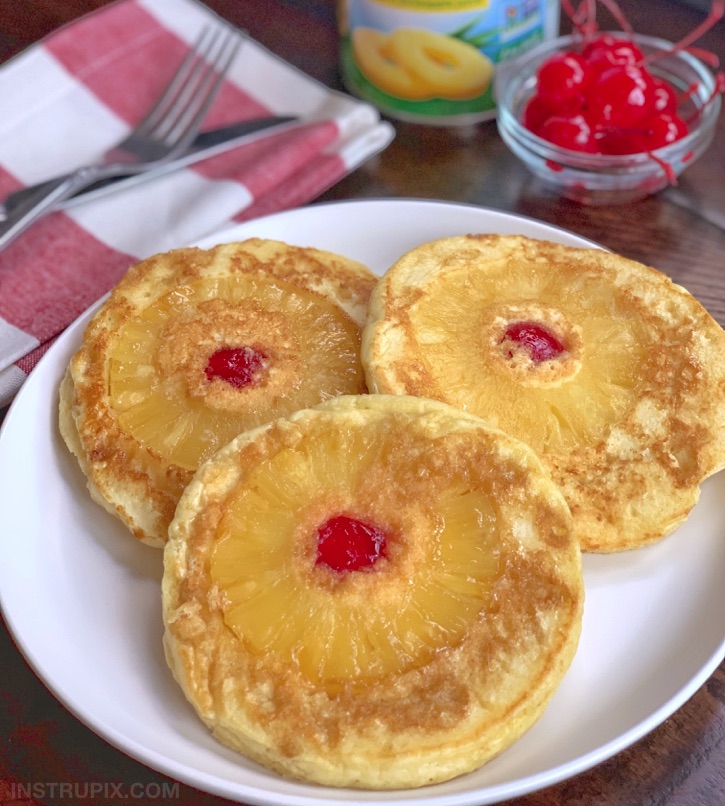 Honestly, these pancakes could even be eaten alone without any syrup. But why not dump a bunch on there, anyway?
And then top with whipped cream for the ultimate breakfast!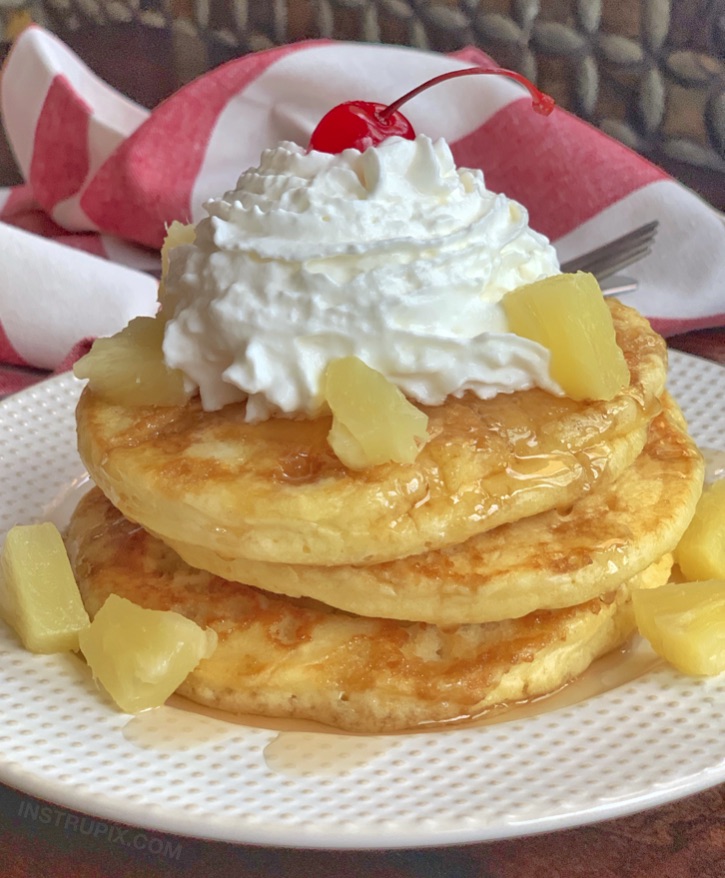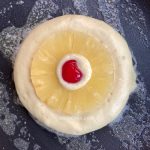 Pineapple Upside Down Pancakes (easy breakfast idea!)
If you're looking for quick and easy breakfast ideas that are a step above traditional pancakes, your search ends here. These pineapple upside down pancakes are always a hit! They are also super quick, easy and fun to make. Kids and adults love them!
Ingredients
2

cups

Bisquick

1

cup

milk

2

eggs

1

(20 ounce)

can of pineapple slices

8-10

maraschino cherries

(stems removed)

1/4

cup

brown sugar

butter or non-stick cooking spray

(for greasing the pan)

maple syrup

(for serving)

whipped topping

(optional)
Instructions
Preheat a large skillet to medium low.

While it's heating up, drain the pineapples and pat them dry with paper towels.

In a large bowl, whisk together the Bisquick, milk and eggs.

Grease your skillet with butter or cooking spray, and add about 1/4 cup of pancake batter to the pan. Allow it to cook for about 2 minutes, and then add a pineapple slice and cherry to the center; sprinkle with brown sugar and continue cooking for another minute.

Flip and cook for another 2-3 minutes. Repeat with remaining batter.

Serve with syrup and whipped cream! YUM.
Recipe Notes
The first time I experimented with these, my batter was a little too thick and my pineapple slices weren't quite dry enough, so the batter around one side of the pineapple didn't quite cook all the way. Oops!
To remedy that, be sure to follow the pancake instructions on the Bisquick box, and if you're making your own homemade pancake batter, be aware of this. If you like your batter on the thicker side, you can push the pineapple ring into the batter a bit so that it cooks evenly on both sides.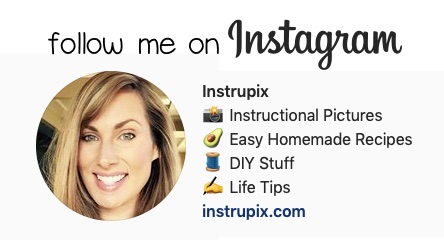 Don't forget to pin and save for later! 🙂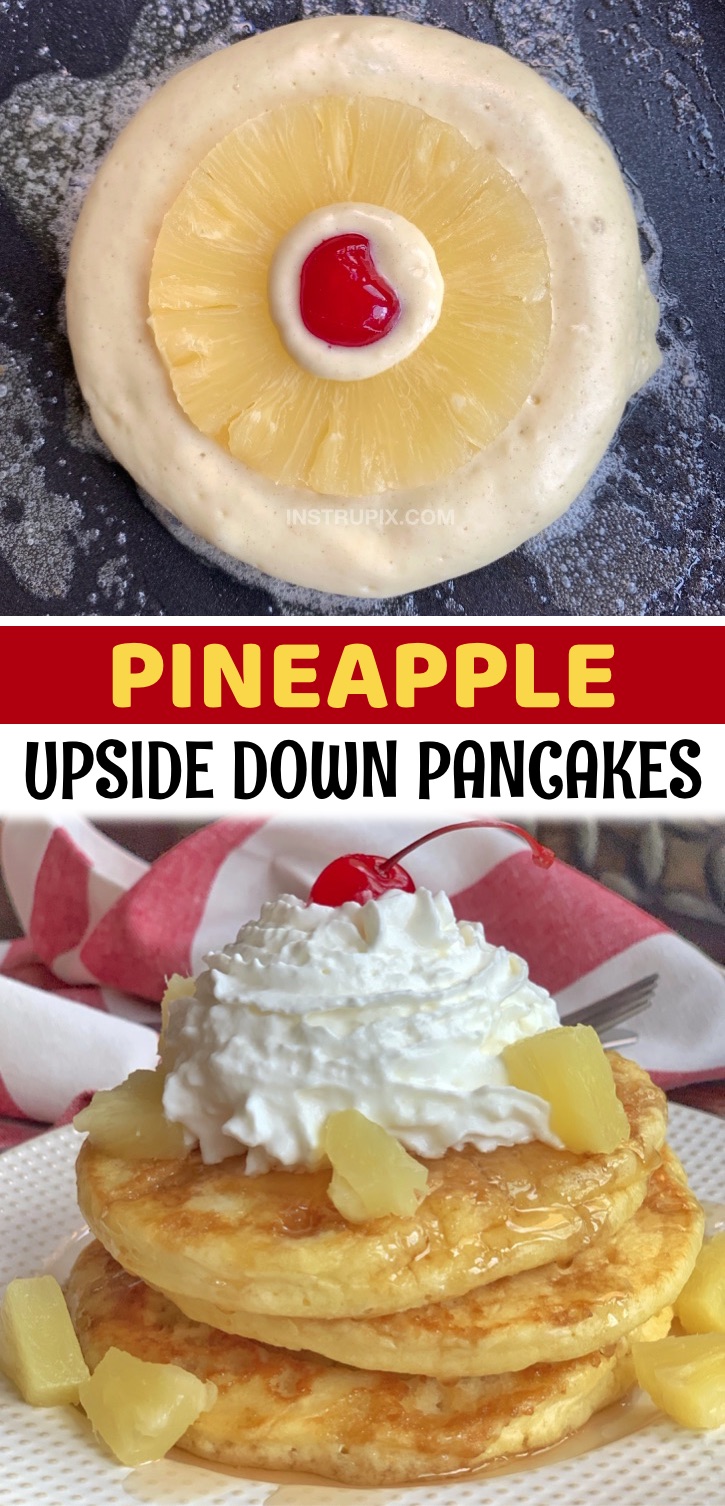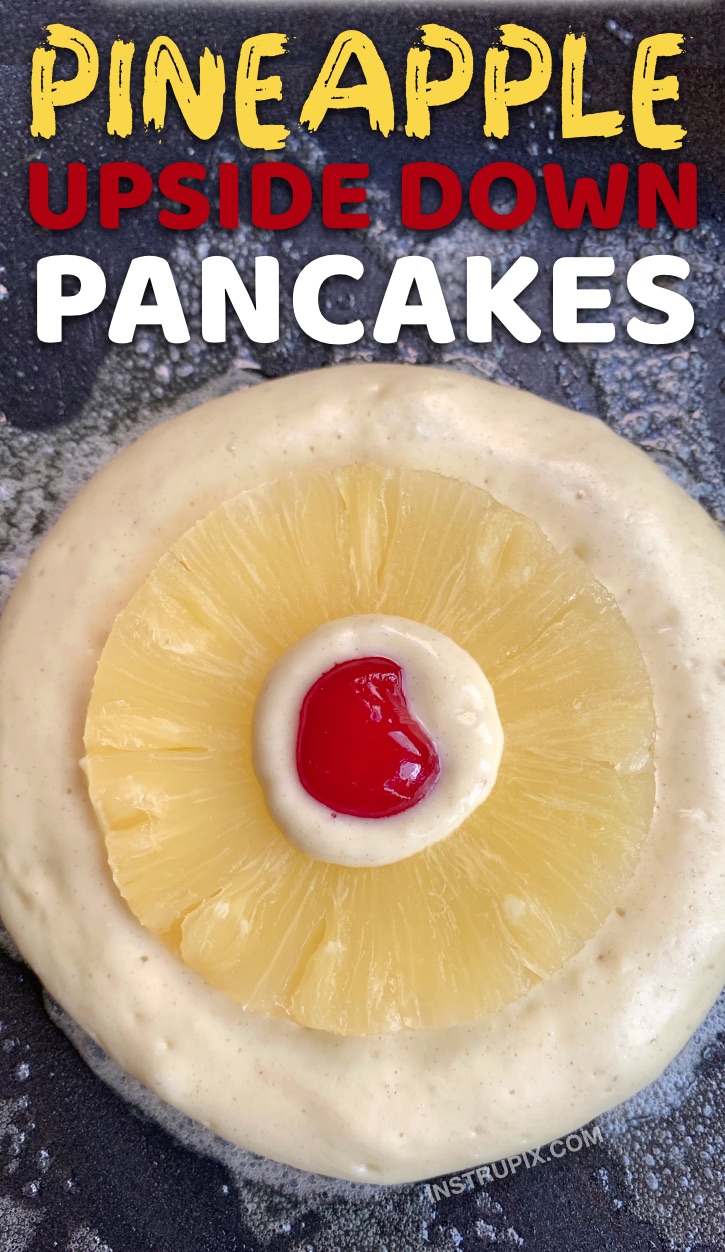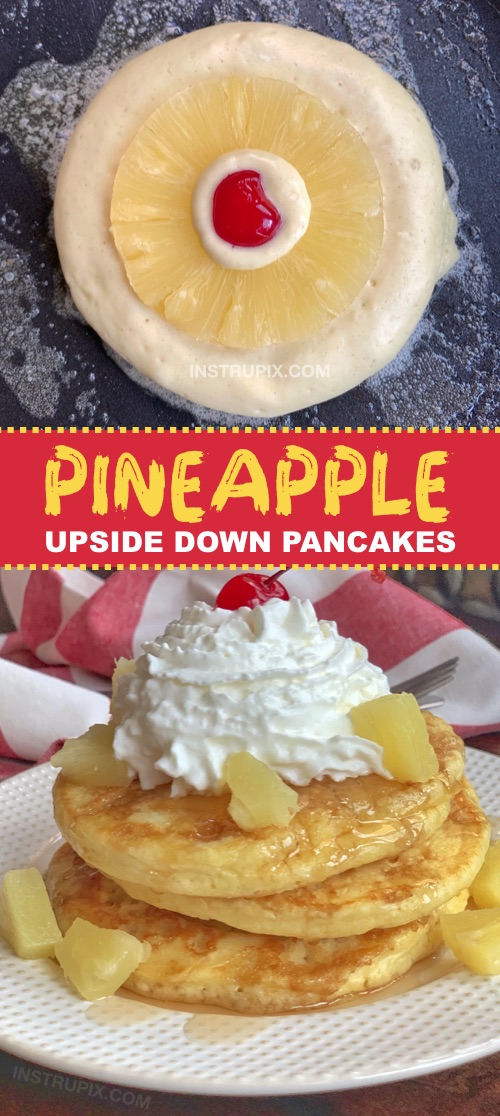 Leave a comment...