Are you looking for quick, easy and healthy dinner recipes?
Well, here you go.
It's easy for me to get excited about anything stuffed, especially when it involves lots of garlic and cheese, and because of how thick and tough their skin and flesh is, bell peppers make for the perfect little edible bowls.
You really don't even have to be a bell pepper fan to love this recipe, and you can experiment with it however you would like.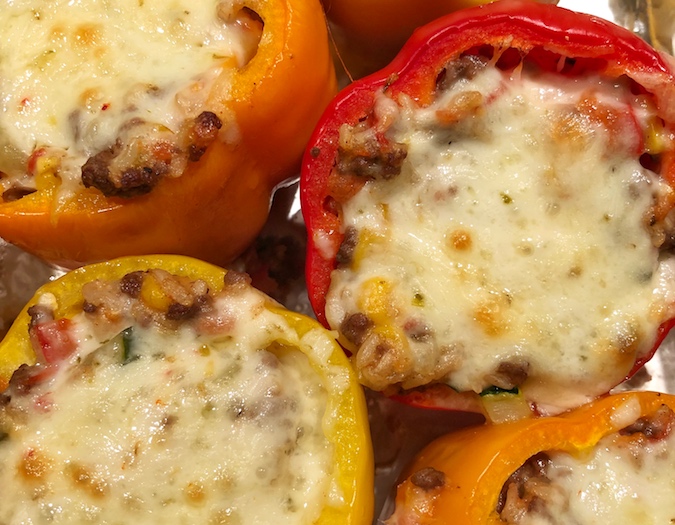 The stuffing mixture alone is absolutely delicious! I could eat it by the spoonful. The shredded pepper jack cheese in this recipe adds a ton of flavor to the mix, so if you decide to use another type of cheese, I would flavor it with some red pepper and additional seasoning.
Here's a close up of the cheesy filling. It's so darn good!
A family favorite dinner recipe…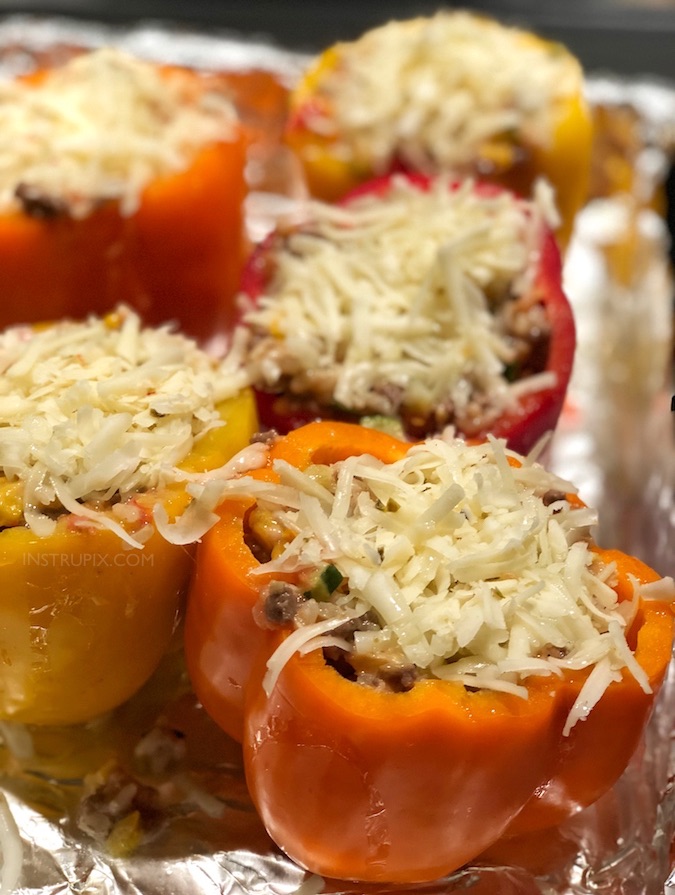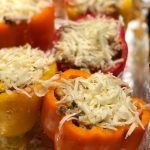 The Best Stuffed Bell Peppers
The entire family will enjoy this quick, easy and healthy dinner recipe! The bell peppers are stuffed full of ground beef or turkey, rice, zucchini, garlic, corn, tomatoes and lots of pepper jack cheese.
Ingredients
6

bell peppers

(I prefer red or orange)

8

ounces

lean ground beef or turkey

6-8

garlic cloves

(finely minced)

1

large

zucchini

(finely diced)

3

roma tomatoes

(seeded and finely diced)

1/2

cup

cooked corn

1

large cup

cooked brown rice

(or rice of your choice)

2.5

cups

grated pepper jack cheese

5

tbsp

olive oil

salt and pepper to taste
Instructions
Preheat your oven to 350 degrees, line a baking dish with foil, and pour about 1/4 cup of water into the bottom the pan.

Cut the tops off of the peppers, remove the stems, and finely chop the tops; set aside. Scoop the seeds and guts out of the peppers and place them cut-side up in your baking dish. 

Heat 2 tbsp of olive oil in a large skillet over medium-high heat. Sauté 3-4 finely minced garlic cloves in oil for about 30 seconds, and then add the ground meat. Season with salt and pepper while you breakup and cook the meat until brown (about 7-10 minutes). Remove the meat from the pan for the next step.

Once the meat has been removed, add 2 more tbsp of olive oil to the pan along with the diced bell pepper tops. Cook the peppers for a few minutes or until they soften. Add the zucchini, corn, and remaining garlic, and cook for another minute. Add the tomatoes, ground meat and rice, and then cook until heated through. Stir in about 1.5 cups of your cheese into the mixture.

Fill the peppers half way up with your stuffing mixture, and then place a layer of cheese inside (about half of what's left). Top with another layer of your  mixture until the peppers are filled to the rim. Finally, top with more cheese. 

Cover the baking dish with foil and bake for 25 minutes. Uncover and bake another 10-15 minutes or until the cheese starts to brown. 
Recipe Notes
If you like your peppers super tender (I prefer a little crunch), par boil or pre bake them for a few minutes.
A sautéed chopped onion is also a nice addition but I leave it out because my family is not a fan.
For added moisture, feel free to add a little tomato sauce or mild salsa to the stuffing mixture if you like things "saucy".
The pepper jack cheese adds a ton of flavor to this recipe, so if you opt for a milder cheese, add extra seasoning and/or red pepper to the mixture.
Any type of rice can be used (even quinoa or cauliflower rice). I buy the frozen or vacuum sealed brown rice that is effortless to cook in the microwave.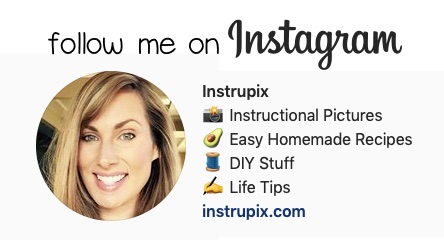 Don't forget to pin and save this healthy dinner recipe for later! 🙂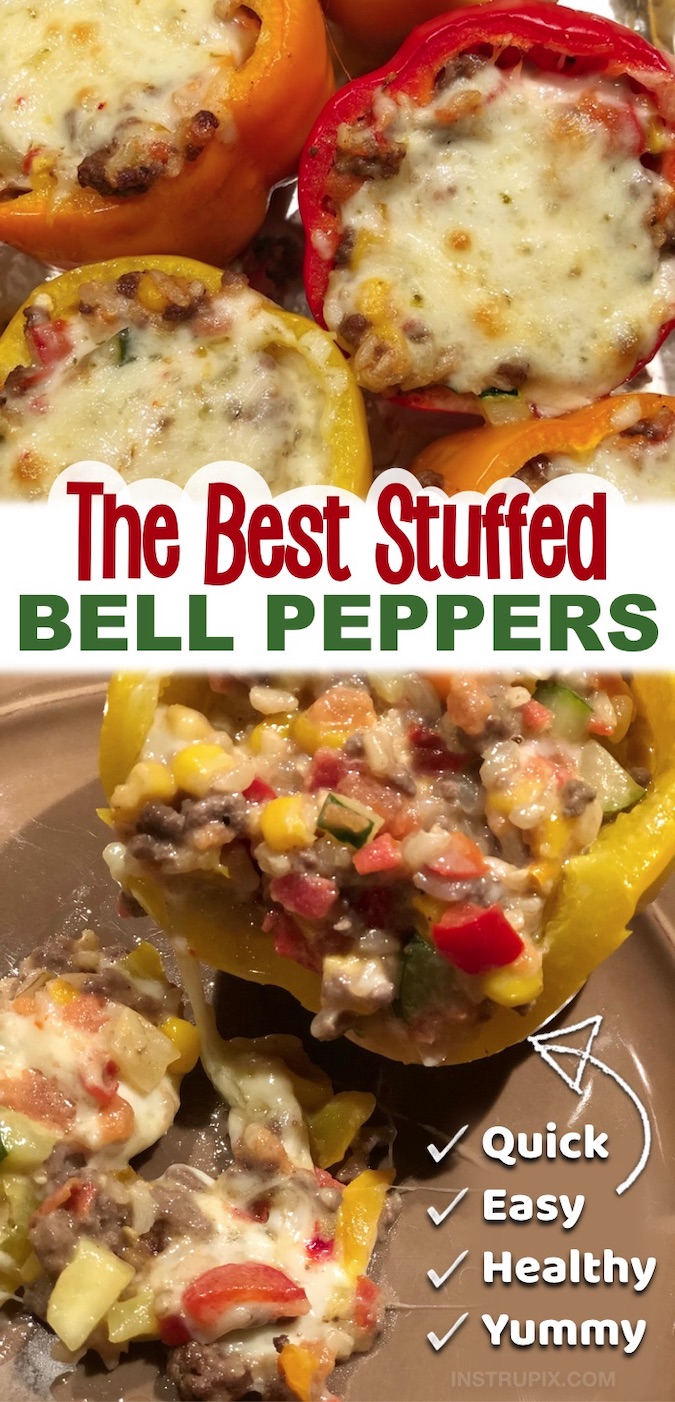 I hope this close-up photo is making you drool.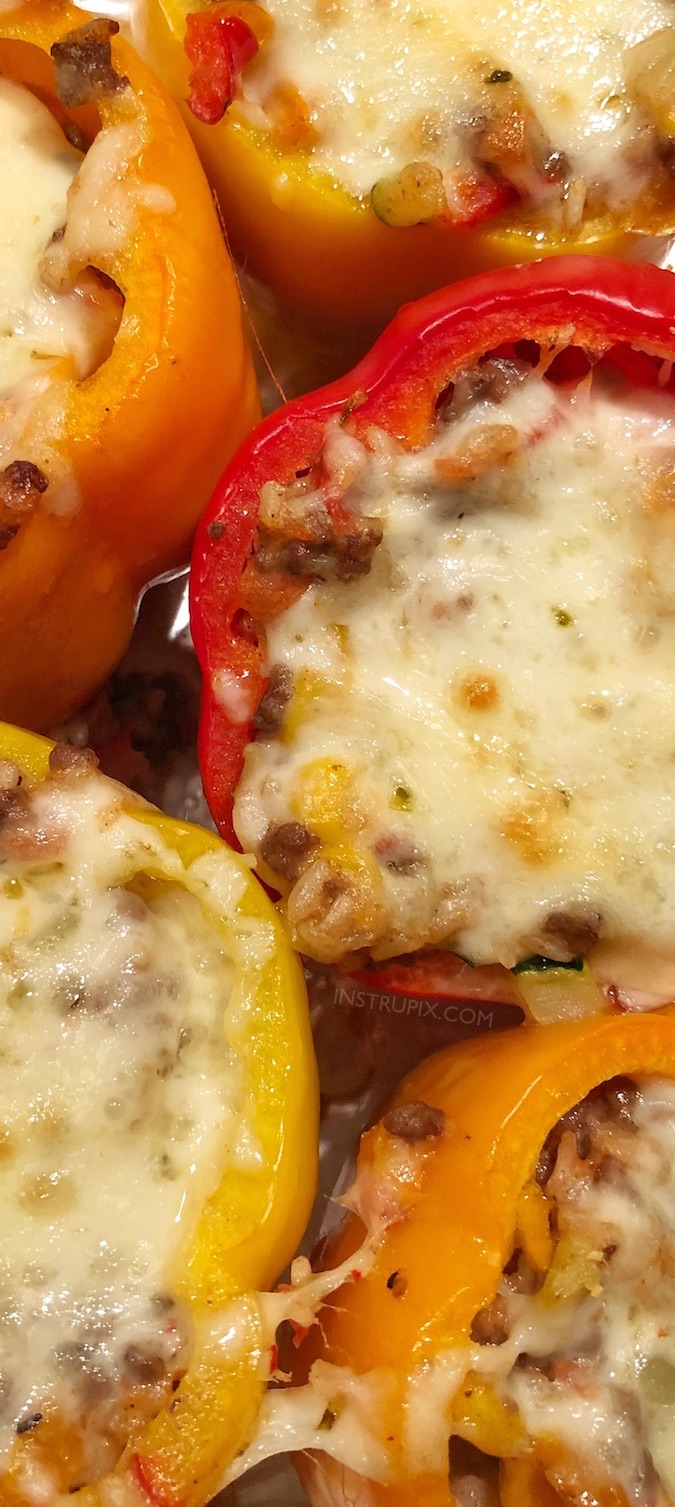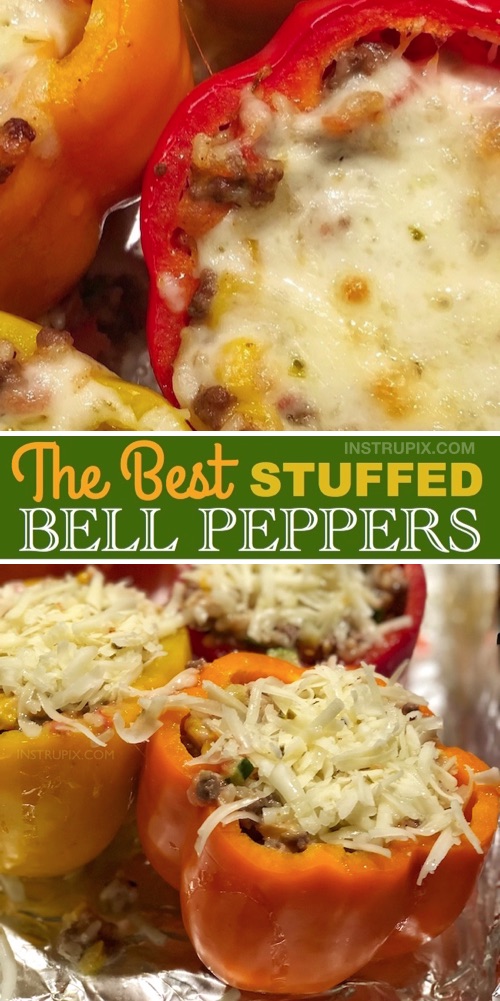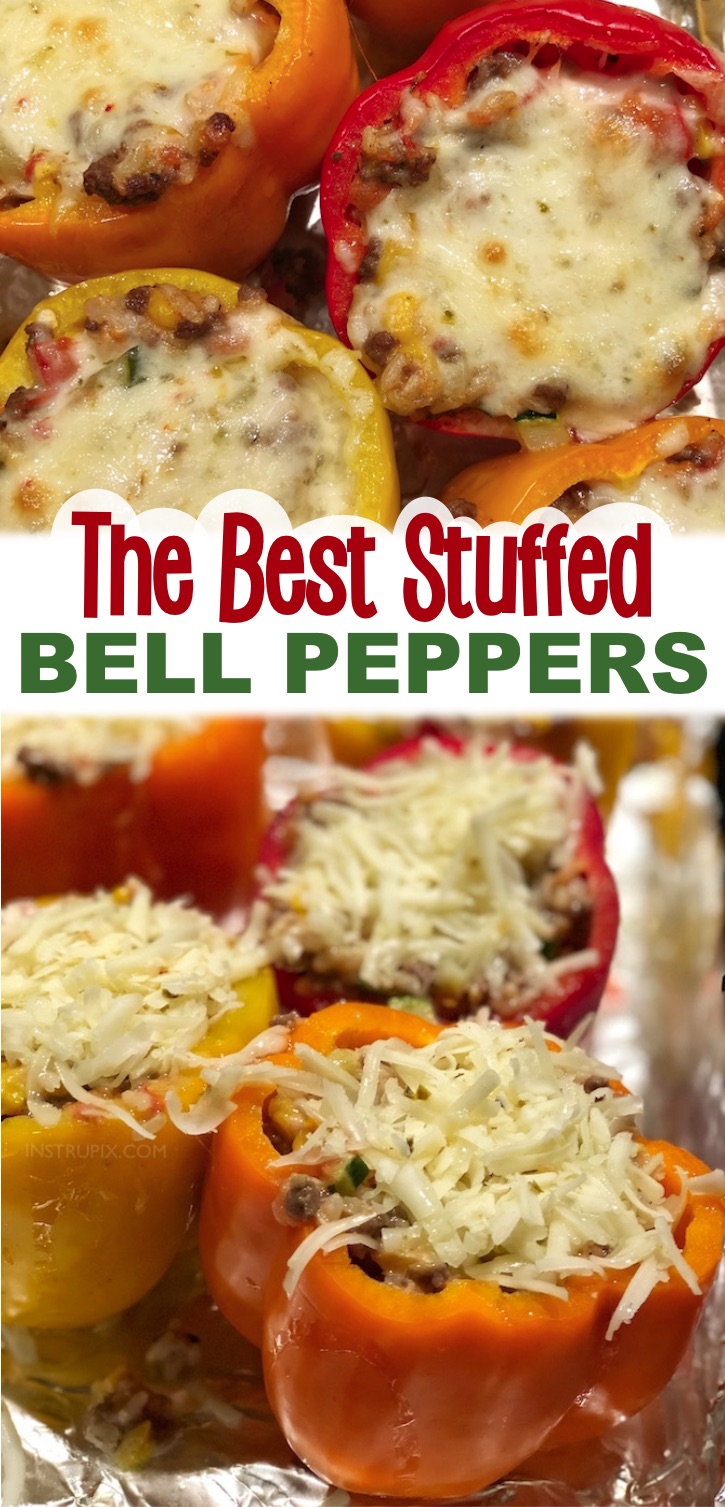 Leave a comment...