I think a lot of people are intimidated by steak, but it's actually one of the easiest low carb dinner recipes that not only keeps you full and happy all night long, it's absolutely delicious. And, you don't need a grill!
These steak bites only take about 5 minutes to make in a skillet on your stovetop. Serve them over white rice, brown rice, or cauliflower rice to absorb all of the steak juices and garlic butter. Mashed potatoes are a nice option, too!
A cast iron skillet gives you the delicious seared edge, but any pan will work to make these buttery steak bites.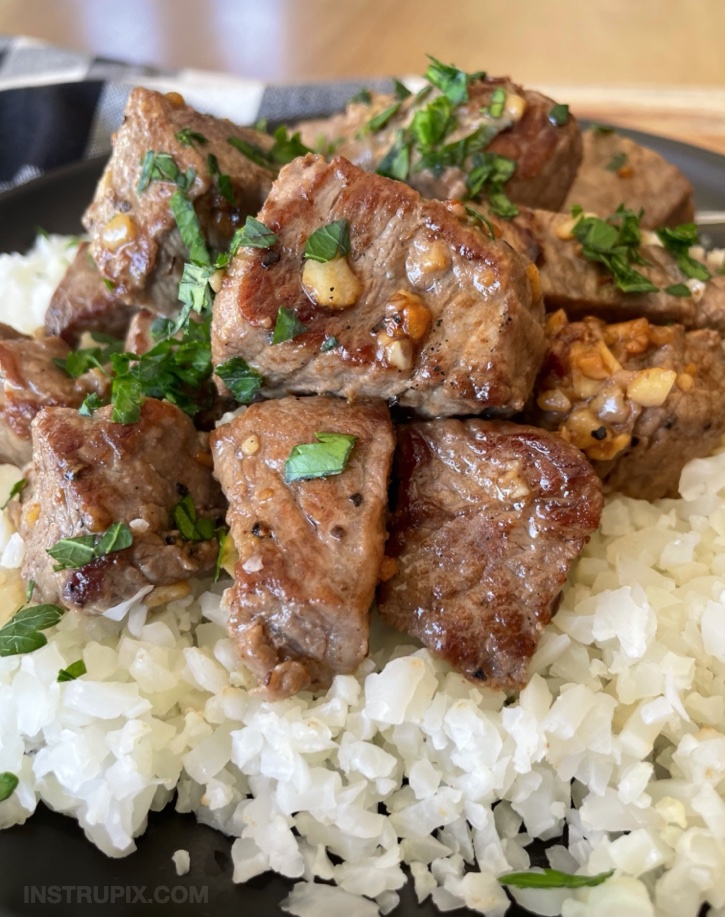 What kind of steak?Just about any boneless steak will do for this recipe including sirloin, rib eye, tenderloin or anything else you can get at a decent price. You just want something that is easy to cut into small bite-sized pieces without a bunch of fat that needs to be trimmed off.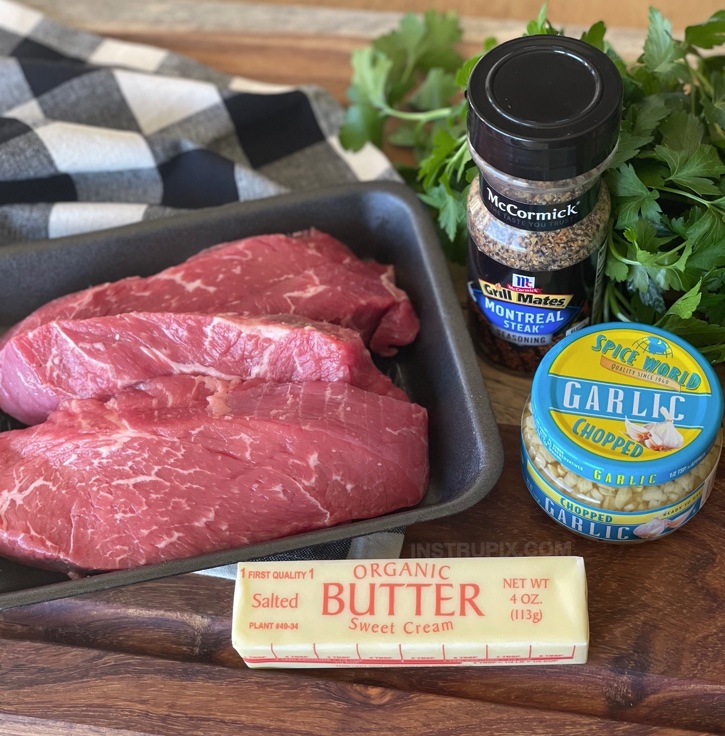 Side Dish IdeasIf you're looking for healthy vegetable side dishes, frozen cauliflower rice is such a quick and easy option. It only takes 5 minutes to heat it up in your microwave with zero effort! Mashed potatoes, pasta, white or brown rice, roasted vegetables and salad are also great options.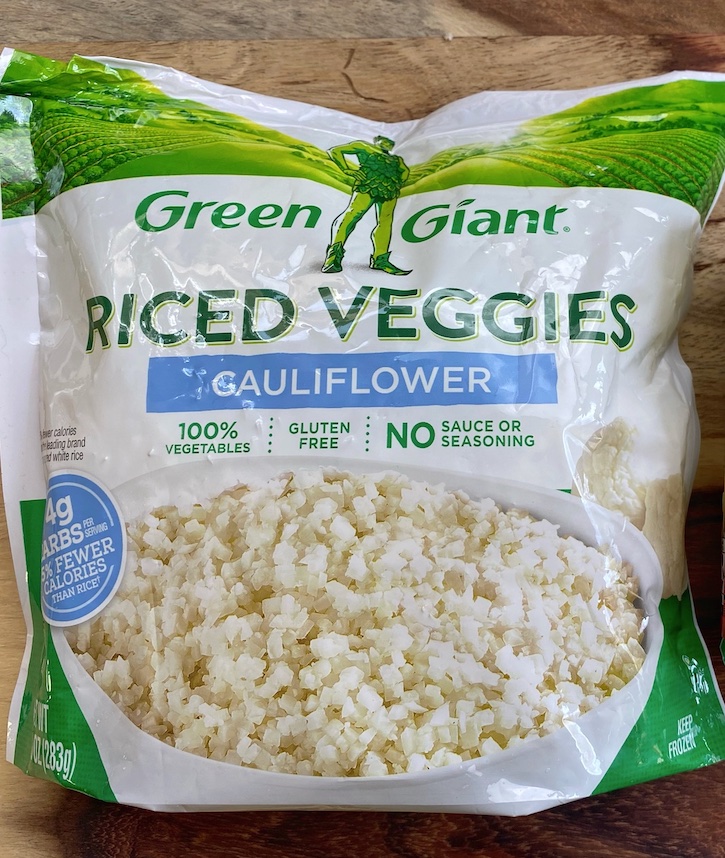 A quick and easy low carb dinner idea your entire family will love! This juicy steak is packed full of flavor.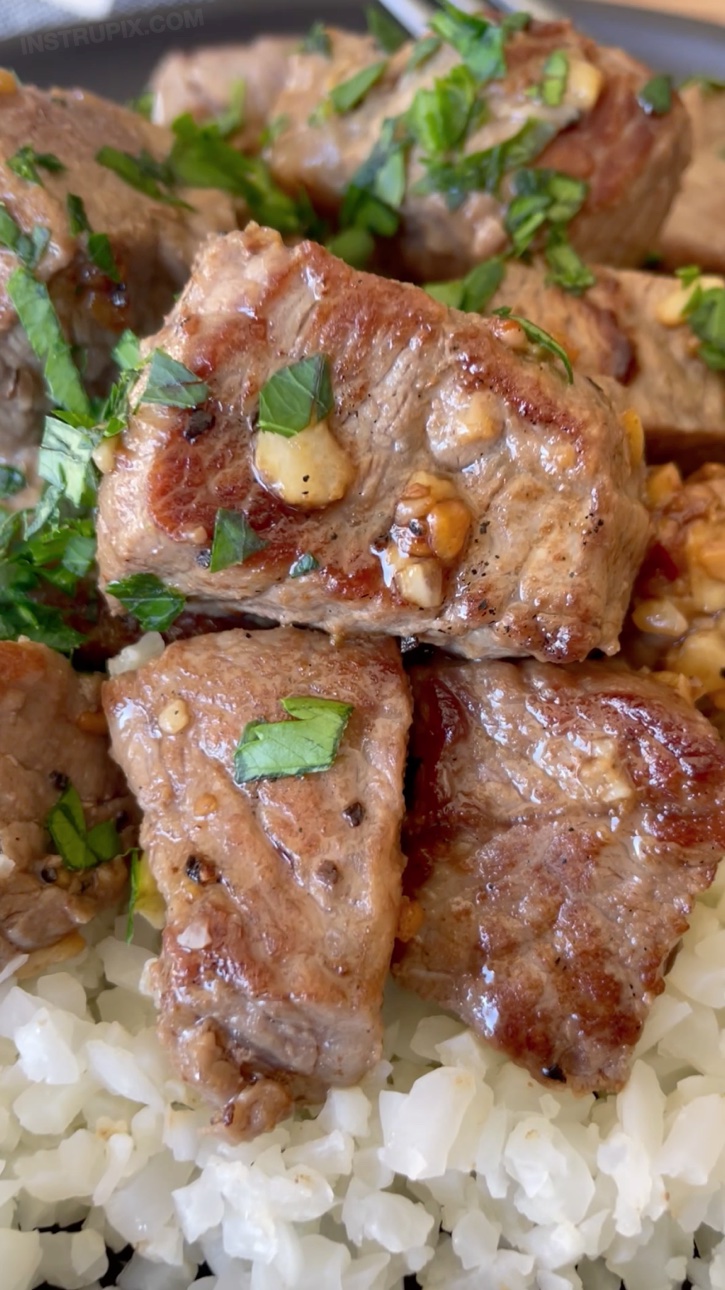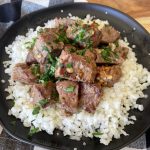 Juicy Garlic Butter Steak Bites (Easy Skillet Meal)
How to make the best steak on your stovetop! No grill required here. If you're looking for easy dinner recipes, these mouth-watering steak bites are full of flavor and really quick to make with just a few ingredients. We like to serve them over a healthy bed of cauliflower rice to keep the meal low carb.
Keyword:
beef, butter, cast iron, easy meals, garlic, keto, low carb, skillet, steak
Ingredients
1

tbsp

olive oil

1

pound

sirloin steak

(or rib eye, strip loin or tenderloin)

4

tbsp

butter

1

tbsp

chopped garlic

(heaping)

salt & pepper

(to taste)

1

(10oz)

bag frozen cauliflower rice

(optional)
Instructions
Cut the steak into bite-size pieces and season with salt and pepper.

Add the olive oil to a large skillet over high heat. Once the pan is very hot, add the steak pieces to it and let them sit for about 2 minutes before stirring so that you get a good sear.

Stir and continue cooking for another 1-3 minutes or until the steak is done to your liking.

Transfer the steak bites to a bowl and turn your skillet down to medium heat. Add the butter to the pan and allow it to melt. Add the garlic and cook for about 30 seconds while stirring.

Pour the garlic butter over the steak bites and mix well.

Serve over cauliflower rice and enjoy!
Don't forget to pin and save these easy garlic butter steak bites for later! 🙂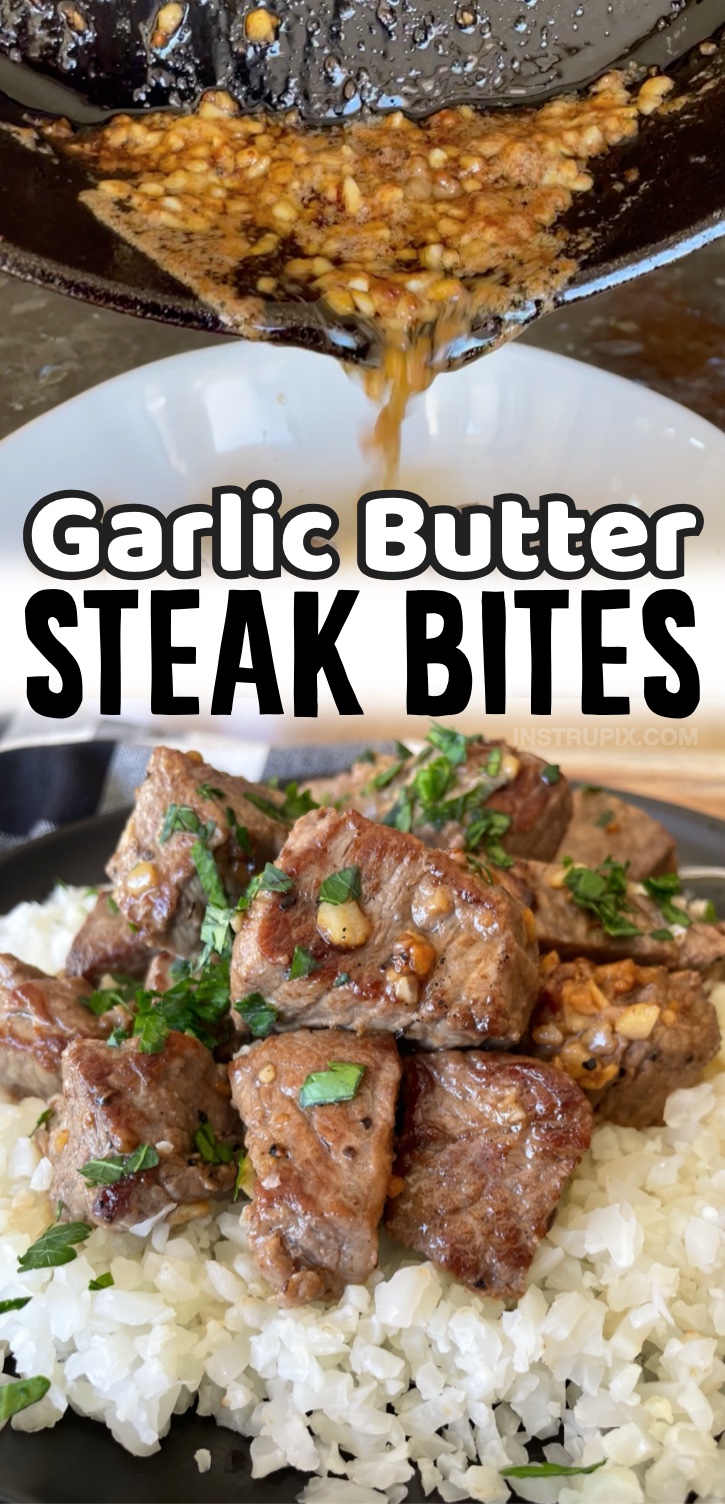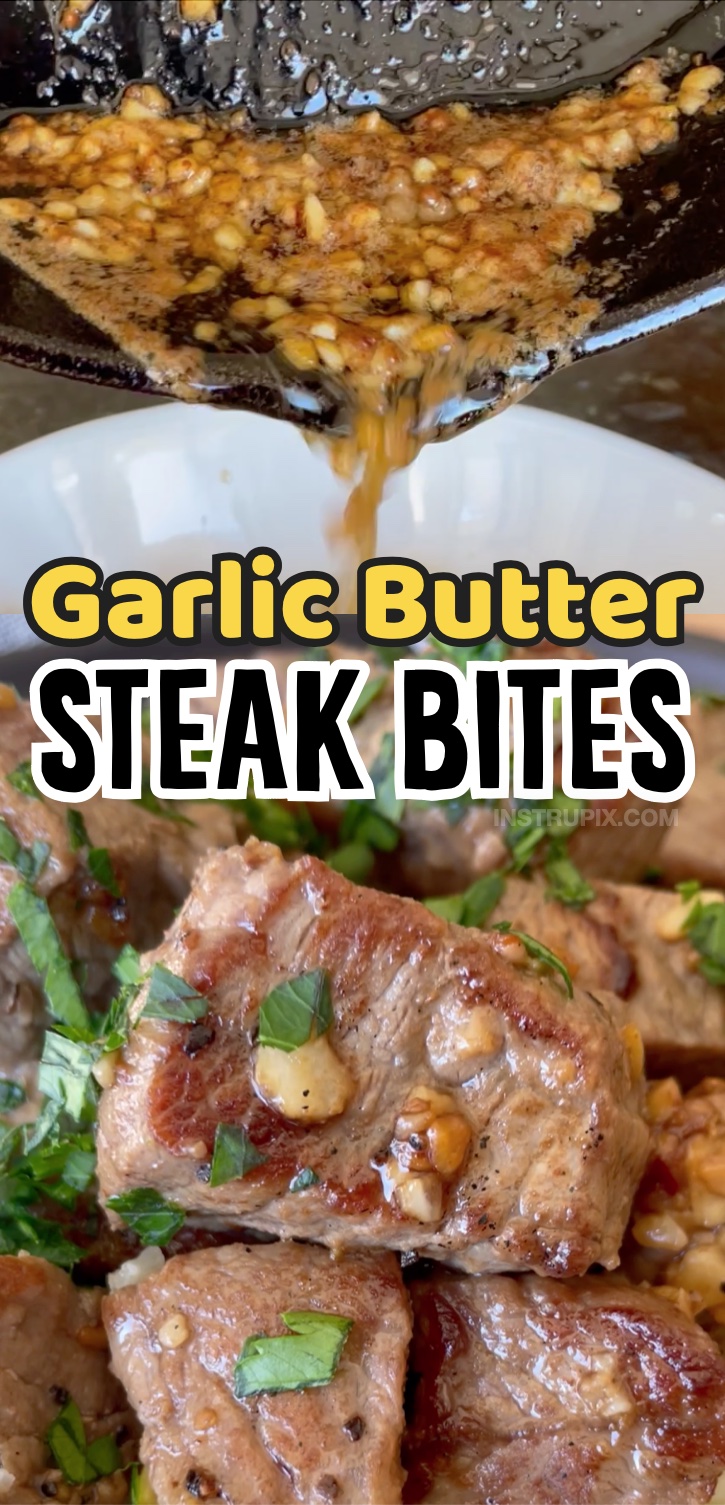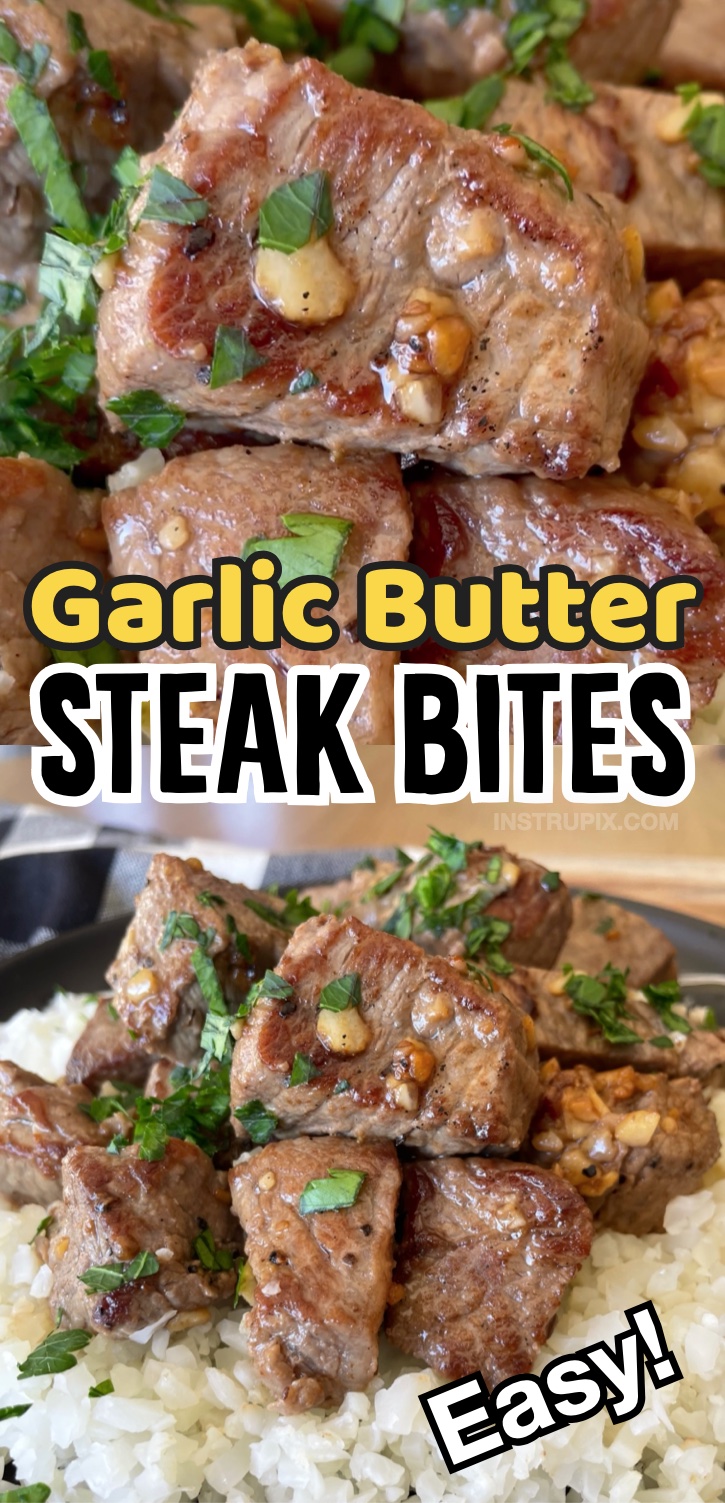 Leave a comment...