Stove Top Stuffing + Meat = NEAT
I've never really been a meatloaf fan, mostly because I've never tried it. I mean, come on, it seems like something you would order at Denny's, plus it seems super complicated. My brain can only handle so many ingredients at once. Like four to be exact.
AND THAT… is why after I discovered the awesomeness of Stove Top Stuffing that I decided this meatloaf was achievable. You mean that's all I have to do is dump a box of stuffing together with ground beef and eggs? Ok. DOING IT!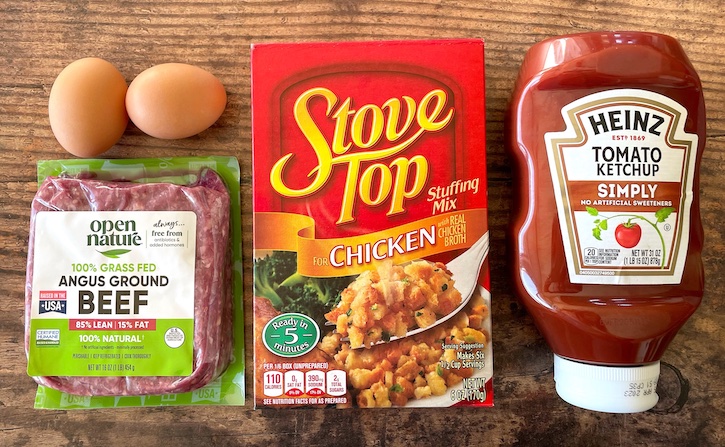 This is such a great quick and easy dinner recipe for busy weeknights. My entire family loves it, including my picky kids! It's absolutely delicious served with store-bought mashed potatoes and gravy. I also like to include a side of veggies or salad to make it at least somewhat healthy.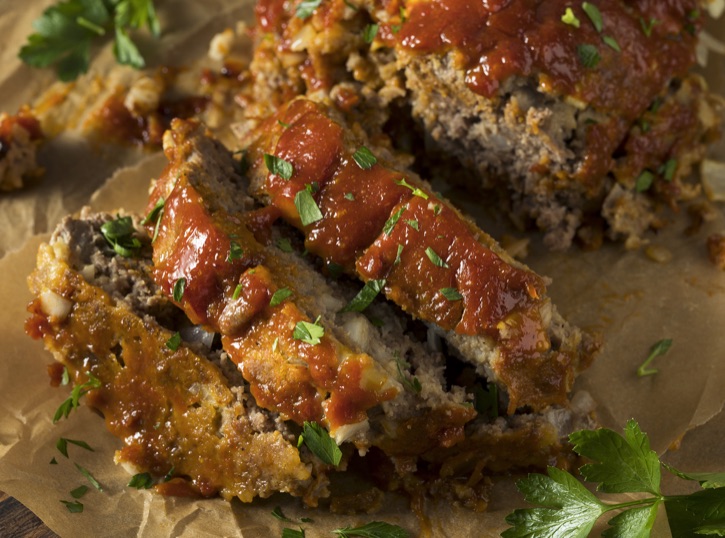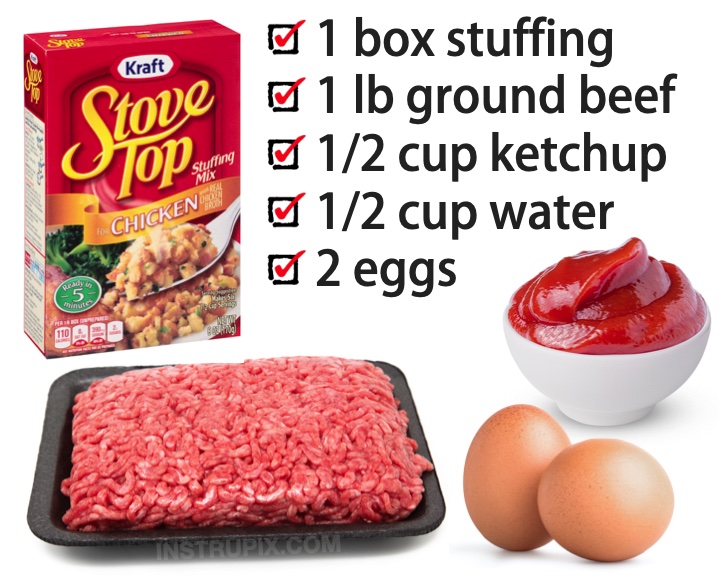 Wait a darn minute, you ask?! How do you make delicious meatloaf with just 4 ingredients. Well, in case you haven't already figured it out, it's the delicious stuffing. It's already flavored with seasoning, onions, chicken broth, celery, and carrots. Oh, and bread crumbs; that's what holds everything together.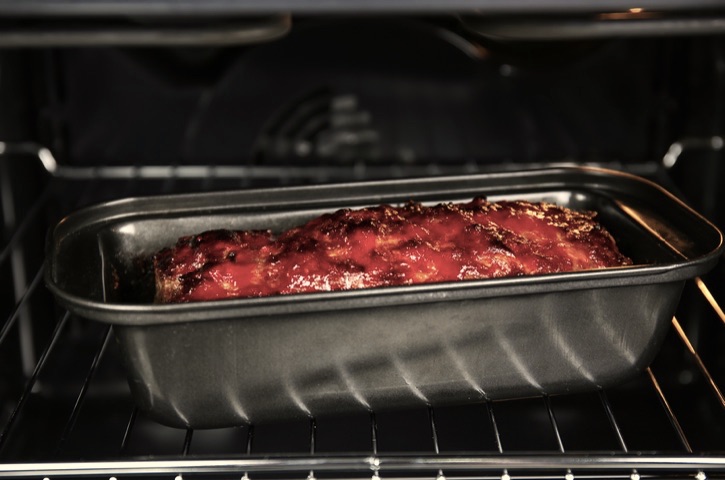 You can, of course, dump anything else in there that you would like such as diced onions, parmesan cheese, minced garlic, red pepper flakes, herbs, etc., but this recipe is your base, and really all you need for a quick dinner.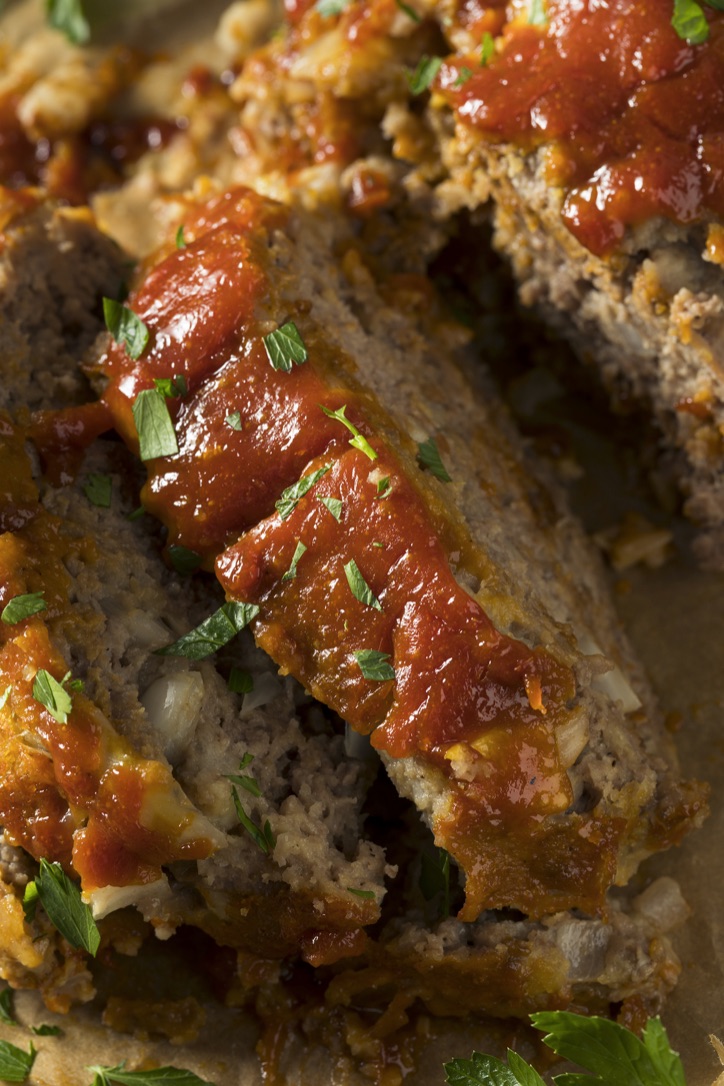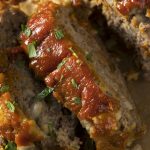 The Easiest and BEST Meatloaf You Will Ever Make
This easy meatloaf recipe is the best thing since sliced bread (Oh crap, that's bad now!! Forgot about carbs). Oh, well. It's still an amazing quick and easy dinner recipe for busy weeknight meals. The boxed stuffing makes all the difference!
Keyword:
cheap, dinner, easy meals, family dinners, few ingredients, ground beef, stuffing
Ingredients
1

box

Stove Top Stuffing

(any flavor)

1

pound

ground beef

2

eggs

1/2

cup

ketchup

(or more if you'd like)

1/2

cup

water

(or a little more if your beef is super lean)
Instructions
Preheat oven to 350 degrees and grease a bread loaf pan.

In a large bowl, mix together the dry stuffing mix, ground beef, eggs, water and HALF of the ketchup.

Fill the prepared pan with your mixture and use your hands to evenly squish it down into the pan.

Top it with the remaining ketchup and spread it evenly over the top. You can also use BBQ sauce, chili sauce, or a combination of sauces.

Bake for 45-60 minutes (it takes about 50 minutes in my oven).

Enjoy! I'd wait a few minutes before slicing it up. Serve with mashed potatoes, veggies, salad, or anything thing else you'd like.
Don't forget to pin and save this easy dinner recipe for later! 🙂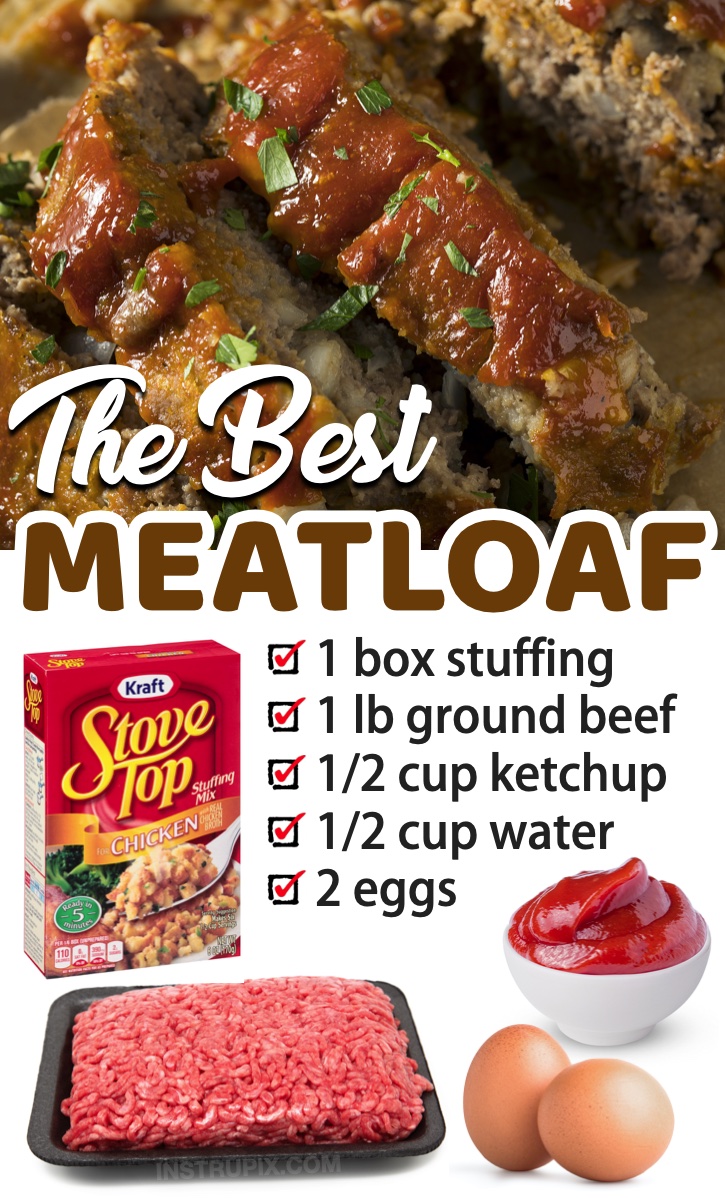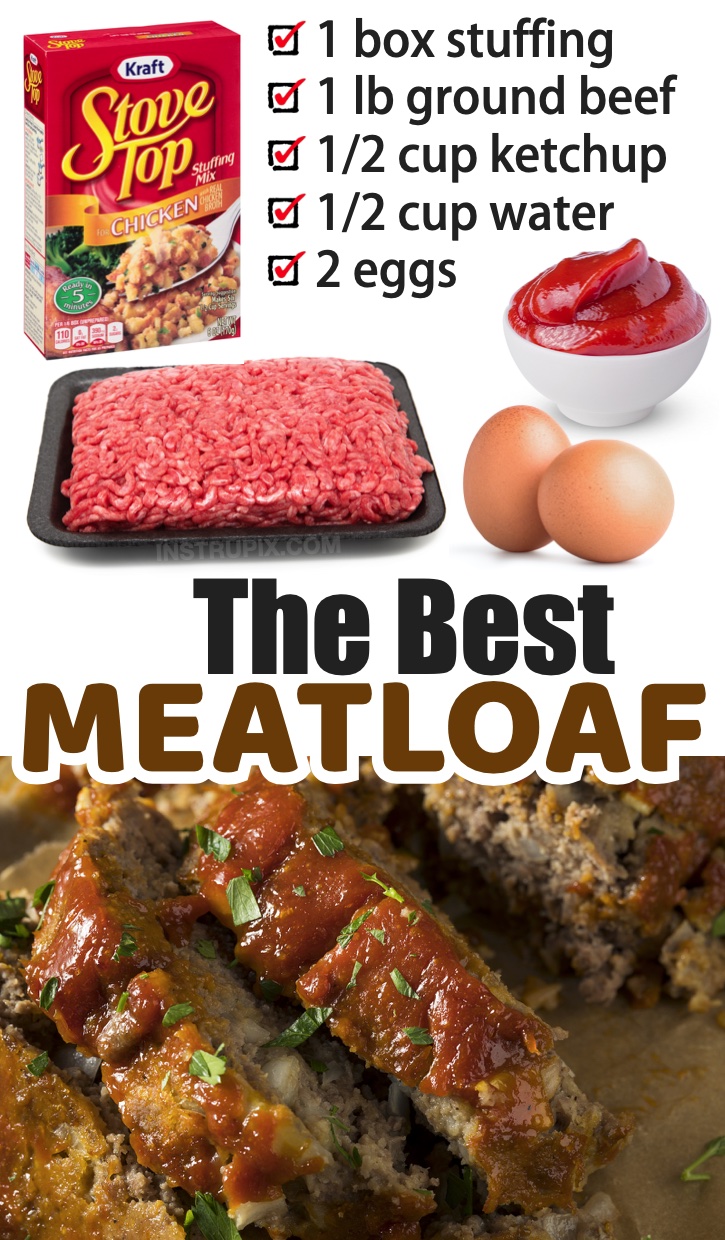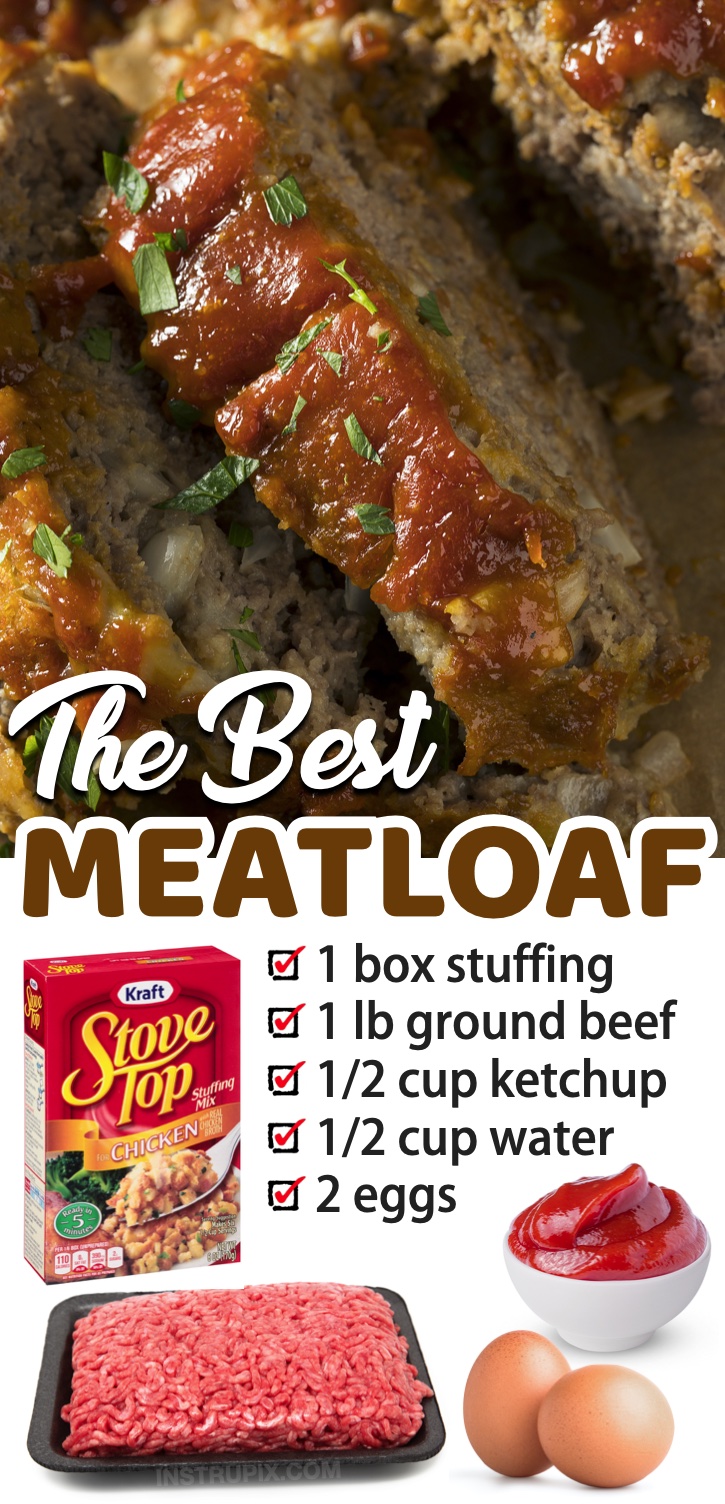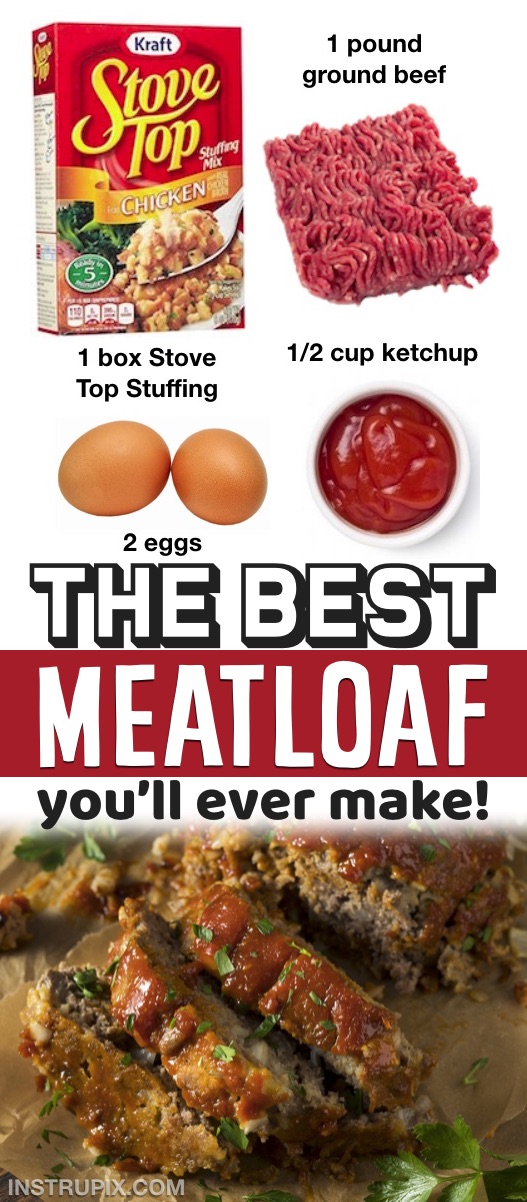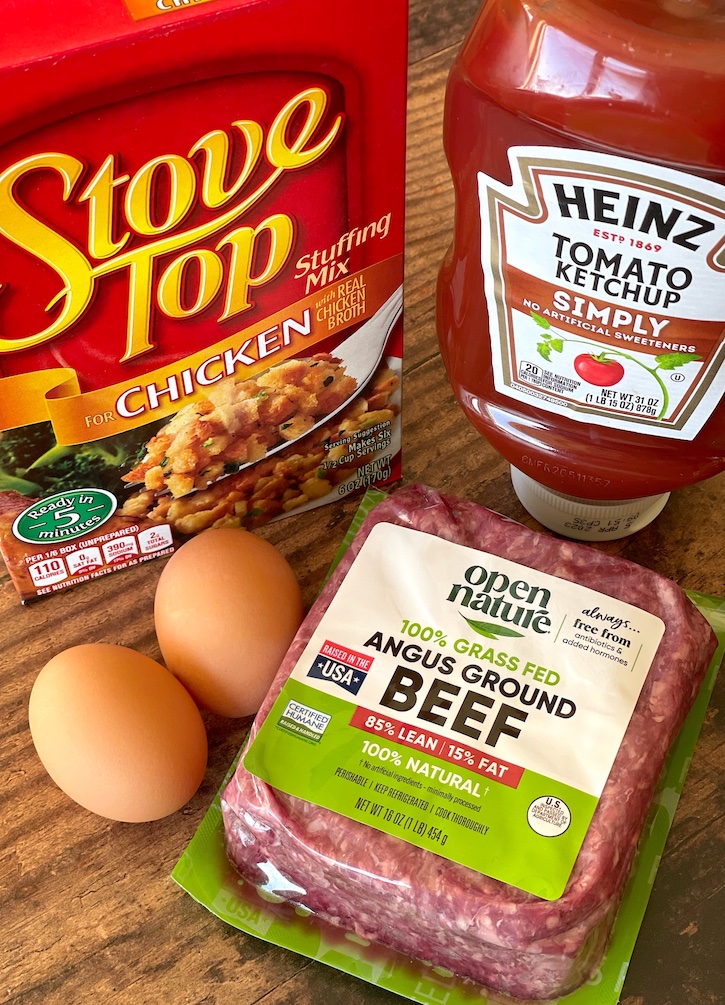 Leave a comment...