Easy & Creative DIY Recycled Tin Can Ideas
If you're looking for fun upcycling ideas, try adding some personality to simple old tin cans! You would never guess that these beautiful and unique containers were made out of a hunk of metal that would normally end up in the trash.
This simple and budget friendly idea is effortless enough for kids to make with a little bit of help, but is an ideal project for teens and adults looking for something useful and fun to make.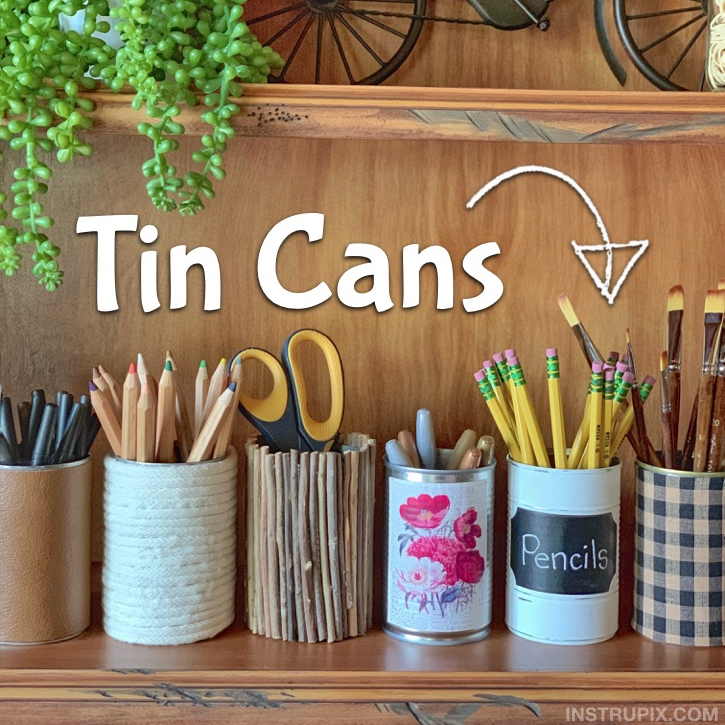 What To Use Them ForThese tin can projects can be used for home and office organization, pretty table displays, holiday garland, a clever little vase, makeup brush holders, or anything else around the house you want to keep organized or just make a little prettier. You just have to be creative with the materials you already have at home!
Helpful Tip: Watch for sharp edges when washing your cans.
---
1. Sticks & Hot Glue
This design took me the longest to make, but it's definitely my favorite. The sticks make for the perfect rustic container for displaying holiday garland and flowers. My daughter said it looked like something I bought at a store. Isn't she the BEST!?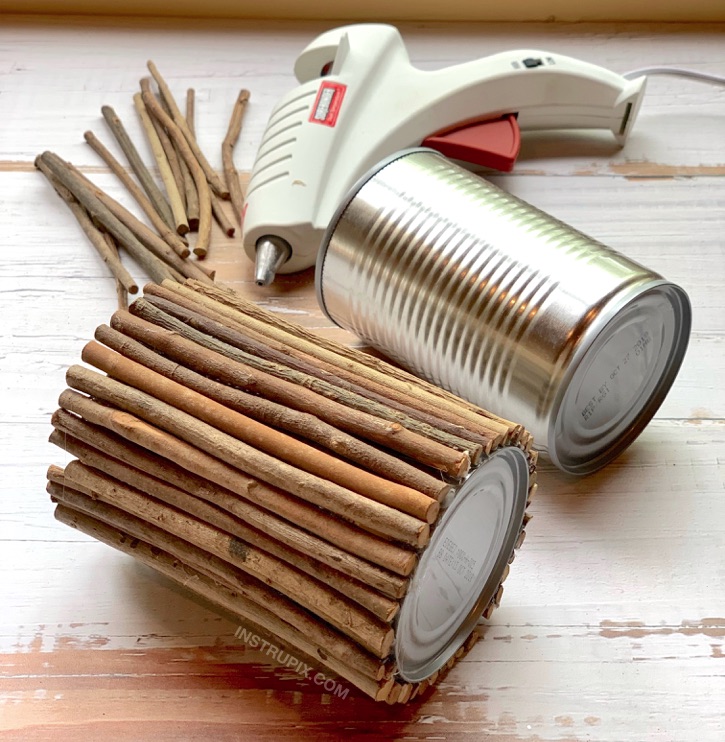 Helpful Tips
I happened to have these sticks leftover from another project. I KNOW, I'm a big time cheater, but they ended up being the perfect height for these cans. If you are using sticks from your yard, you will obviously need to trim them to size.
Align the FIRST stick you apply as straight as possible as it's the ultimate guide for how all of the other sticks will lay.
Some of your sticks will not be friends, so be choosy in which ones you lay next to each other before applying the glue in order to avoid large gaps.
When laying your sticks down onto the glue, start at the BOTTOM of the can. It's best for them to be staggered at the top and straight on the bottom.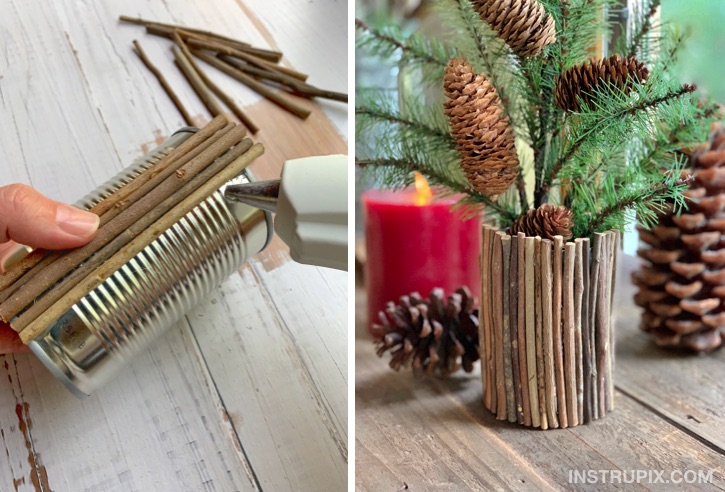 2. Mod Podge & Print Outs
This idea is so simple and can be used with any kind of paper (newspaper, book pages, sheet music, etc). I simply printed out some floral ephemera to size.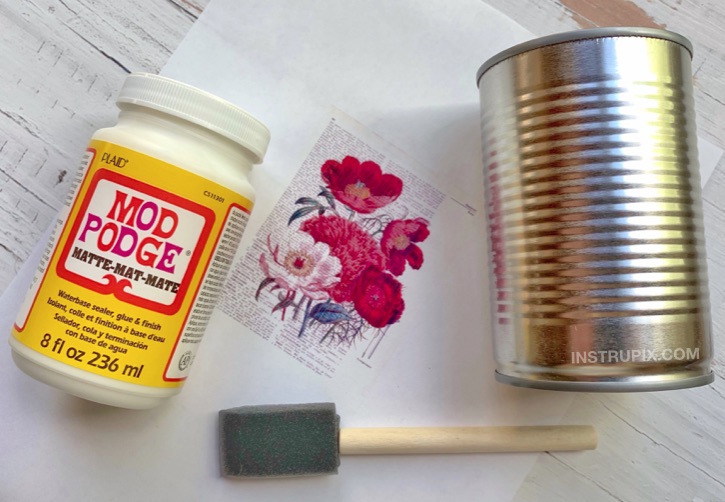 Once you have your paper cut to size, use a sponge brush to apply a thin layer of mod podge to the back of the paper and then press it down onto the can using your fingers to smooth out any lumps.
Paper is probably the easiest way to add little personality to a tin can! You can print out just about anything imaginable from family photos to uplifting quotes.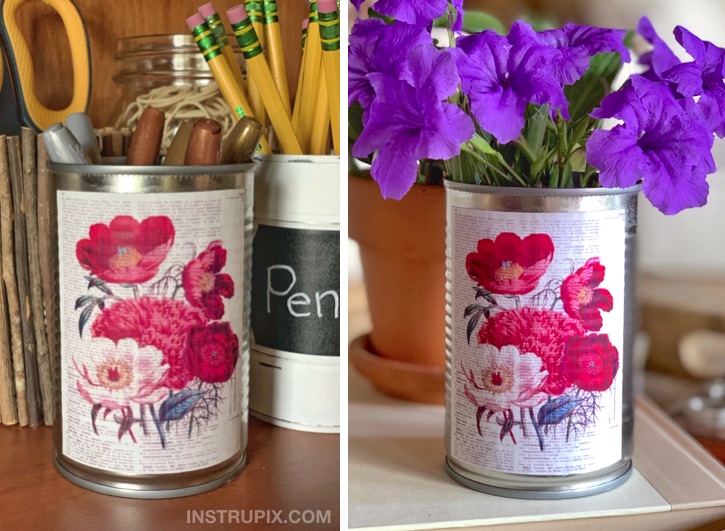 3. Large Burlap Ribbon
Burlap ribbon makes for the perfect tin can disguise, especially for rustic holiday garland and table centerpieces.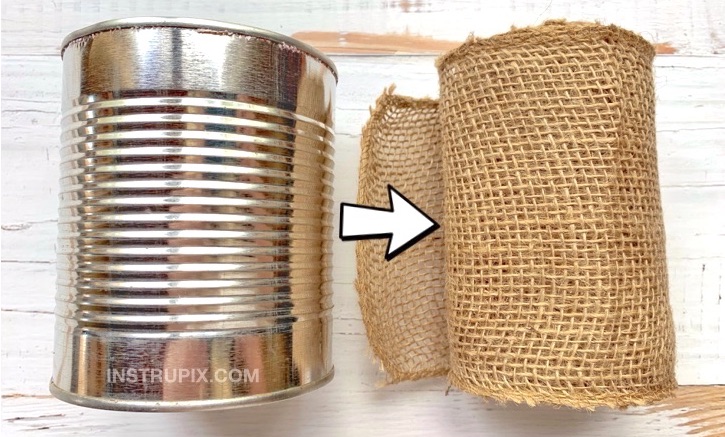 I used this 5″ burlap ribbon that I bought last year for my Christmas tree, and it was the ideal length for covering a can. Simply use hot glue to adhere one end, wrap it around the can, and then use a little more glue on the other end to keep it in place.
I finished it off by wrapping and tying a little bit of twine over top. You could also use a colorful ribbon and switch it out for each changing season.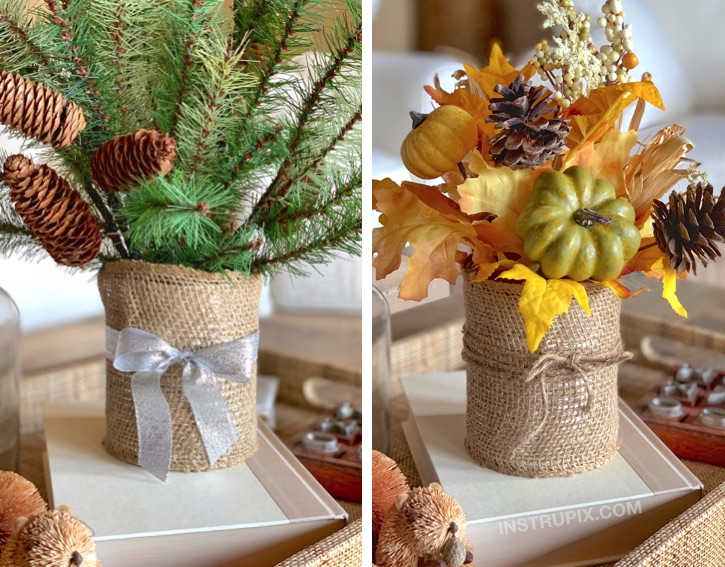 4. Wrap It In Rope
Once again, your hot glue gun will come in handy for this! Simply wrap and glue, wrap and glue, wrap and glue, and continue all the way around the can until it's completely covered. Capish? I started at the top and worked my way down.
You can use just about any kind of small rope or twine for this. I used the extra cotton cord that I had laying around from a project I did years ago.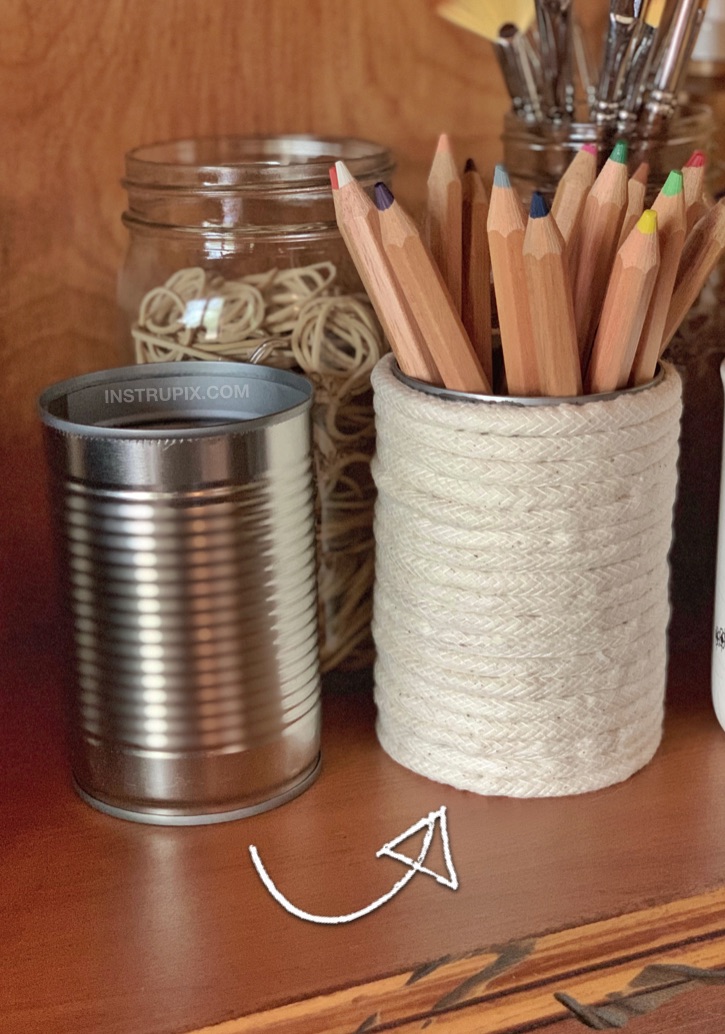 5. Paint & Chalkboard Stickers
Painting seems like the obvious way to dress up a tin can, but it looks much more attractive if you use sandpaper once it dries to antique it. I also attached a chalkboard sticker that I had left over from my pantry labels.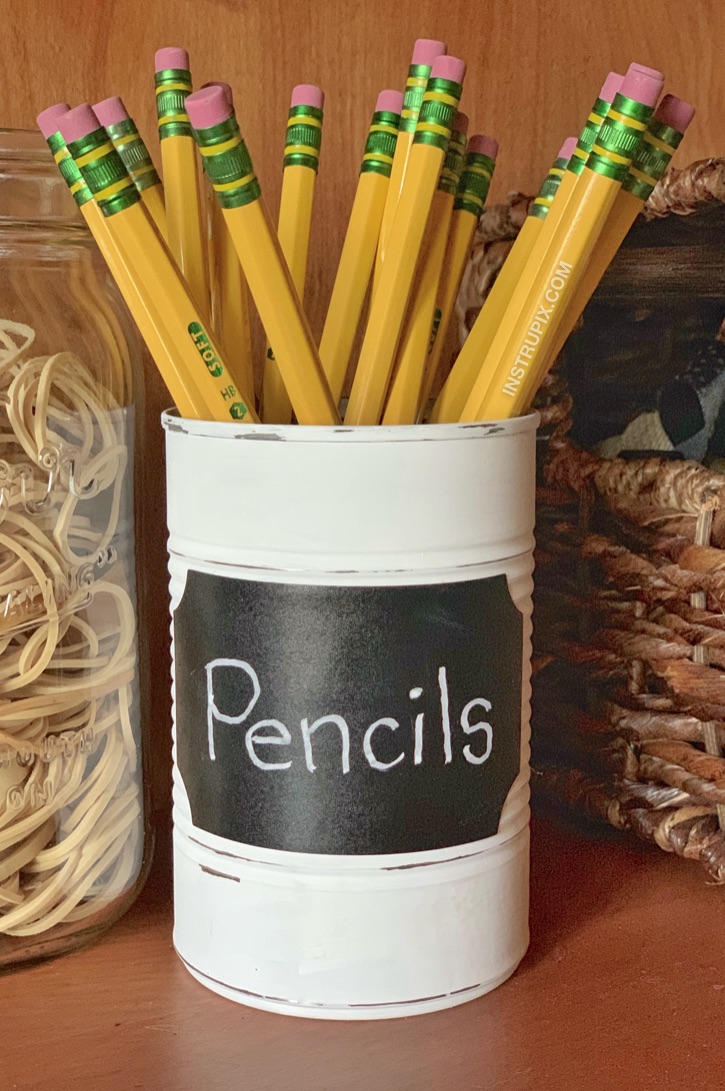 6. Fabric Wrapped
Use leftover scraps of fabric or even old clothes to add a soft and charming touch to your cans. This technique takes a little more time and effort (plus ironing) to get it right, but it's totally worth it.
Cut and measure your fabric so that you have plenty of room for overlap, and then fold and iron all of the edges in to prevent unraveling and loose threads. Use hot glue to adhere it to the can. Done!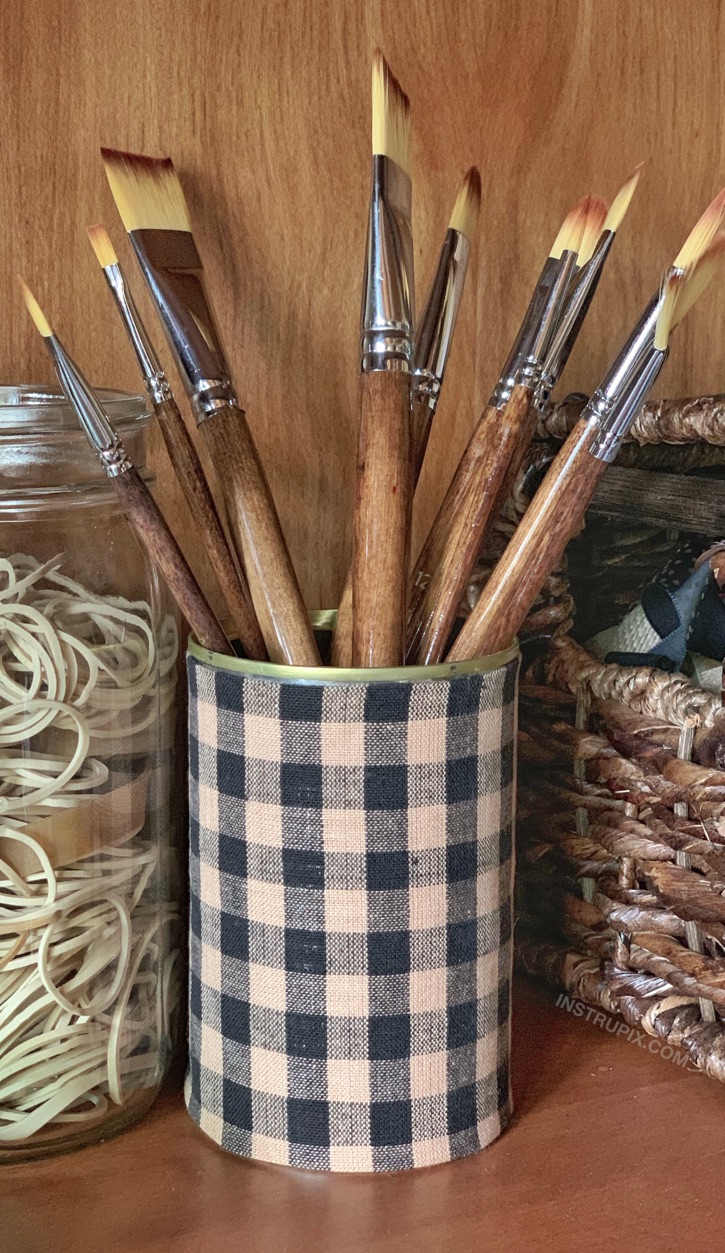 My hubby saw me making these and suggested that I use the leftover scraps of leather he had stuffed in a drawer. It turned out to be a pretty decent idea!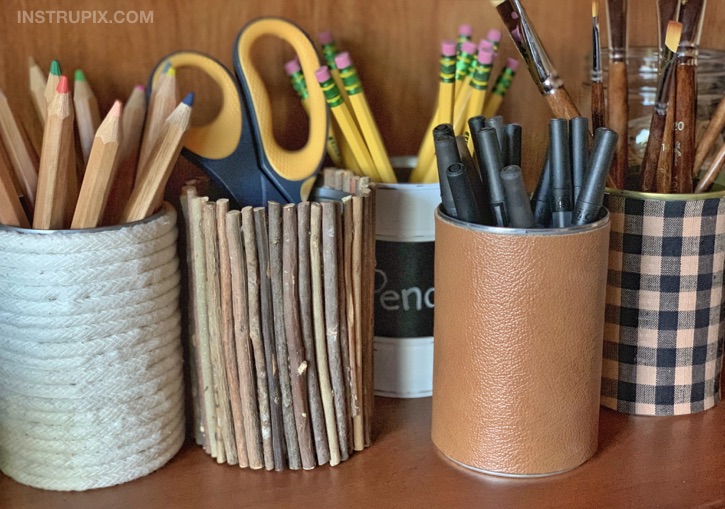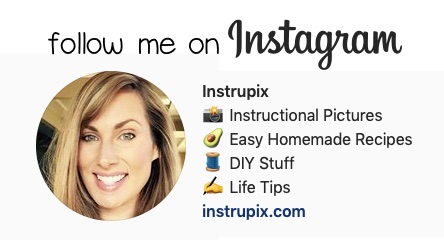 How else could you dress up a tin can?
Lace, newspaper, spray paint, scrapbook paper, stickers, craft sticks, dried leaves or flowers, stencils, quotes, buttons, feathers, pipe cleaners, pom poms, googly eyes, beads, glitter– or even drill a few holes to make a mini lantern!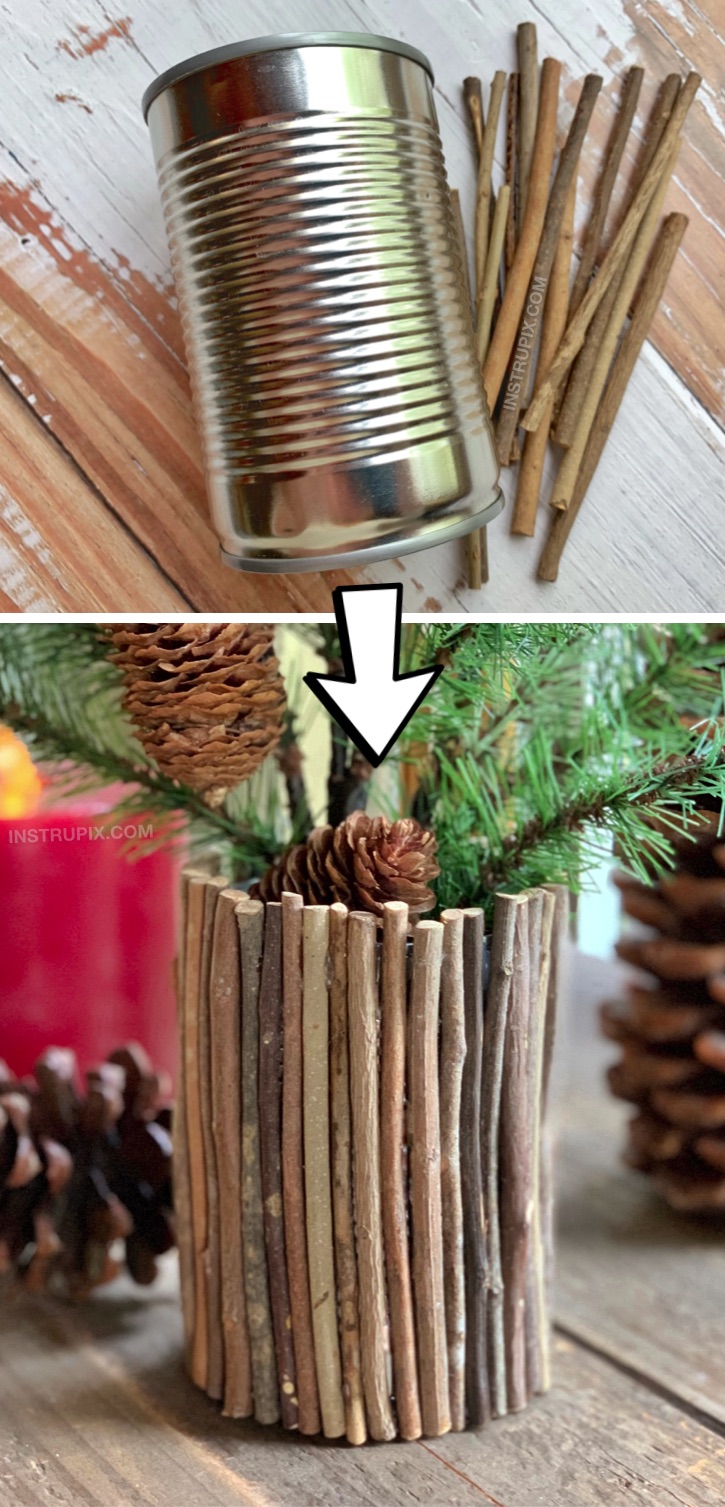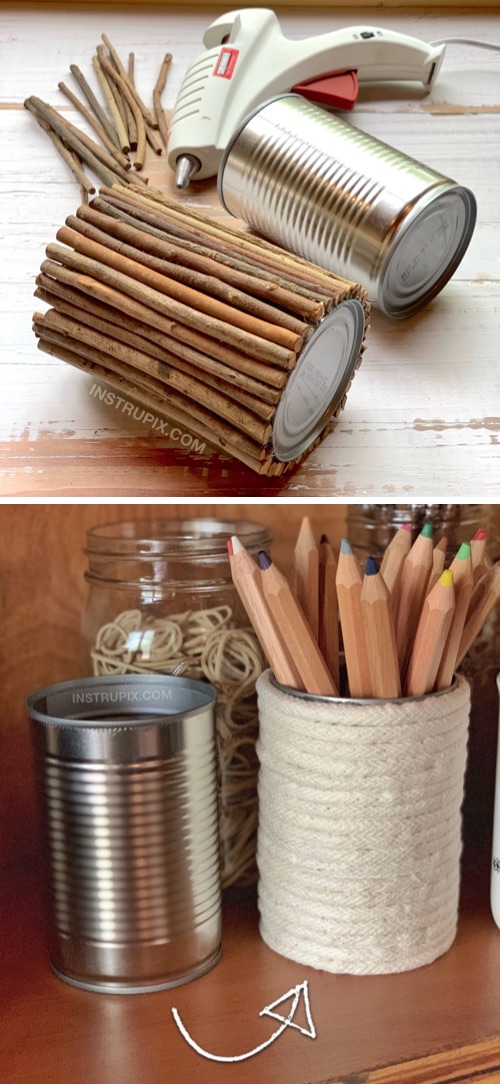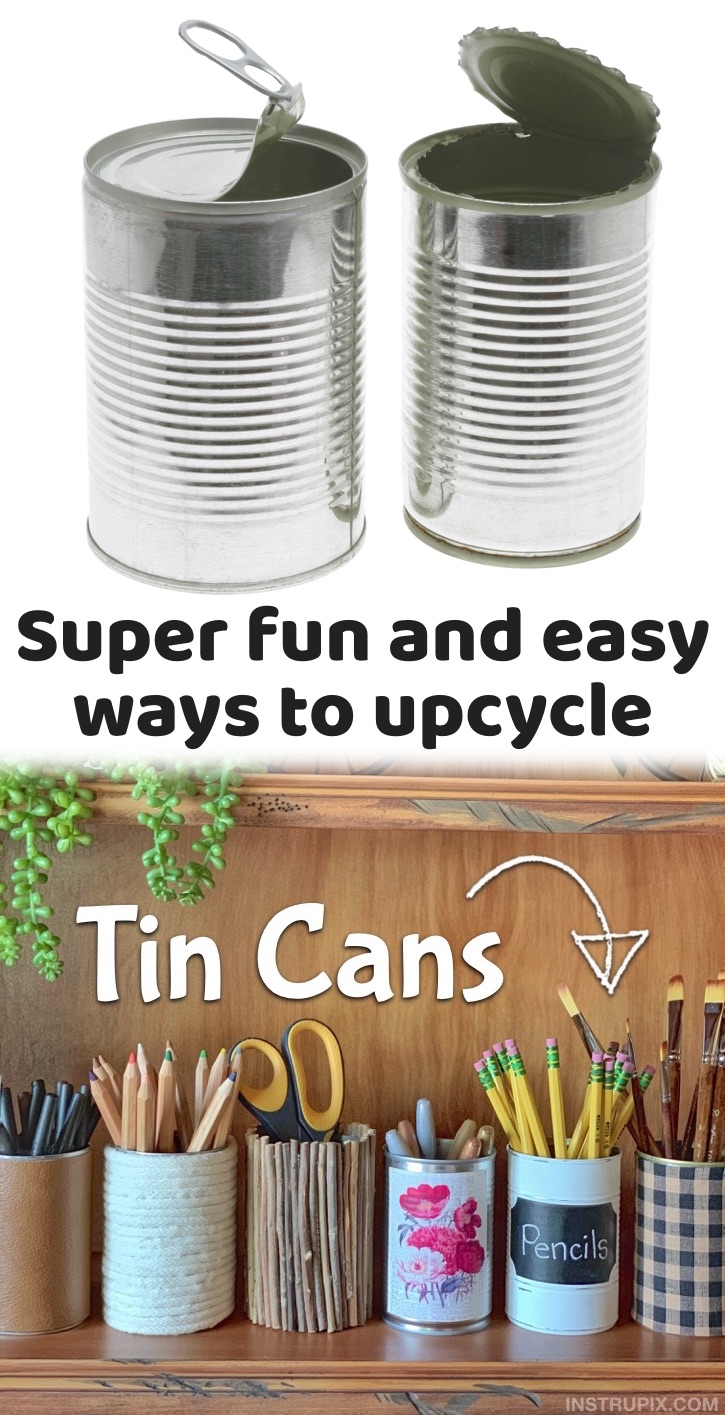 Leave a comment...