Mini Reese's Cups, Reese's Pieces, Peanut Butter Chips & White Chocolate Chips all come together to make the best cookies on the planet.
Get ready to fall madly in love with these insanely soft, chewy and delicious peanut butter cookies. I call them "Goddess" cookies because they're like nothing on this earth. Heavenly is a word that comes to mind.
The dough itself doesn't have any peanut butter, but the combination of the white chocolate chips, peanut butter chips and Reese's candy give these cookies the perfect touch of peanut butter while still being able to taste the buttery goodness of the dough.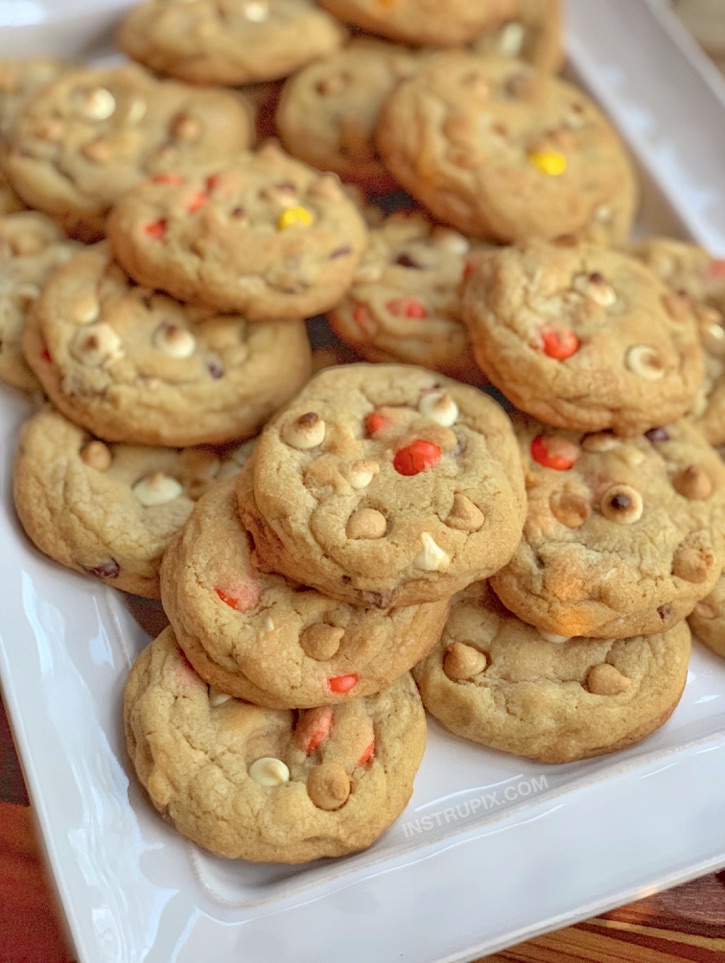 My husband is a huge peanut butter fan, so I wanted to come up with a recipe that was little different than your classic peanut butter cookies– something BETTER! I figured I'd just mix a classic cookie dough recipe with lots of peanut butter candy. How could I go wrong?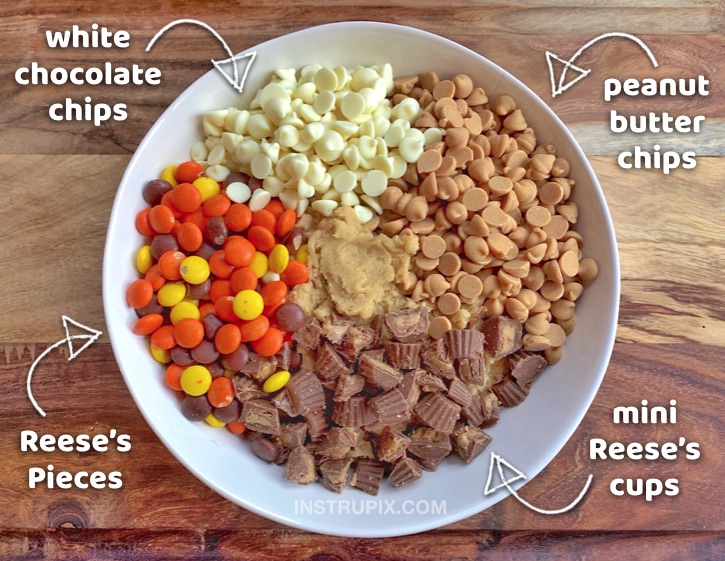 You can buy the Reese's Baking Cups & Pieces Candy Bags by the chocolate chips in the baking aisle at most grocery stores.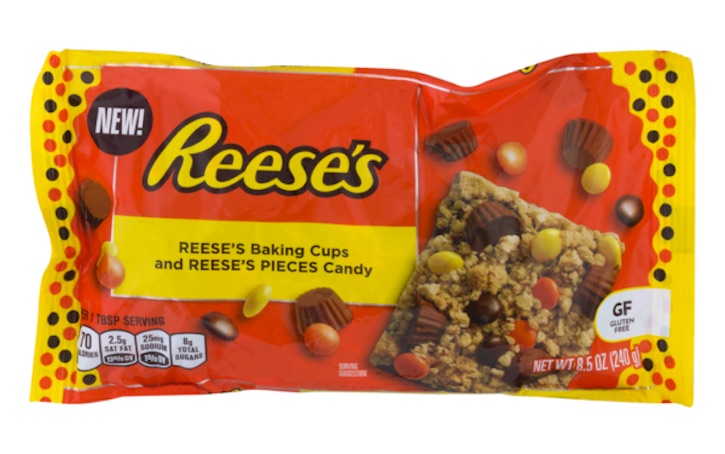 These cookies turned out absolutely fabulous! They will be very soft when you pull them out of the oven, but will firm up to perfection once they cool down. Thick, chewy and yummy.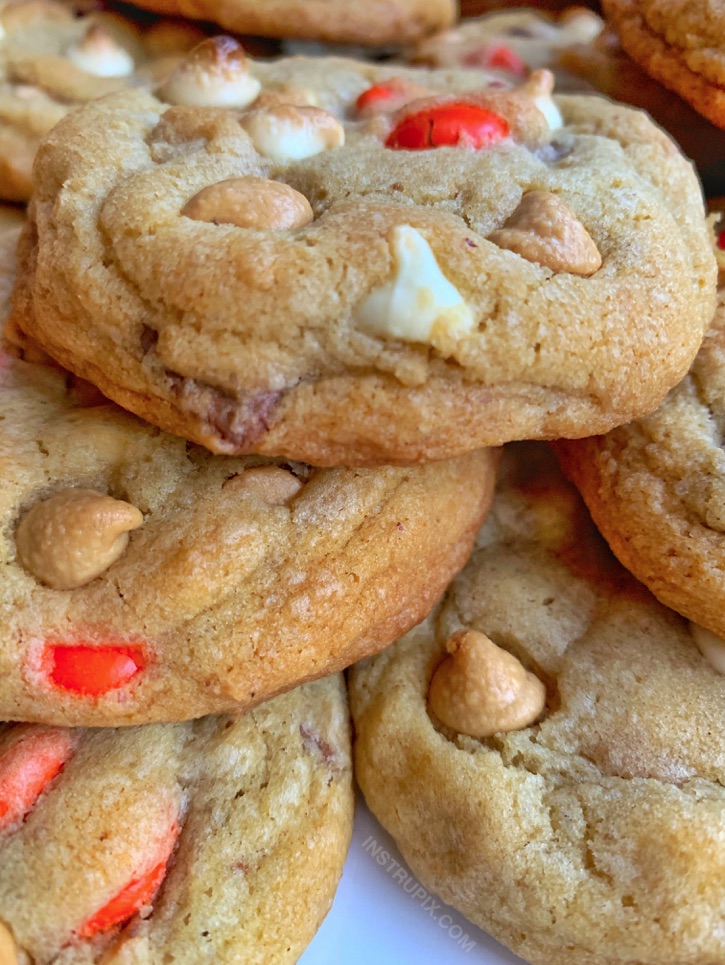 Peanut Butter Goddess Cookies
This easy cookie recipe is nothing short of heavenly. Seriously, the BEST cookie dough recipe mixed with white chocolate chips, peanut butter chips, Reese's pieces and peanut butter cups all come together to make 32 generous sized soft and delicious cookies.
Keyword:
chocolate, cookies, desserts, peanut butter, sweet treats
Ingredients
2

sticks

of butter

(at room temperature)

1 cup + 2 tbsp packed brown sugar

1/2

cup

granulated sugar

1

tsp

vanilla

2

eggs

(at room temperature)

2.5

cup

all purpose flour

1

tsp

baking soda

3/4

cup

white chocolate chips

3/4

cup

peanut butter chips

1

(8.5oz)

bag Reese's baking cups and pieces candy

(chop the cups into smaller pieces)
Instructions
Preheat the oven to 375 degrees and line two large baking sheets with parchement paper.

In a large bowl, whisk the butter, both sugars and vanilla together for about 2 minutes or until creamy. Add the eggs and beat for about 30 seconds; set aside and allow to rest for 5 minutes (keep your mixer handy to beat again before adding the flour).

In a separate bowl, combine the flour and baking soda.

Beat your butter, sugar and egg mixture again for about 30 seconds.

Use your hands to slowly combine your flour mixture (half a cup at a time). Next, fold in the white chocolate chips, peanut butter chips and Reese's candy in with your dough.

Line each baking sheet with 16 large balls of your dough, leaving enough space in-between for spreading.

Bake for about 11 minutes, or until golden brown on the edges.

Allow to cool for 5 minutes. Enjoy!
Recipe Notes
I forgot to do this, but to make your cookies "prettier" you can set aside some of the candy and use it to top the cookies once your dough balls are formed. This kind of showcases what's inside. You can also do this immediately after they come out of the oven.
Don't forget to pin and save for later! 🙂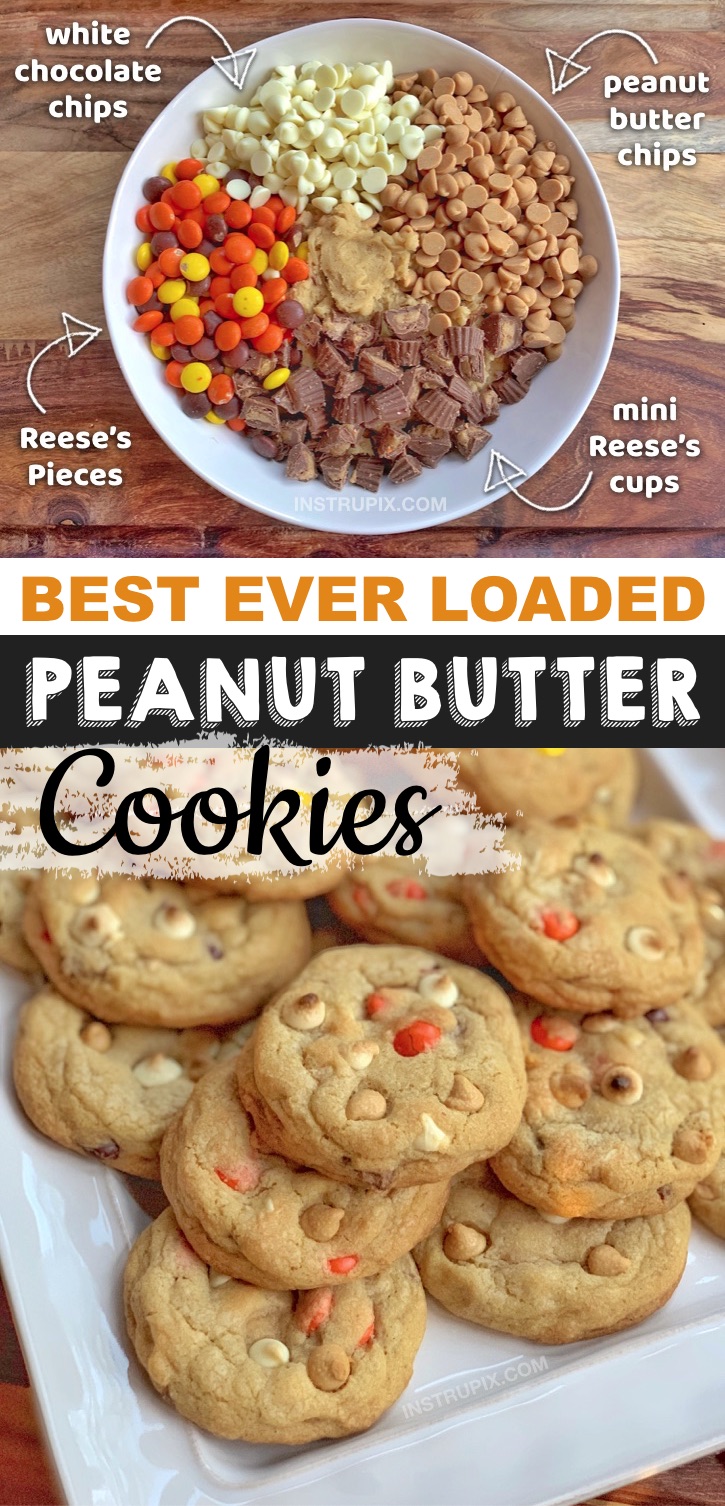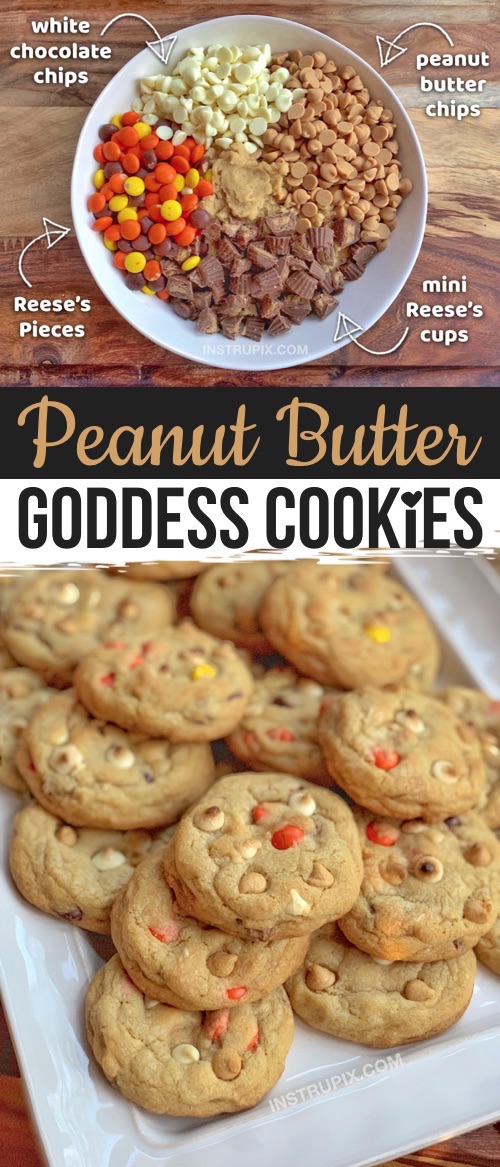 Leave a comment...