Are holidays a good excuse to get drunk? Yes, of course they are. And alcohol is the reason I look forward to Christmas and Thanksgiving so much. Just kidding! Well, kind of…
I do enjoy making and drinking new cocktail recipes, and the holidays seem to be the only time of year that inspires me to try something other than my usual wine or vodka soda. Anything that I can easily whip up with just a few ingredients is fair game, especially when I'm trying to serve a crowd.
If you enjoy drinking alcohol but are super lazy like me, then you are going to love these 6 easy drink recipes! Whether you're a whiskey, vodka or wine lover, there is a delicious cocktail here for everyone.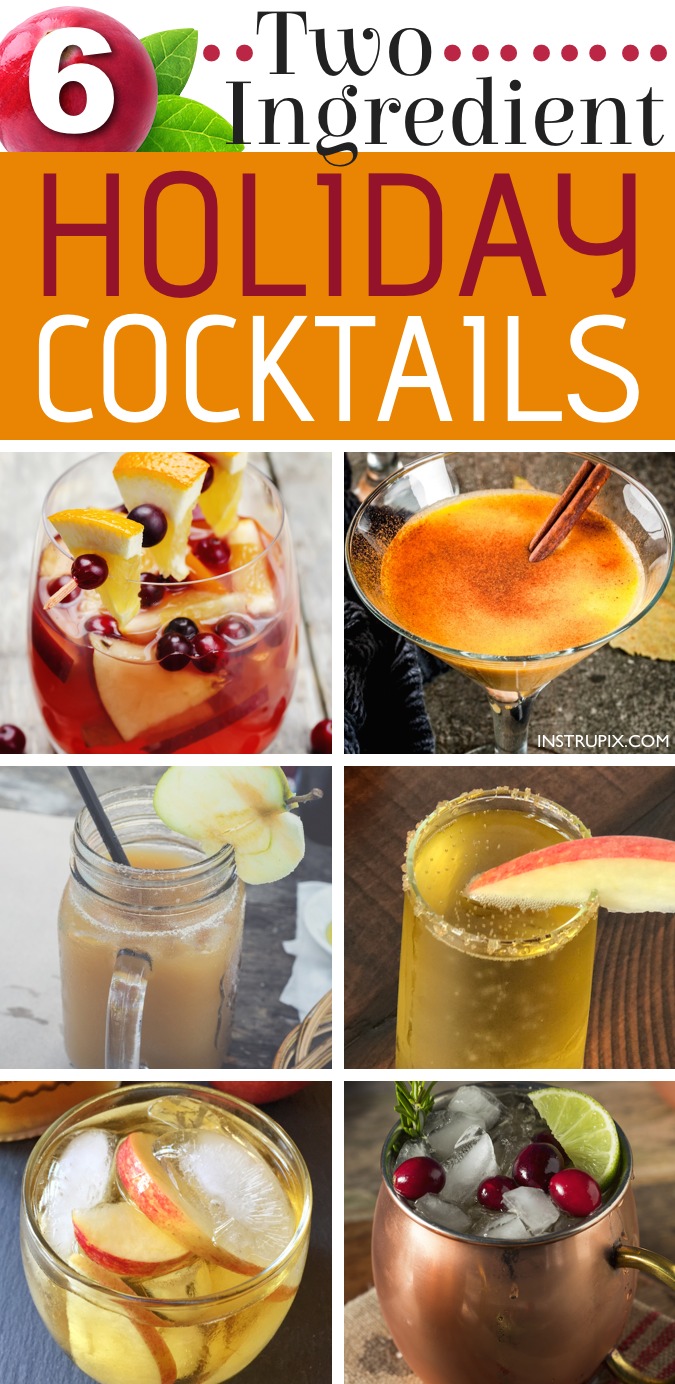 ---
1. Caramel Apple Cider Cocktail
Simply combine 2 ounces of caramel vodka with about 8 ounces of apple cider, and enjoy over ice. Feel free to garnish with fresh apple slices, or even a caramel rim if you're feeling fancy. YUM!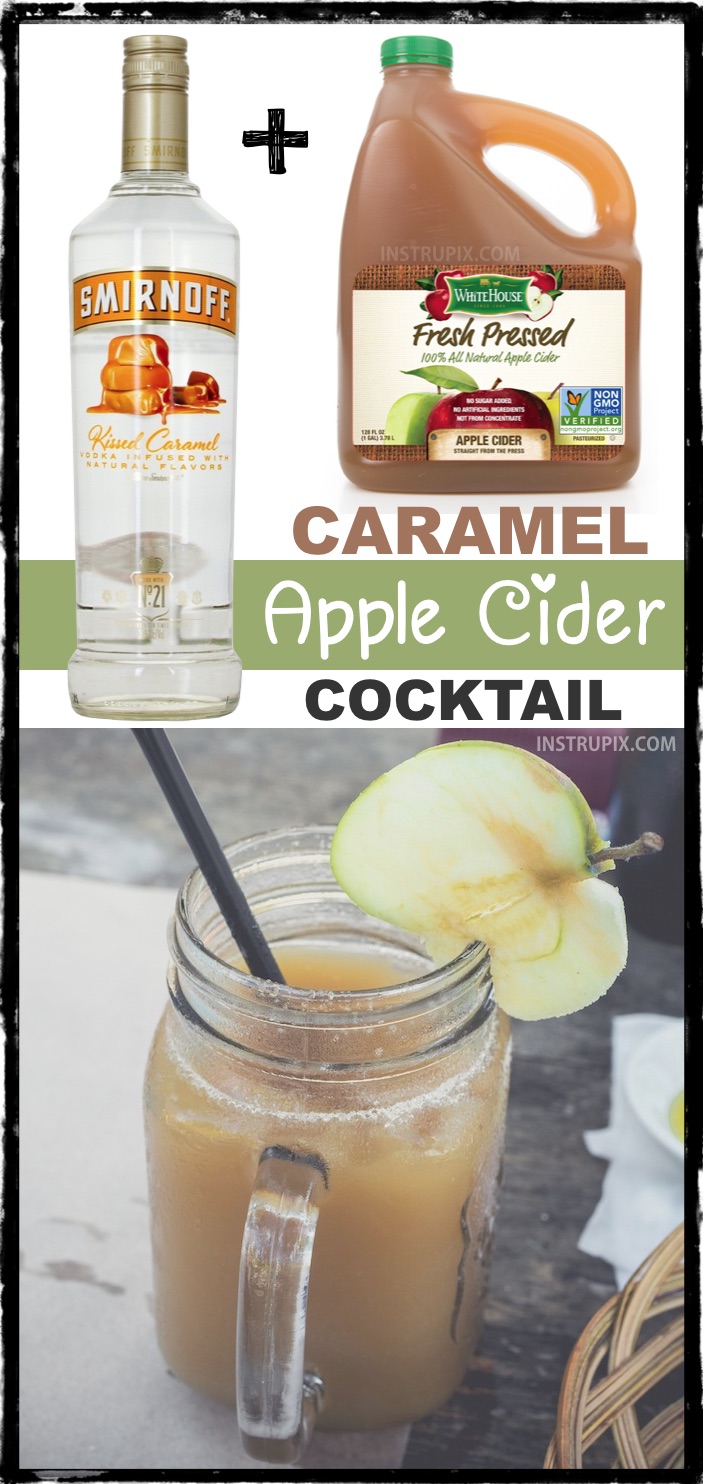 2. Pumpkin Pie Martini
Using a cocktail shaker, shake 2 parts pumpkin pie liqueur with 1 part whipped cream vodka and ice, and then pour it in a glass to enjoy. Most martini glasses are about 5 ounces, so have fun doing the math. And, if martini glasses aren't your thing, it tastes just as yummy in a cup.
I like to top it with cinnamon just for the visual effect, but you don't have to. You can also rim the glass with crushed graham crackers if you're serving these at a party. I would also suggest storing the vodka in the freezer so that it doesn't water the drink down.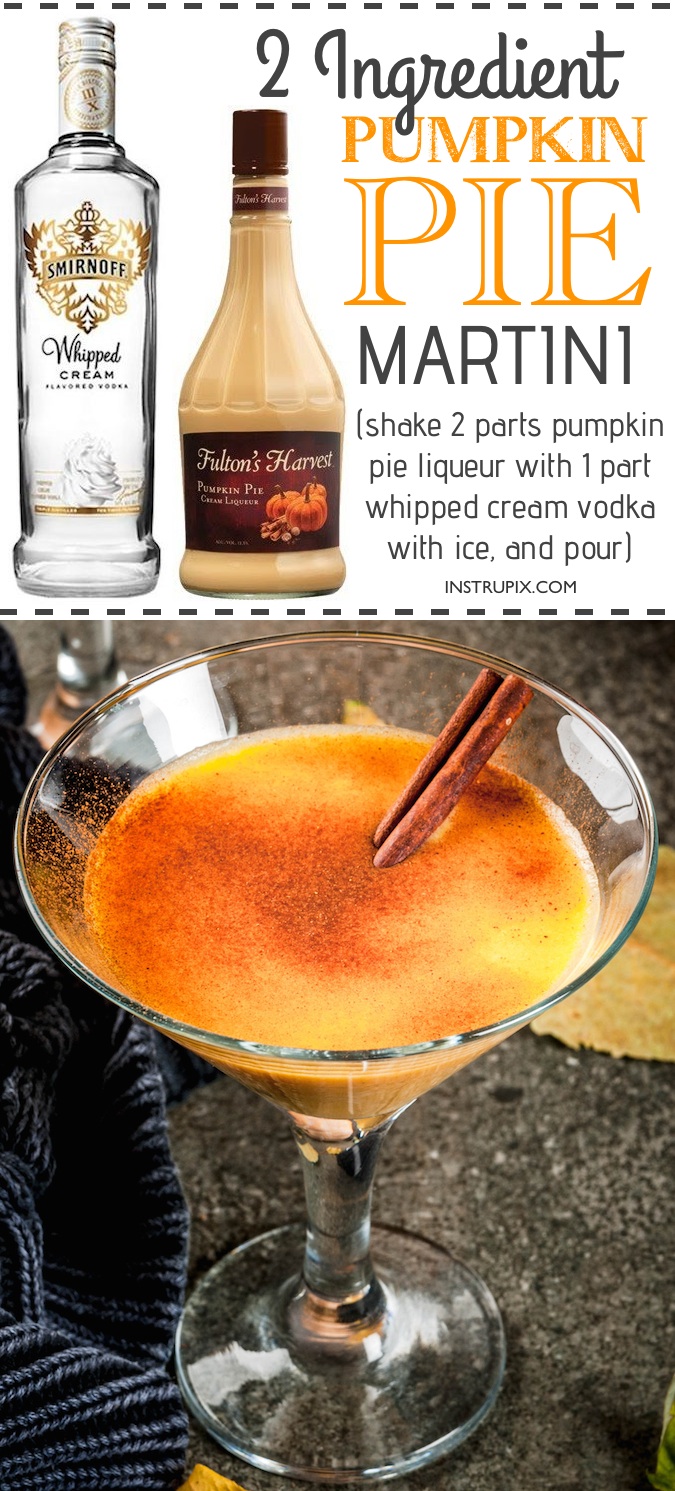 3. Cranberry Moscow Mule
If you're a moscow mule fan, you're going to love this simple drink! Pour 2 ounces of cranberry vodka over ice and top with ginger beer (about 6 ounces).
I prefer the Crabbie's ginger beer brand because it's alcoholic and they have a variety of flavors. Their orange flavor is awesome with the cranberry vodka!
Garnish with cranberries and citrus slices if you'd like. Fresh squeezed lime or orange juice also takes this recipe up a notch.

4. Easy Apple Cider Mimosas
Pour about 2 ounces of apple cider into a champagne flute, and top with champagne or prosecco. Unless you want to rim the glass with brown sugar and garnish it with an apple slice because you like things pretty, then that's it! Just sip and enjoy.
Because apple cider is unfiltered, it is usually cloudy in appearance, but the cheap Safeway brand that I bought this time was crystal clear…. hmmmm, not sure why. I prefer the look of the cloudy cider, but it tasted the same.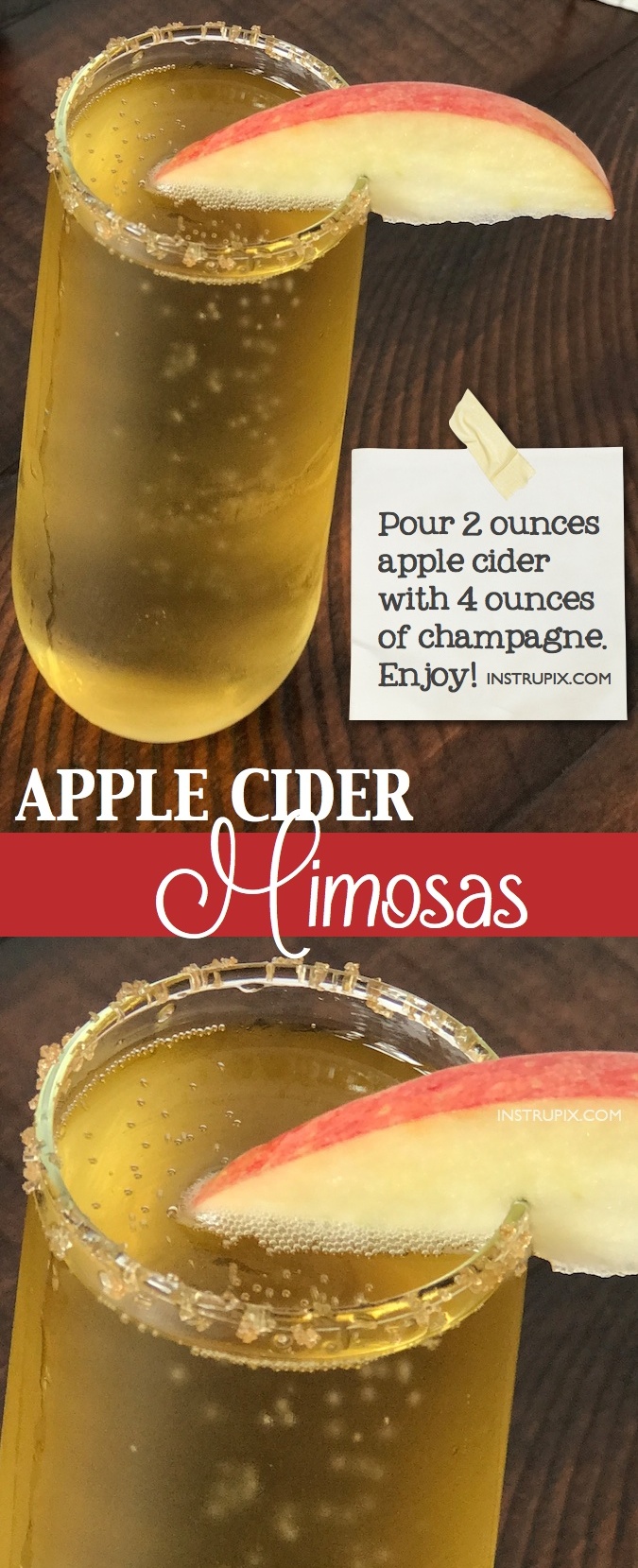 5. Easy Winter Sangria
This might feel like cheating, but if you mix equal parts of red wine and ginger ale, it tastes just like traditional sangria! Do not use sweet red wine or it will be too sweet. A pinot noir, cabernet, merlot or any dry spanish wine is perfect.
Start with less ginger ale and add more to suite your taste. You can also add any type of fruit to this recipe that you would like (oranges, cranberries, apples, limes, etc.), and even squeeze a little fresh lime or orange juice in there to jazz it up.
If you're making this recipe for a crowd, fill a large bowl with ice and top with a chilled bottle of red wine, and then add the ginger ale to your liking. Top with fruit to make it festive!
6. Fireball Cider
I'm not a whiskey fan, but I am kind of in love with Fireball Cinnamon Whiskey. Pour about 2 ounces of this sweet & hot whiskey over ice and top with about 3 ounces of apple cider. Garnish with apple slices to make it pretty.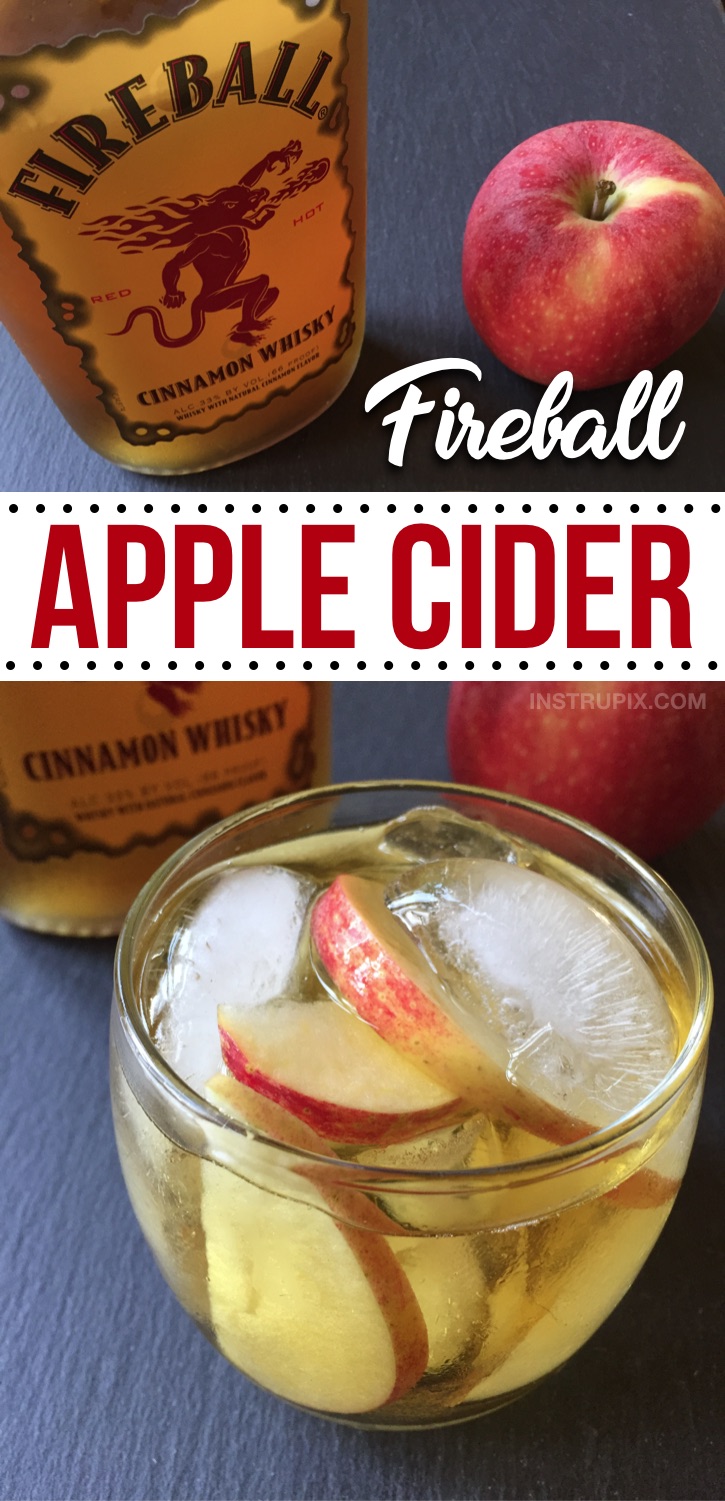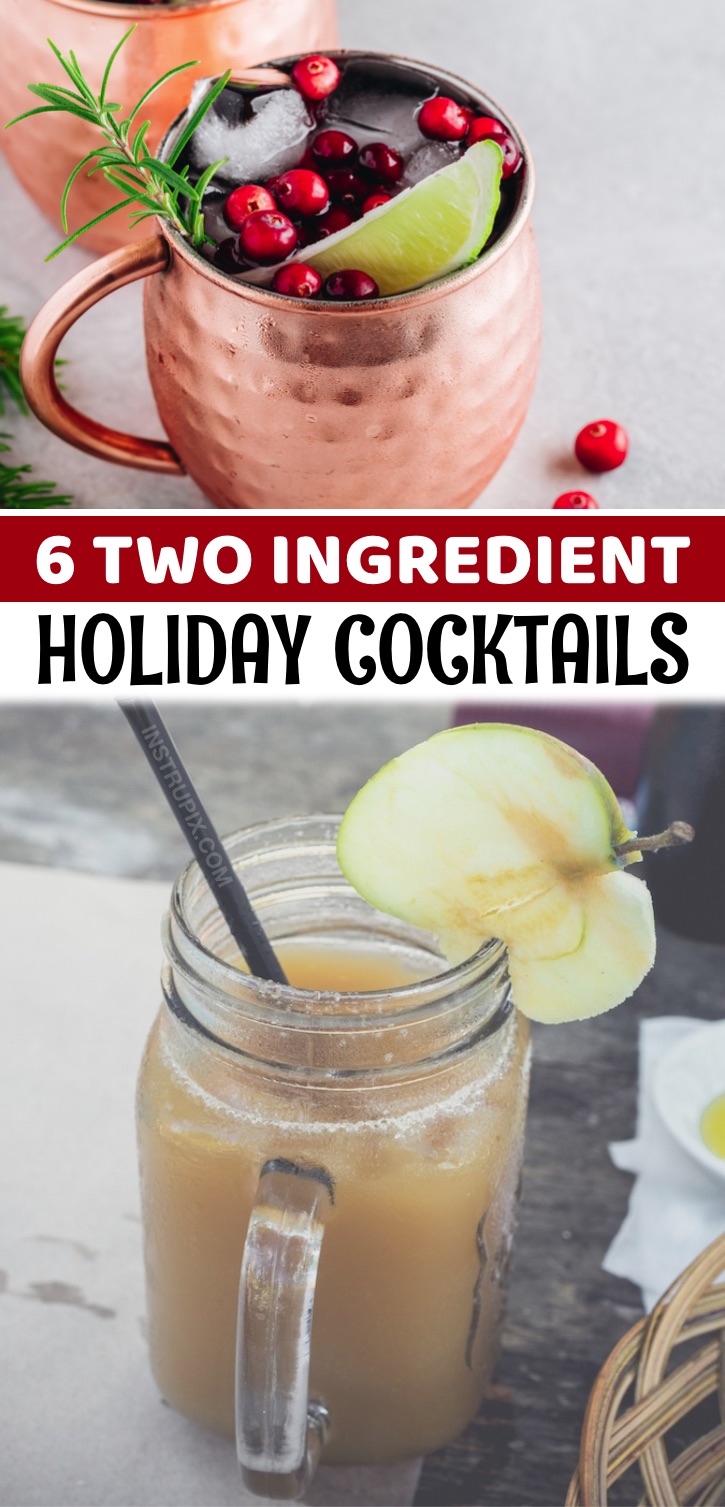 Leave a comment...