This soon-to-be trending drink idea is absolutely the BEST when you're hanging out by the pool. These delicious drink cubes flavor your beer and keep it cold at the same time! Yes, please. They're great for parties or just chillin' by your lonesome at home.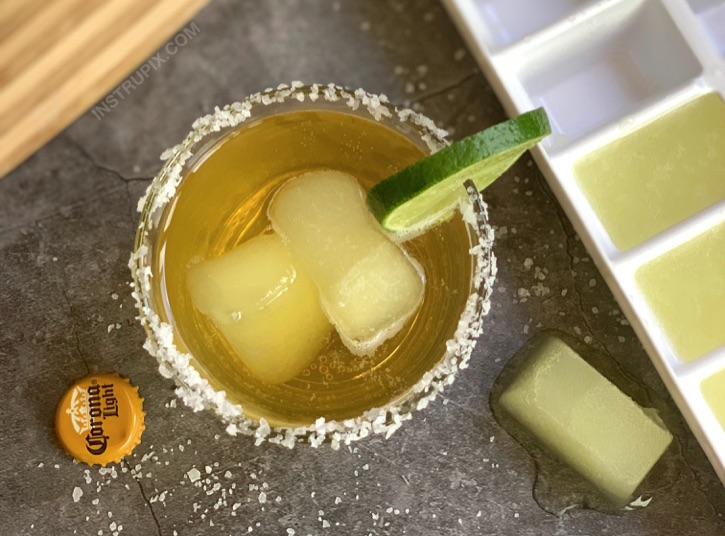 This last Cinco De Mayo my husband and I went out for Mexican food, and naturally, both ordered a BeerRita with salted rims. While enjoying our 5 gallon basket of chips and salsa we started brainstorming what other kinds of drink recipes you could mix with beer.
And, that's how cocktail cubes began!
We thought, why not freeze a pre-made margarita mix in an ice cube tray and use it to flavor beer? WAIT A MINUTE, if you can do that, what about grapefruit with IPA? Or, orange juice with Blue Moon?
You can, of course, make them alcoholic or non-alcoholic depending on your booze level preference.
My first thought when buying the ingredients to make these drink cubes was that the beer was going to get too foamy when poured over the cubes, and possibly make a big fat mess. Fortunately, that wasn't the case, AT ALL. They actually turned out even better than we could have imagined.
These frozen drink cubes give your beer a very subtle flavor at first, and then as you get down to the last drop the flavor slowly changes into something….. AWESOME. I mean, come one. This is freakin' brilliant.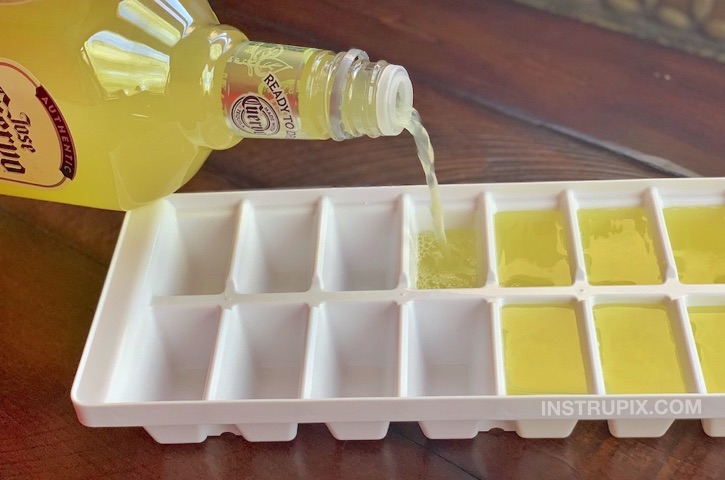 ---
Before you get started, here are some helpful tips you should know:
Before freezing, the cocktail you choose should be about a 1:4 ratio of alcohol to mixer. If it's too strong, it won't freeze well (or taste very good).
About 2 fluid cups fills a standard size ice cube tray perfectly.
We found that 2 cocktail cubes is just right for a 12 ounce beer.
The alcoholic cubes melt much faster in your beer than the non-alcoholic (I'm not sure why this is important but I felt the need to tell you).
The cubes take about 6 hours to freeze, so plan ahead!
You can buy ready-to-drink Jose Cuero Margarita Mix in several different flavors (strawberry, mango, watermelon, peach, raspberry, grapefruit, pink lemonade, etc.). No mixing required! These are delish with any light Mexican beer, and a great way to start.
Stop reading these tips and scroll down below before these drink cubes melt on me.
---
1. Margarita Cubes
Like a BeerRita but super easy and fun to make at home.
You can buy the ready-to-drink margarita mix (already has the tequila in it), or make your own homemade margarita (with no more than a 1:4 ratio of alcohol vs mixer). Simply fill up an ice cube tray or two, and freeze.

The margarita cubes are great paired with any light Mexican beer such as Dos Equis, Modelo, Sol, Pacifico or Tecate.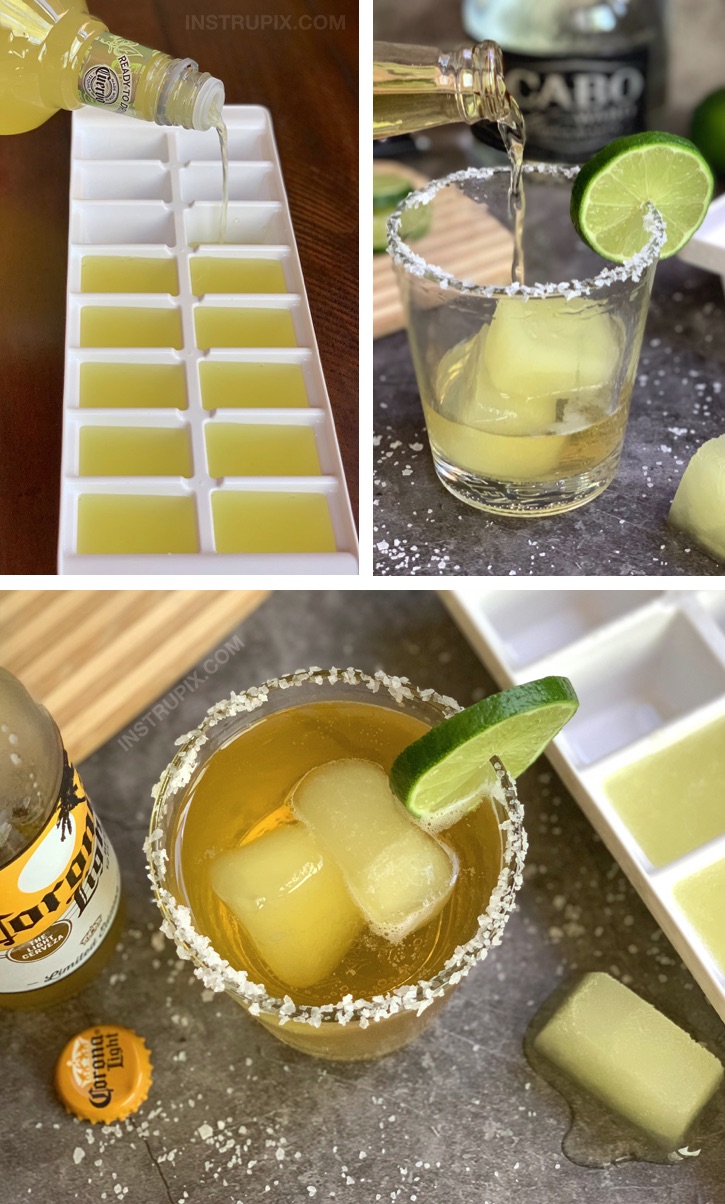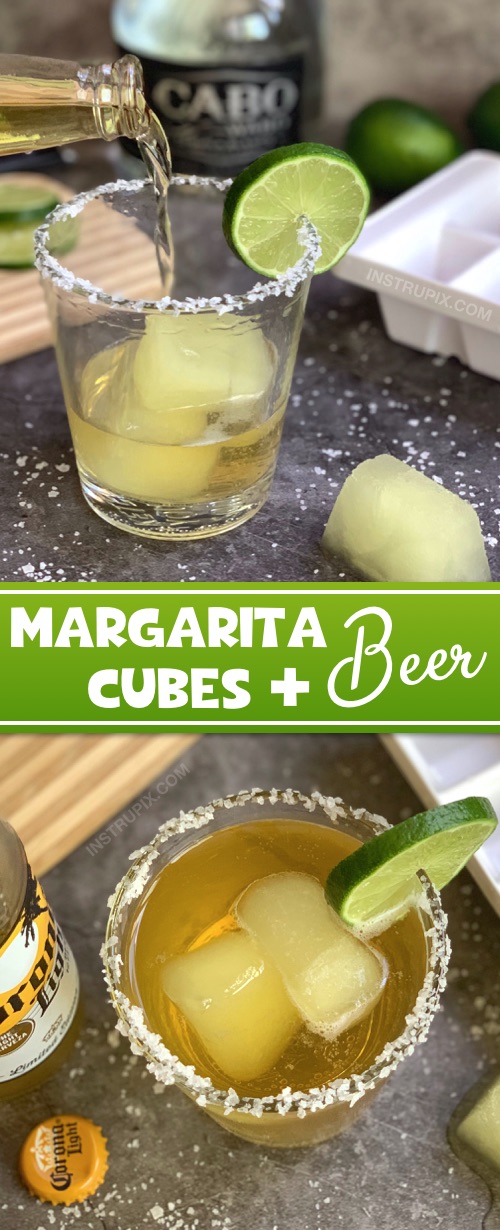 2. Strawberry Margarita Cubes
Strawberry Blonde, anyone? We wanted to try out at least one of the Jose Cuervo flavored margaritas to see if they were just as good as the original. The answer is, YES!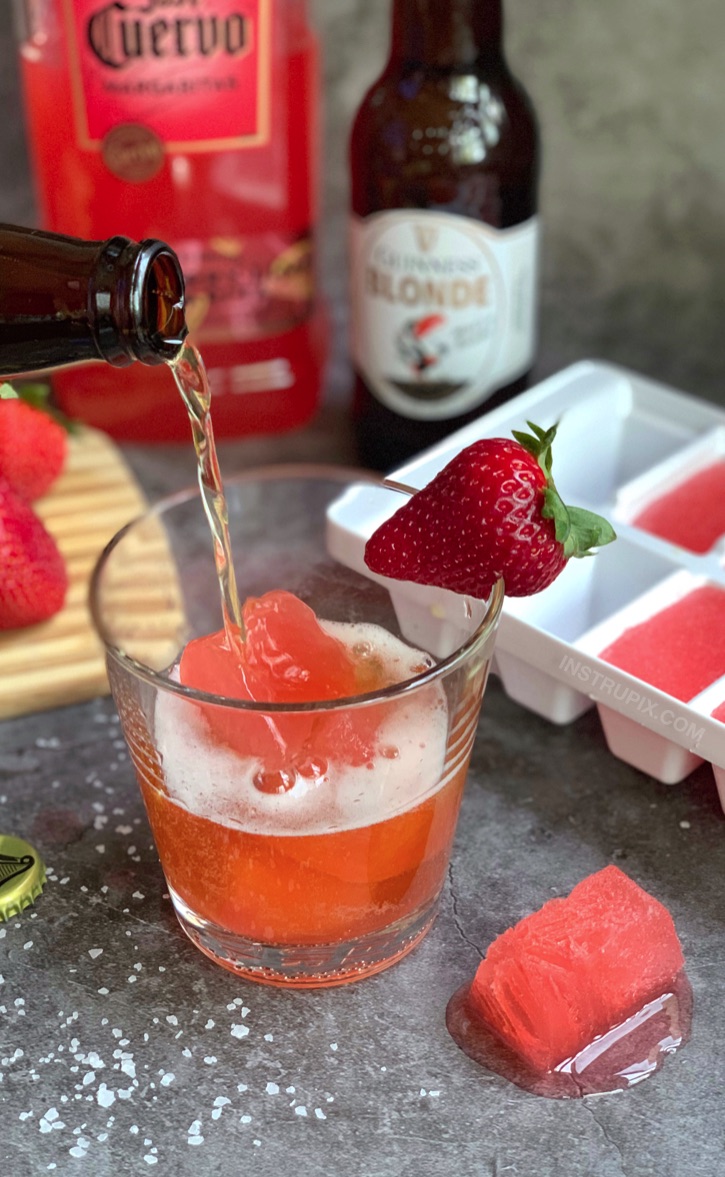 We tried the strawberry margarita cubes with a blonde beer (very good), but these would also be delish with any light Mexican beer.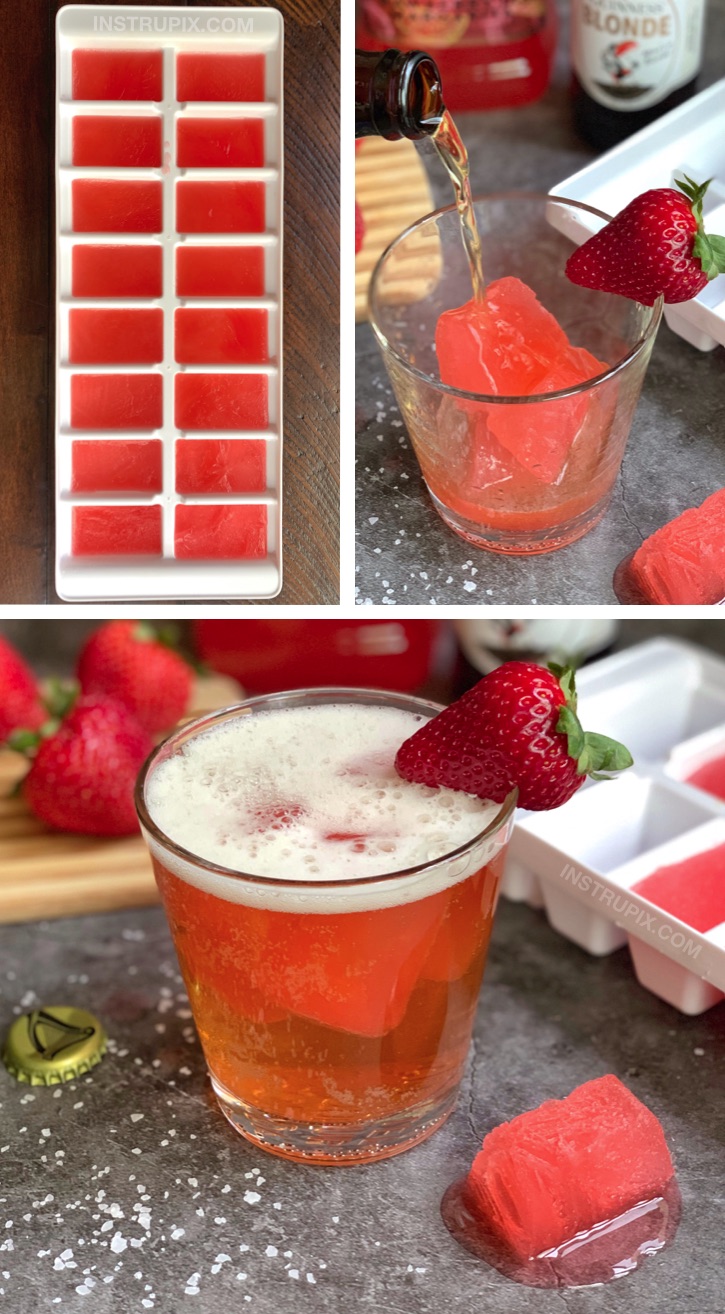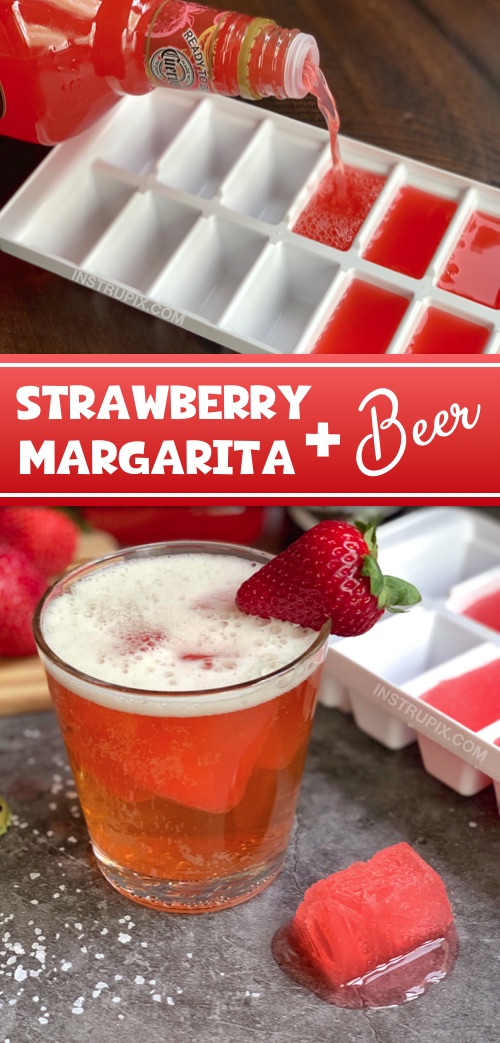 3. Bloody Mary Cubes
If you've ever tried a Michelada (A.K.A bloody beer), this is the same concept only you get a very slow release of the bloody mary mix, so it has a different flavor from beginning to end.
It's good with or without vodka. To make the bloody mary, simply mix 1/4 cup vodka with 1 3/4 cups of your favorite bloody mary mix. Pour into an ice cube tray, and freeze for at least 6 hours.
We made ours with a bloody mary rim salt, but it certainly isn't necessary unless you're trying to take bomb photos.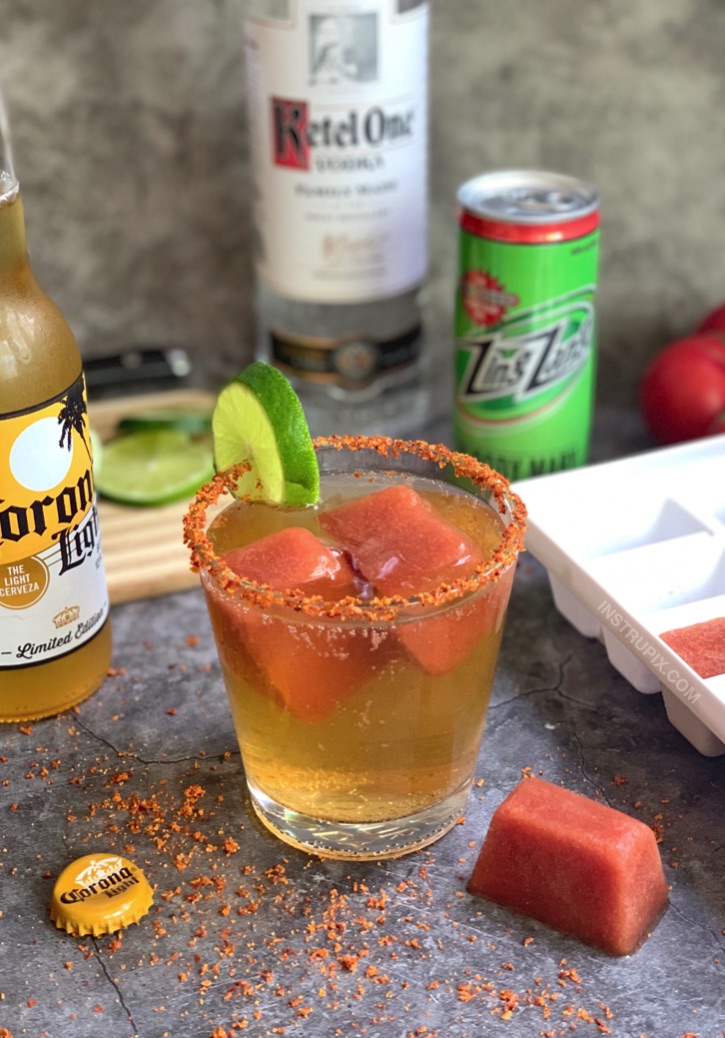 Serve these "bloody" cubes with any light beer. Two cubes seems to be just right for a 12 ounce beer.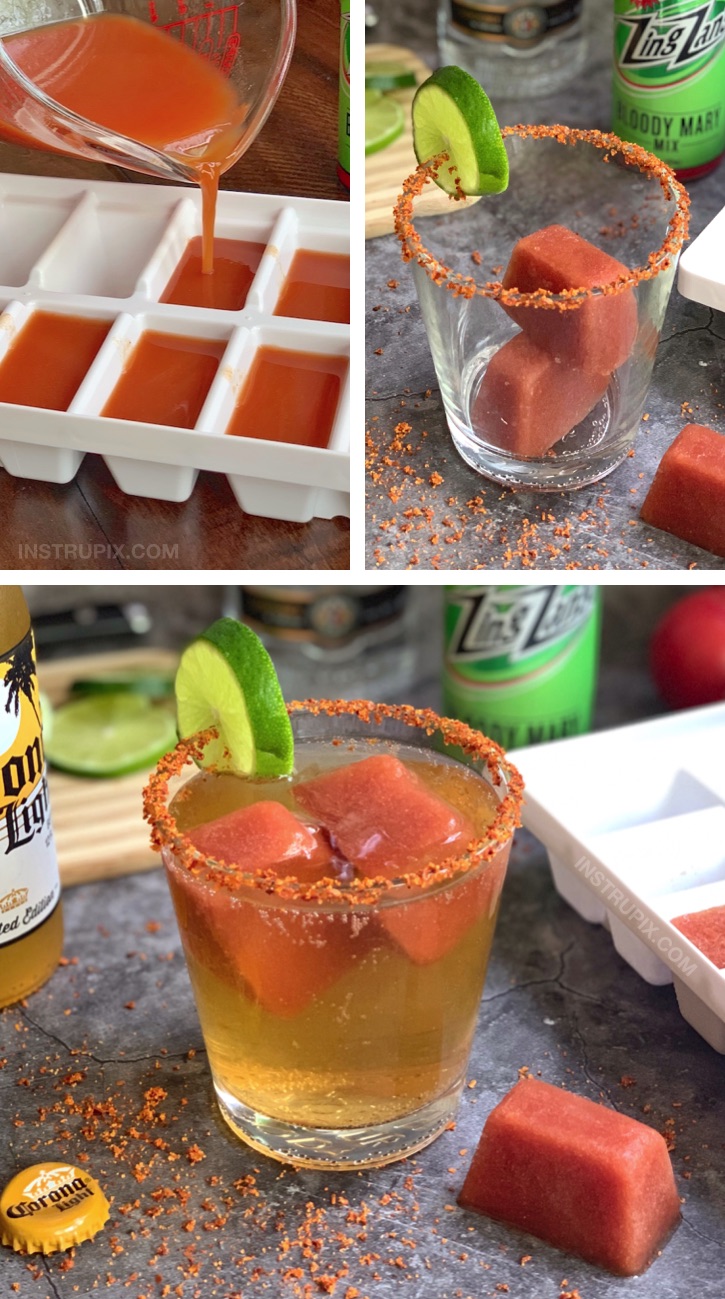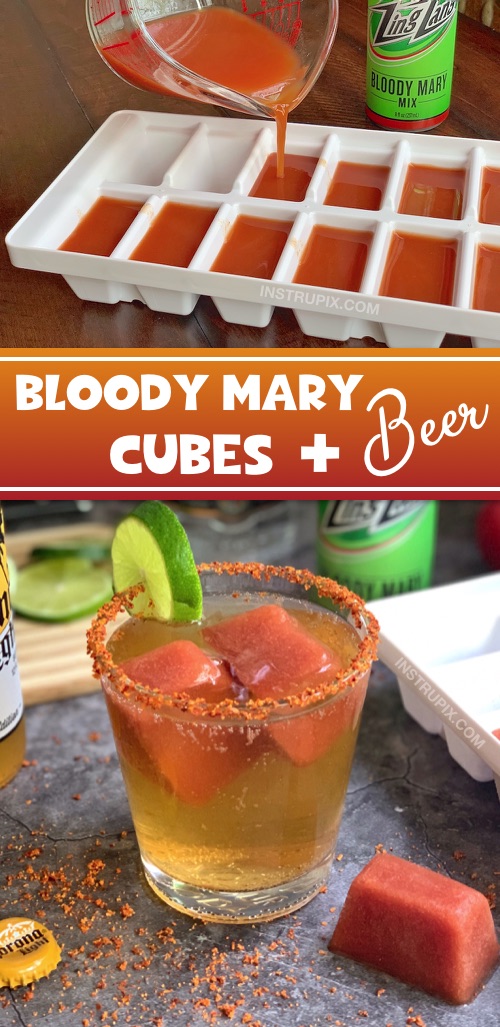 4. Greyhound Cubes
Not gonna lie! This one is my favorite (I do have a thing for anything citrusy, though). I've been eating grapefruit every morning since buying the produce for this photo shoot.
Simply mix 1/4 cup vodka with 1 3/4 cups grapefruit juice (or leave the vodka out if you'd prefer). Pour into an ice cube tray, and freeze for at least 6 hours.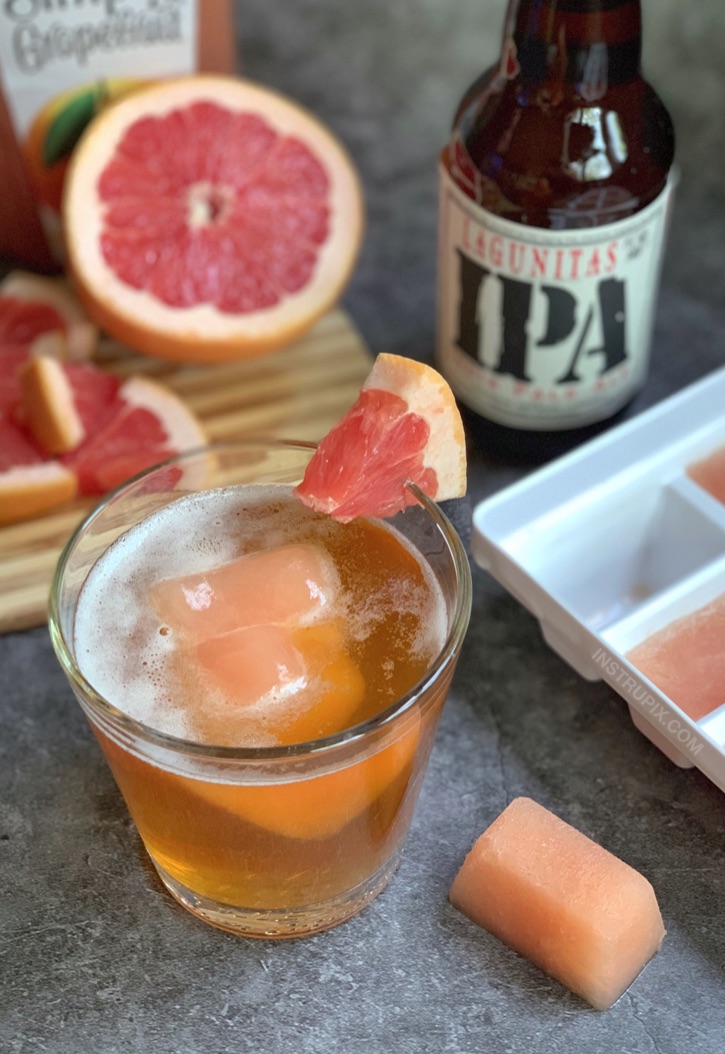 Grapefruit and IPA (India Pale Ale) go together like guacamole and a big fat burrito. The grapefruit cubes give it that something "extra".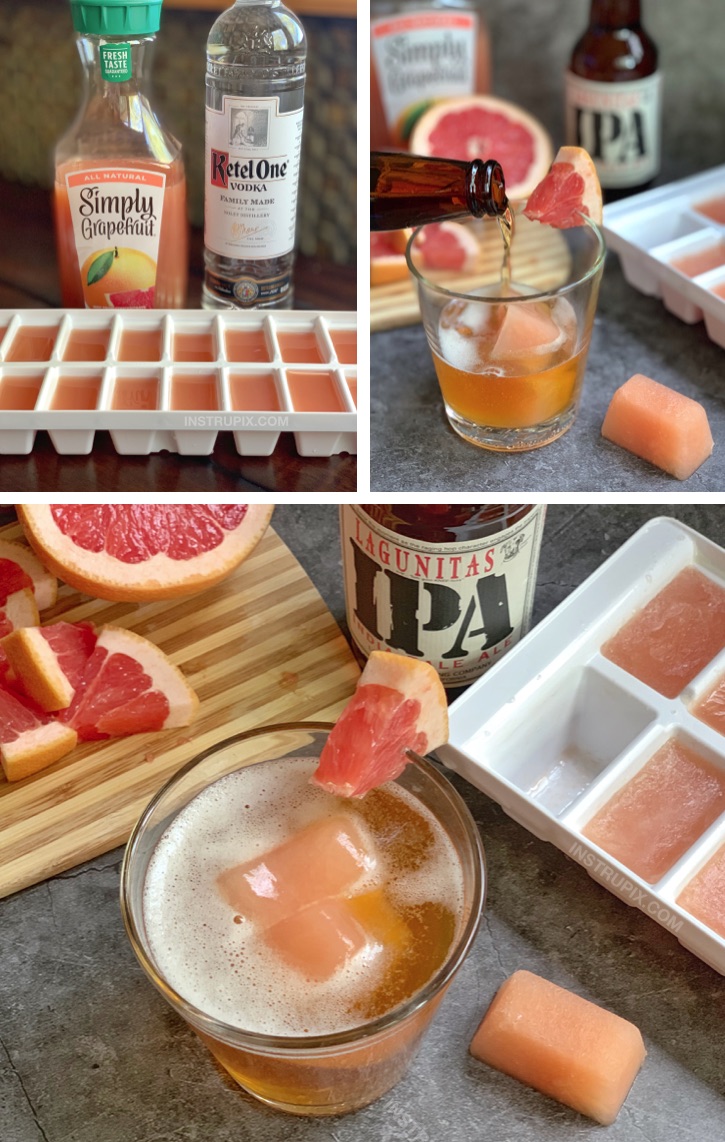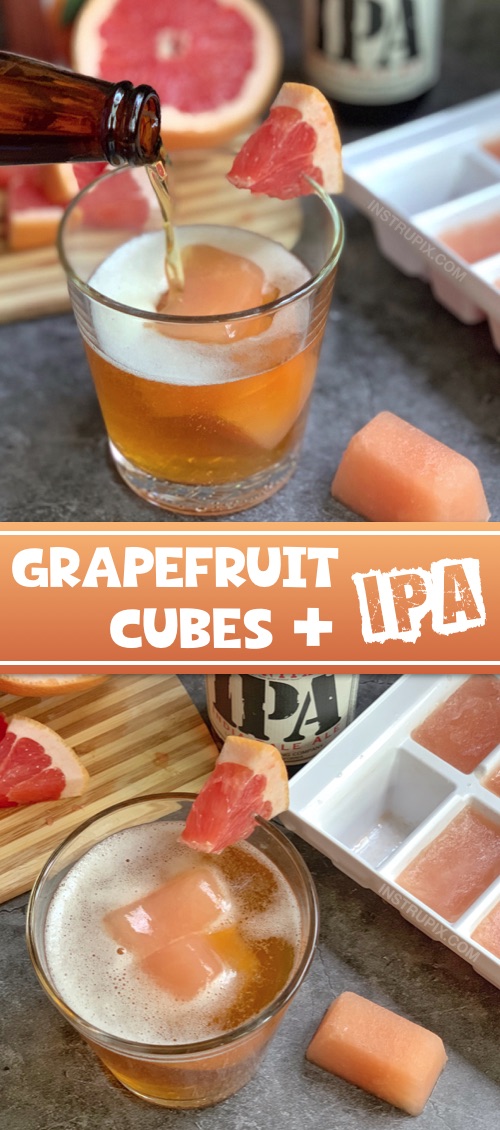 5. Screwdriver Cubes
How can you go wrong with orange juice and Blue Moon? I'll tell you how. Too much vodka. Yeah, we experimented with this one first and didn't quite have the ratio down. Again, do not go beyond the 1:4 ratio alcohol to mixer.
To make these, mix 1/4 cup vodka (or less) with 1 3/4 cups orange juice, pour into an ice cube tray and freeze for at least 6 hours. (P.S. We recommend only 1 cube per beer on this one. The orange juice is much more overwhelming than the other cubes for some reason). Experiment and have fun!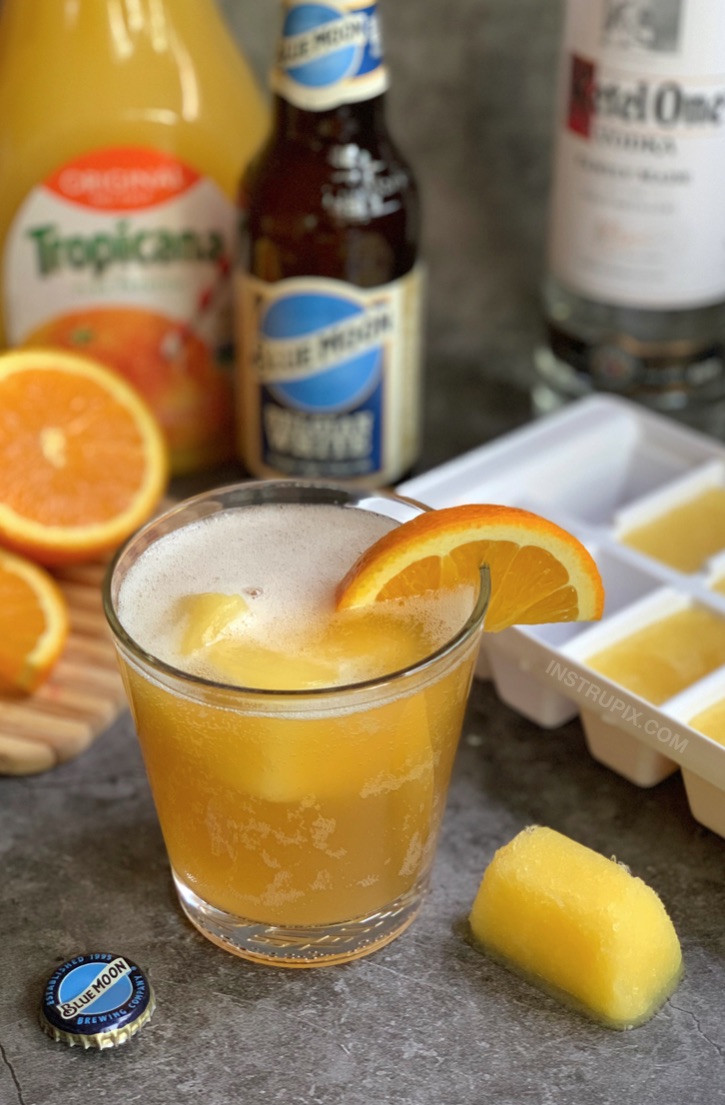 These orange cubes are best served with any Belgian style wheat beer such as Blue Moon or Shock Top.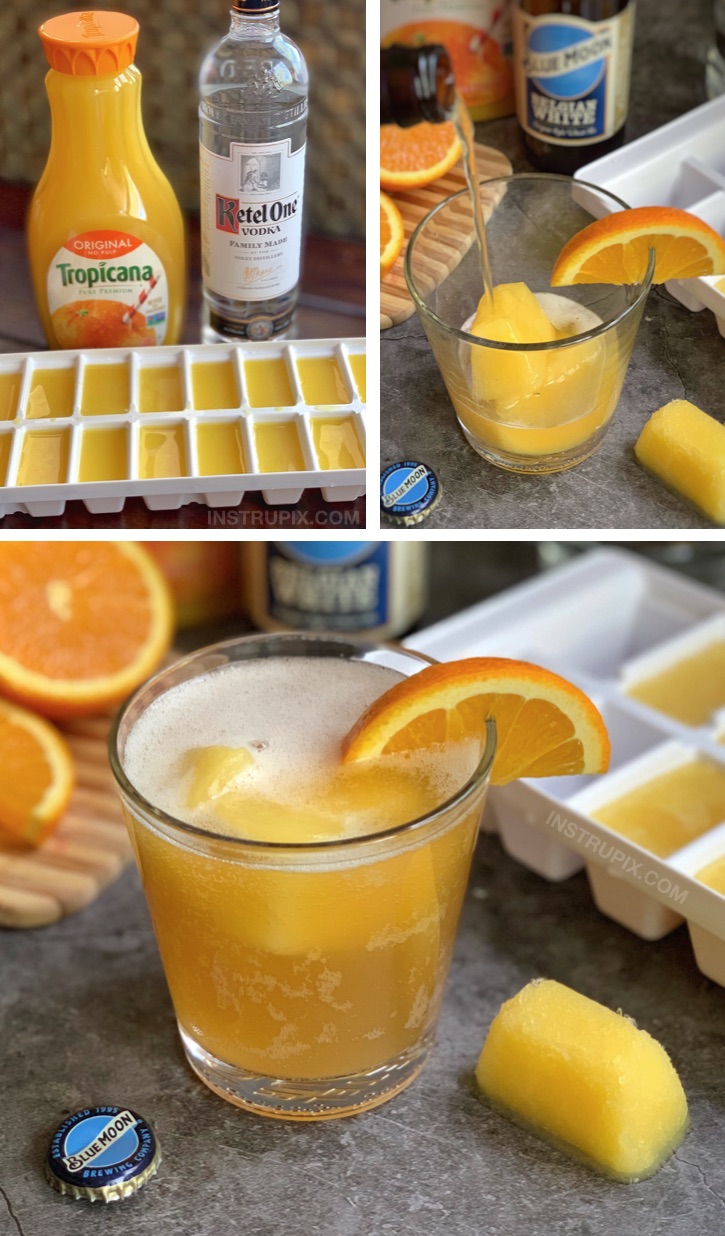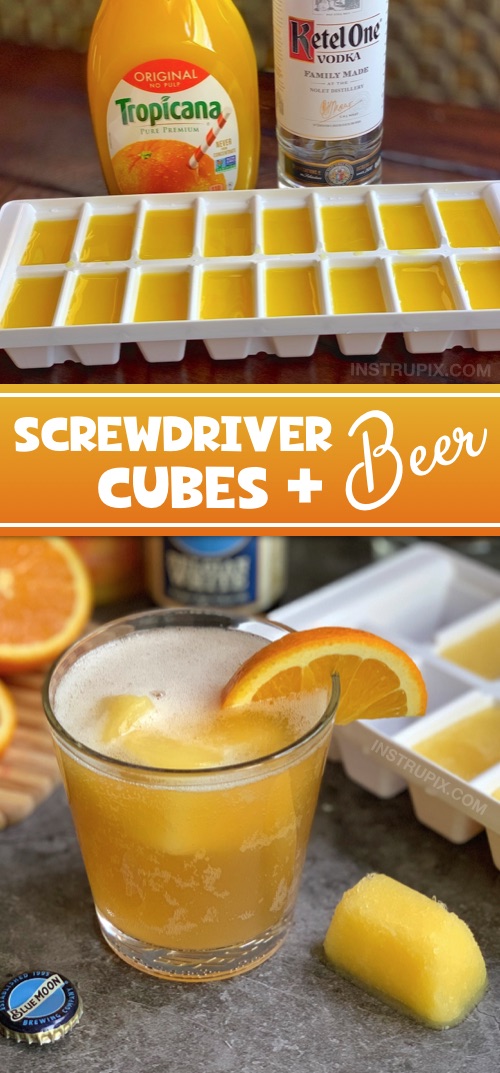 Have any other cocktail cube ideas? Tell us in the comments below!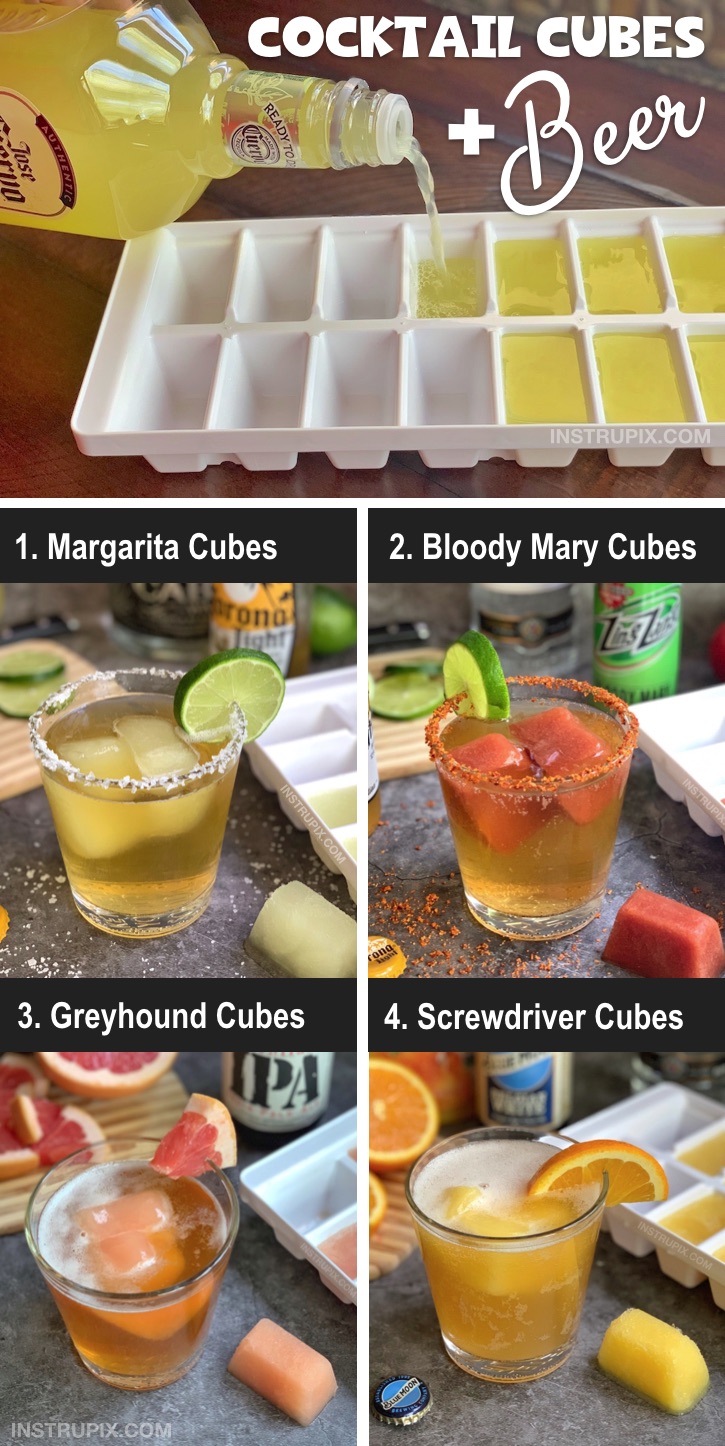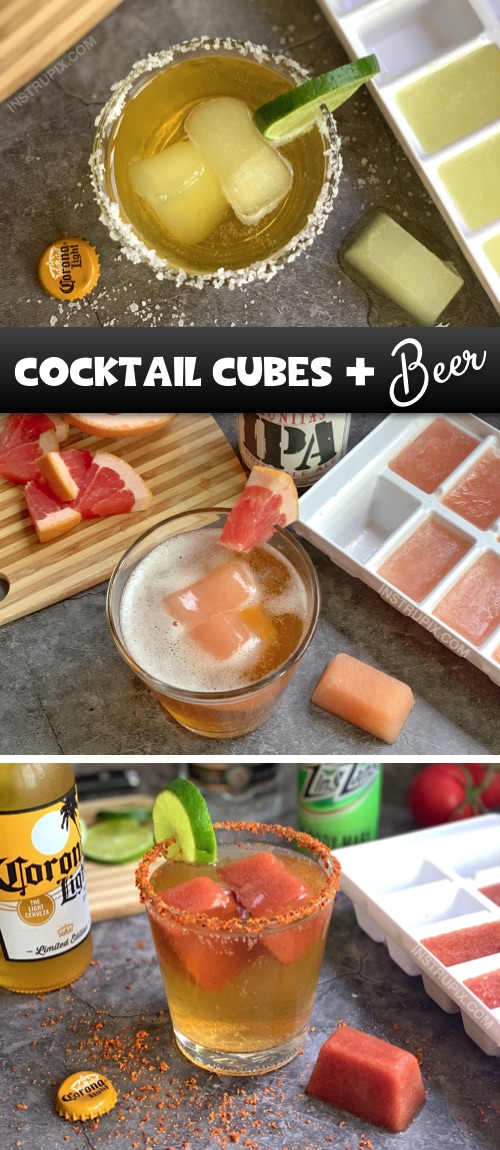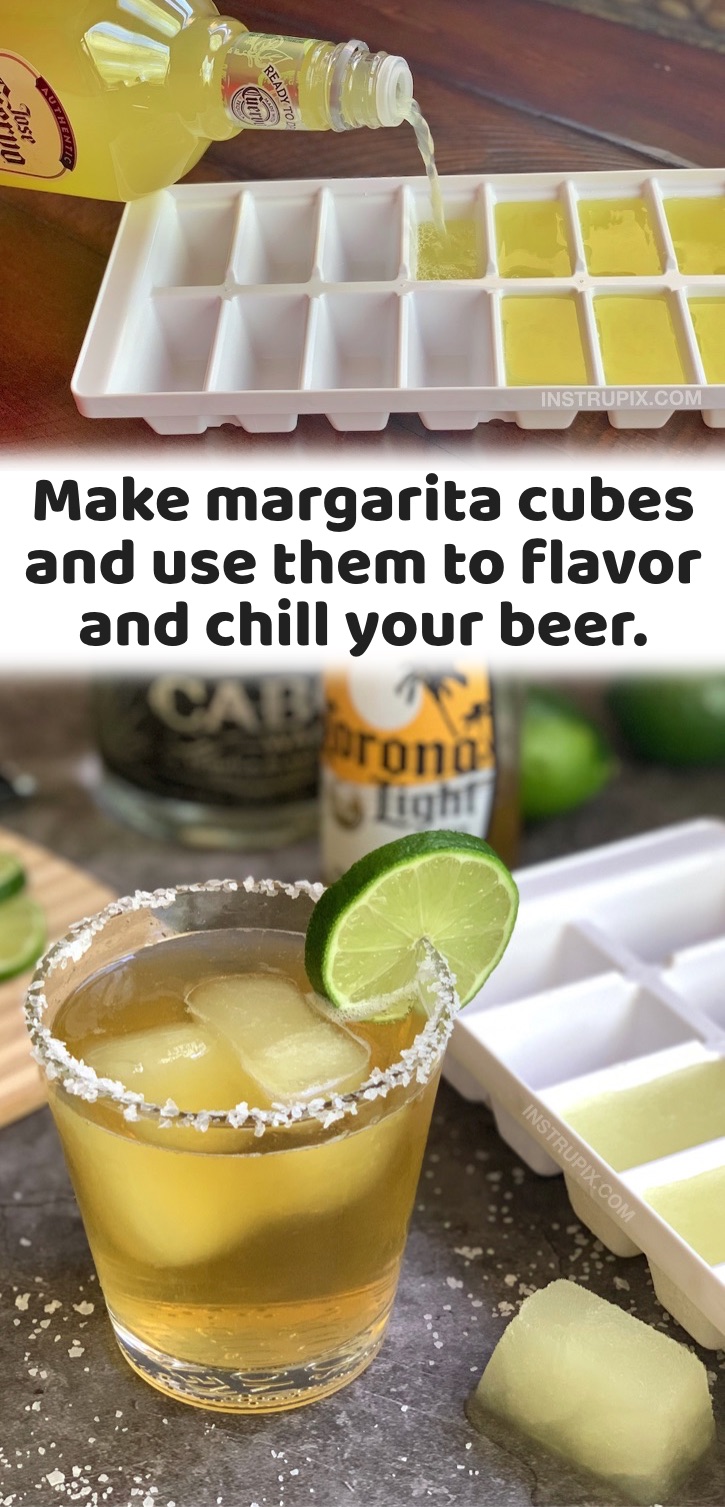 Leave a comment...