Spaghetti Squash is The Ultimate Replacement for Potatoes In This Recipe
I'm a huge fan of spaghetti squash, but I'm usually the only one in the house that eats it. Because of this, I almost always end up with leftovers. And, THIS is my solution to that "problem"…
Spaghetti Squash Hash Browns
The BEST low carb breakfast, ever!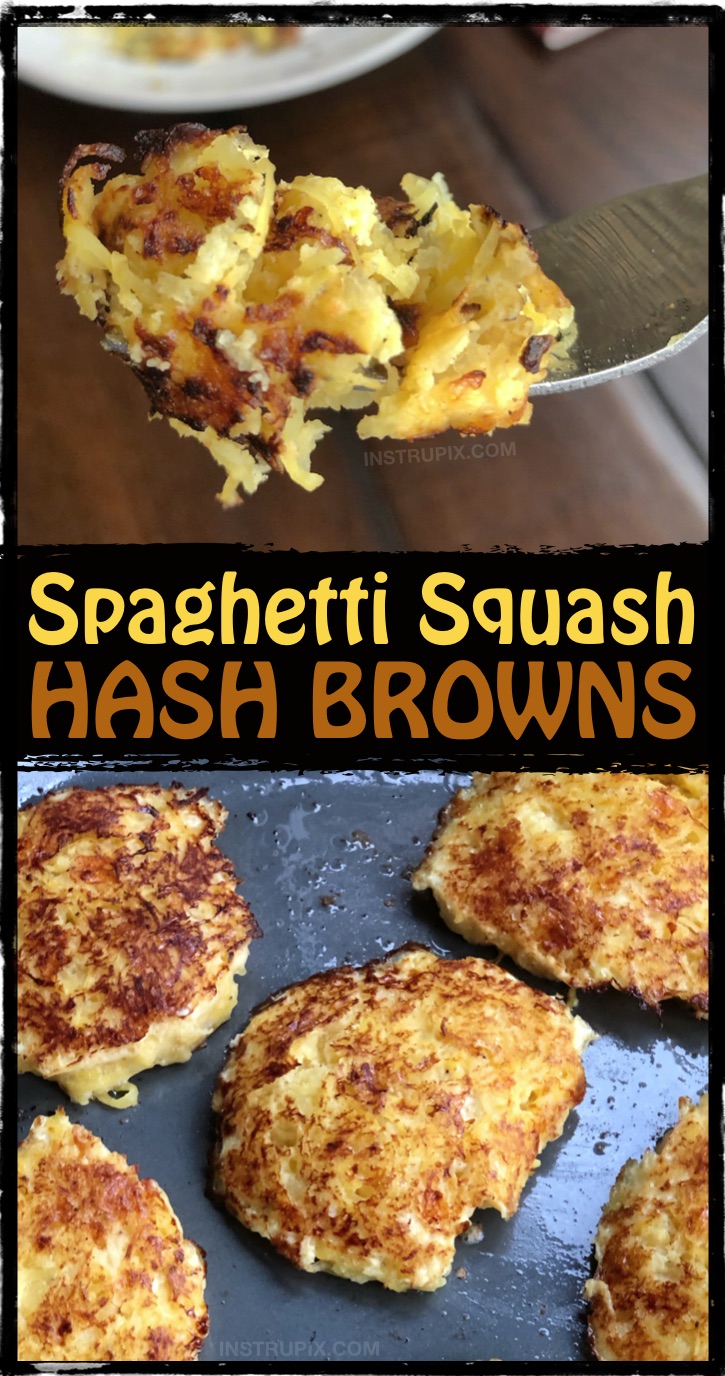 Spaghetti squash is the ultimate low carb replacement for pasta and potatoes. If you're not familiar with how to cook this delicious vegetable, you can find a great tutorial here. You're basically just going to bake it in the oven for 40-60 minutes.
Because of it's natural texture and shape, it's extremely versatile. I suppose that's why they call it SPAGHETTI squash! I like to mix it with cheese and basil pesto, but there are a million recipes for this stringy veggie.
However, if you want to make spaghetti squash crispy like hash browns, you must remove the excess moisture. It's incredibly simple to do by just squeezing the heck out of it with your hands in a small strainer.
Here is the step-by-step tutorial for my healthier version of hash browns….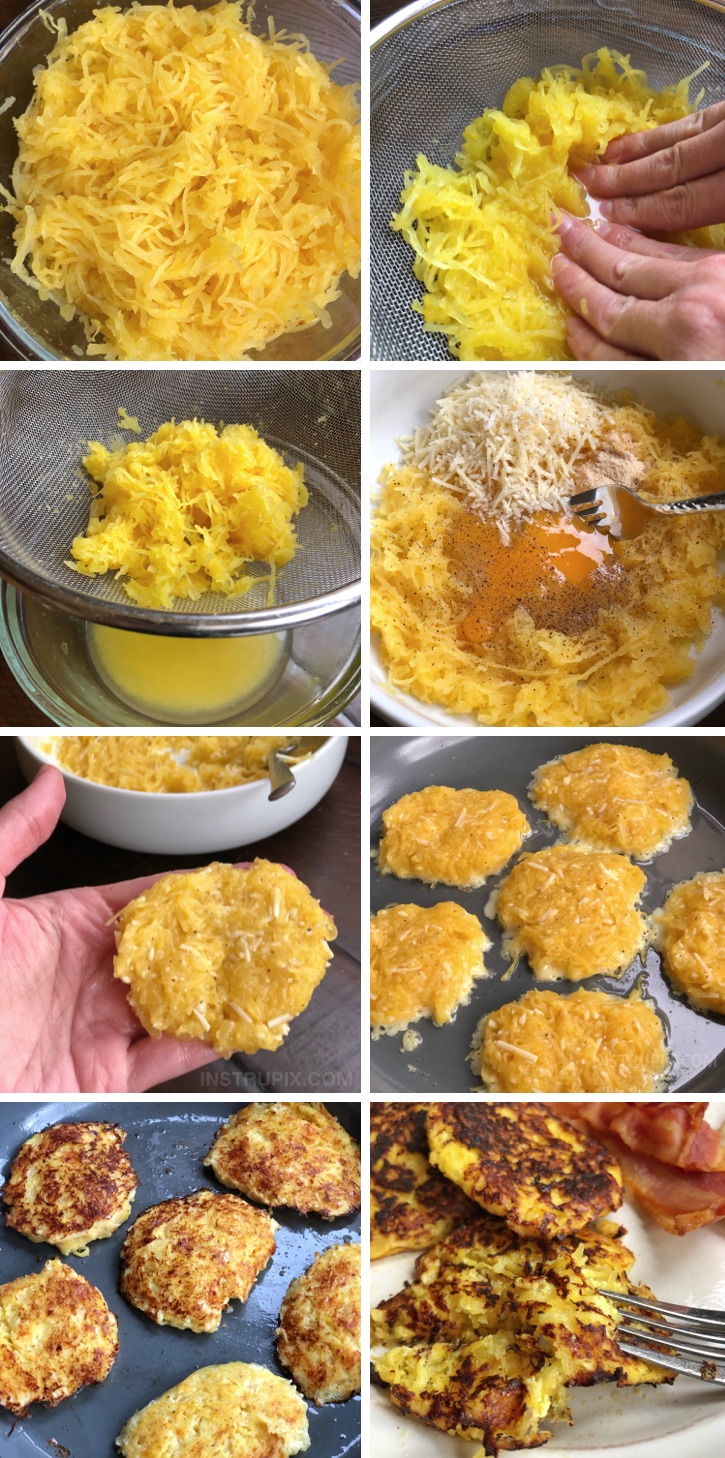 Easy peasy! I've made this quite a few times and I like to change it up depending on what I have on hand. Don't be afraid to add the seasoning of your choice, and then serve with hot sauce, salsa, avocado, bacon, eggs or anything else that makes you happy.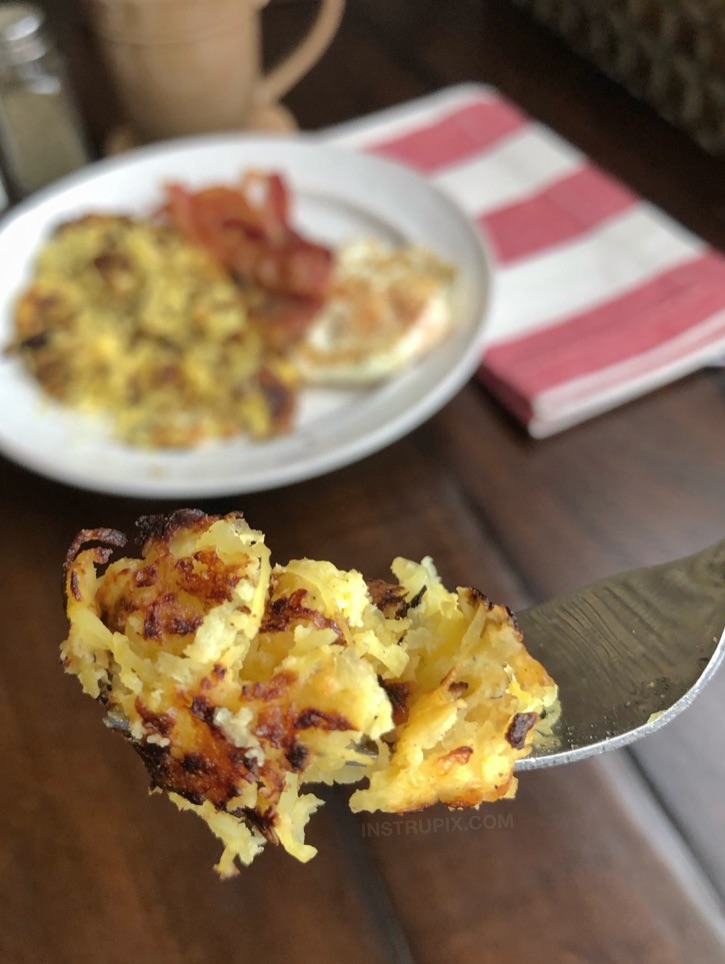 This spaghetti squash recipe is perfect for breakfast or a mid-day healthy snack…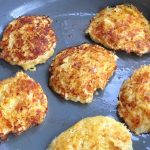 Low Carb Spaghetti Squash Hash Browns
This healthy and easy spaghetti squash recipe is perfect for leftover squash! Simply mix the squash with a little egg, cheese and seasoning, and then sauté until crispy. This simple recipe is wonderful served for breakfast with eggs, bacon, sausage or even alone. A low carb, keto friendly and fun way to cook spaghetti squash!
Keyword:
breakfast, hash browns, healthy, low carb, spaghetti squash, vegetarian
Ingredients
2

cups

spaghetti squash

(precooked)

1

egg

1/3

cup

shredded parmesan cheese

1/4

tsp

garlic powder

salt and pepper

(to taste)
Instructions
Squeeze the excess water from your pre-cooked spaghetti squash. The drier, the better!

Place the spaghetti squash in a medium sized bowl with the egg, parmesan, garlic powder and seasoning of choice; mix well.

Form the spaghetti squash mixture into thin little patties. Cook on a well greased skillet over medium heat for about 5 minutes on each side (or until browned to your liking).

Eat and enjoy! Btw, if you don't want to make these hash browns into patties, you can also just toss the mixture into the skillet, stirring often. It's great both ways.
Recipe Notes
Don't be afraid to season the spaghetti squash to your liking. You can turn up the heat with a little cayenne pepper, or add flavor with diced onions, fresh garlic or chives.
P.S. These can definitely be made without the egg, but it kinda helps hold things together. If you're not worried about the presentation, feel free to omit it.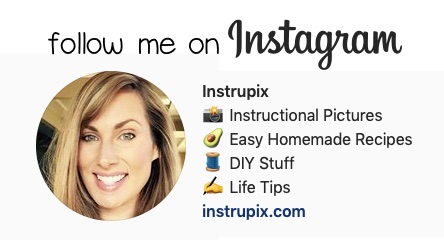 Don't forget to pin and save for later! 🙂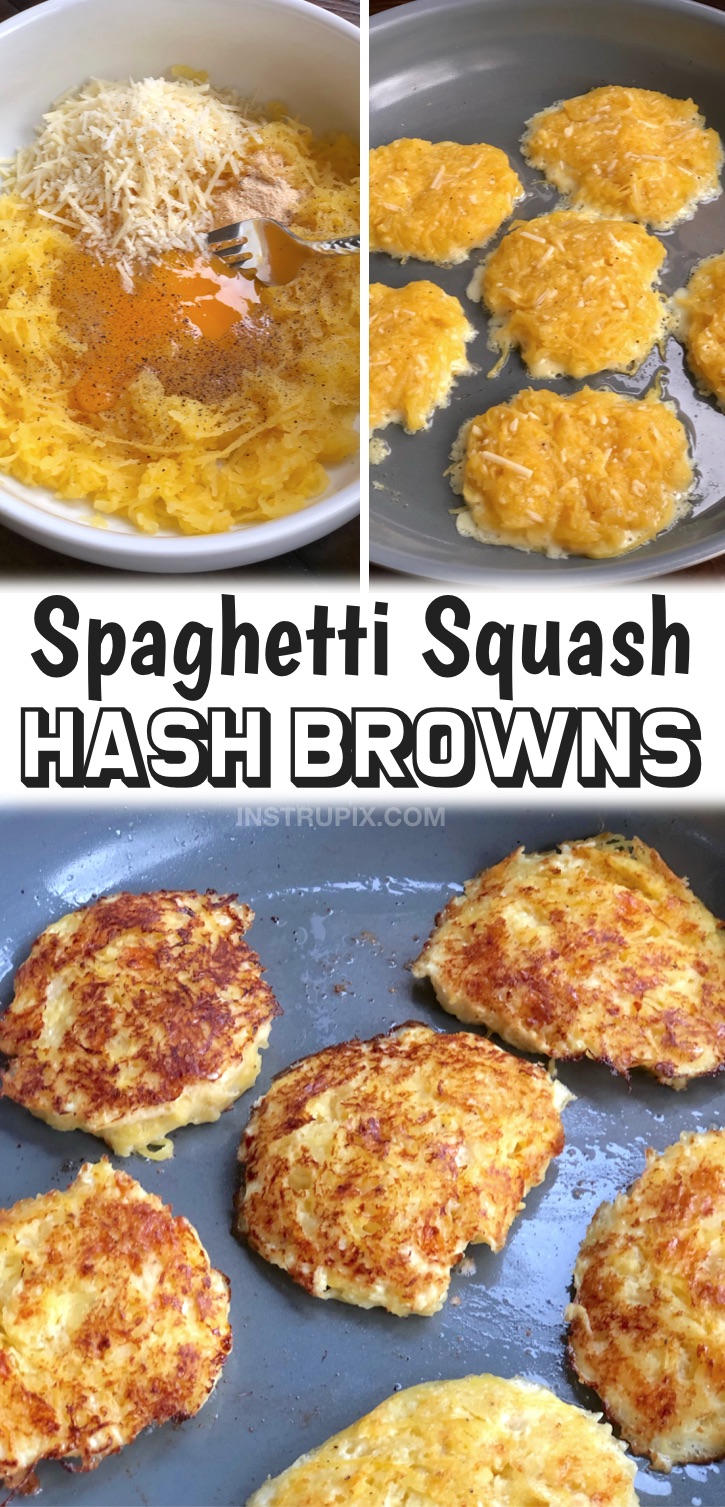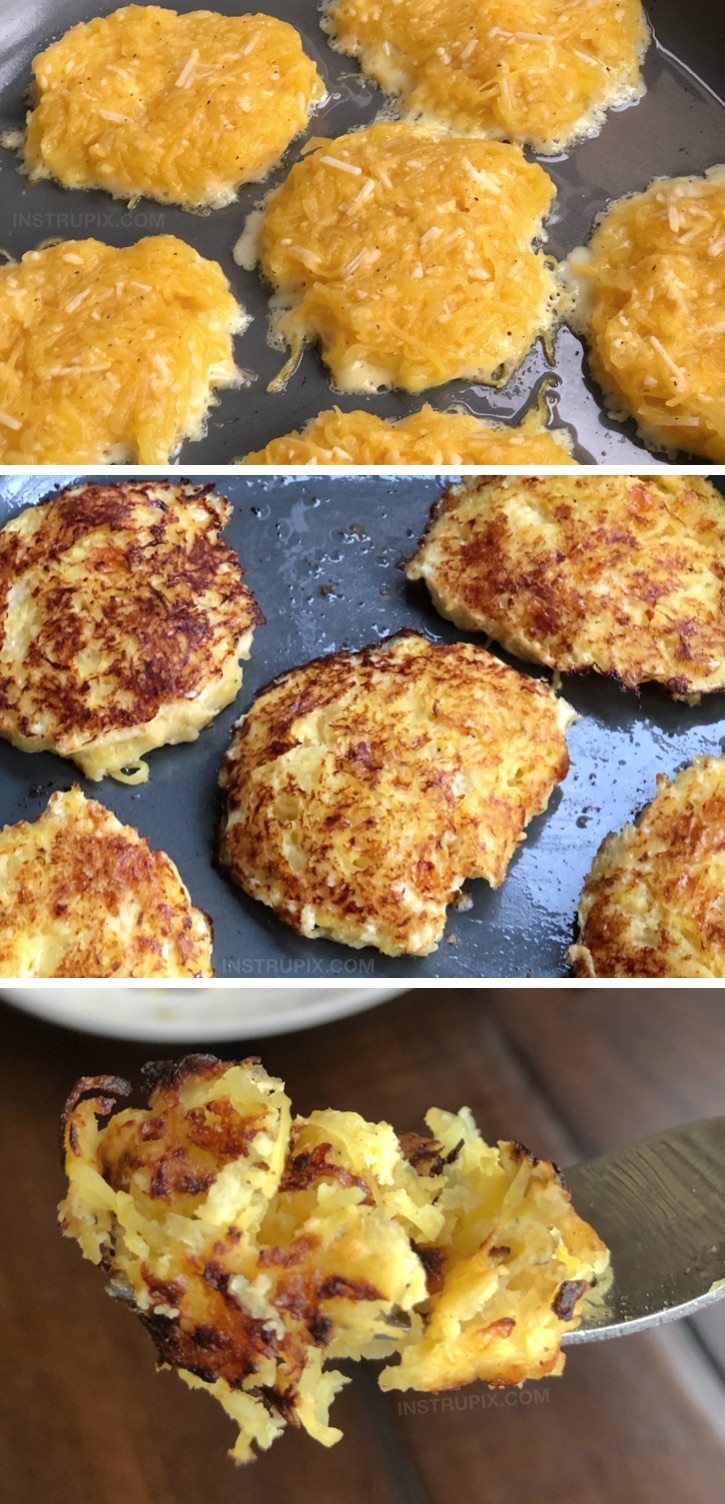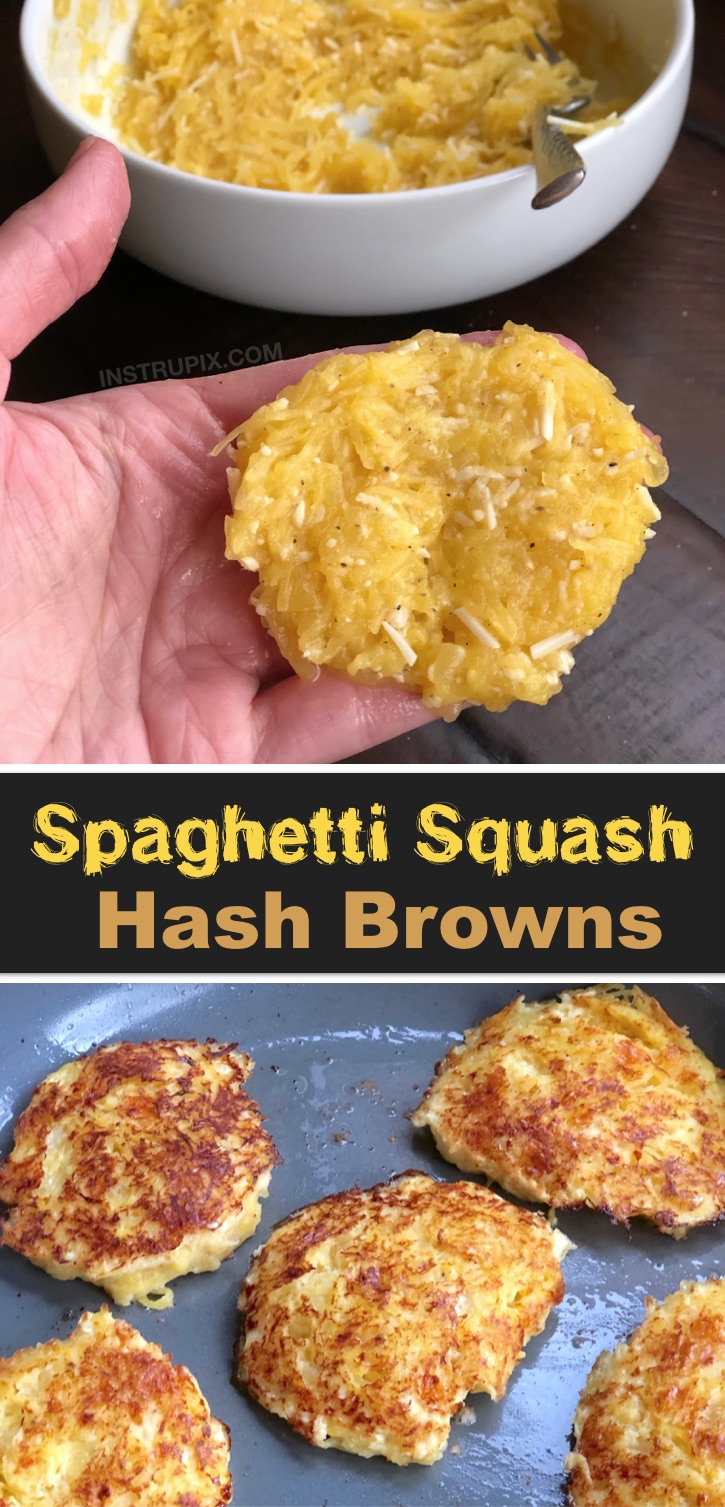 Leave a comment...