Easy Sushi Bowls Made With Frozen Cauliflower Rice
All the flavors of a sushi roll without the hassle!
If you're looking for easy and healthy low carb recipes, these yummy sushi bowls are perfect for last minute dinners and quick lunches. In fact, you can make the frozen cauliflower rice ahead of time, and then meal prep for the entire week. There's no baking or cooking required! Simply toss in your favorite sushi ingredients like crab meat, avocado, cucumber and sesame seeds. Drizzle the top with a mixture of mayo and sriracha sauce, and you're done!
These keto sushi bowls are great served cold, so they are a fabulous simple lunch for bringing to work or anytime you're on the go. Plus, they are super healthy and packed full of fiber and protein.
Easy, healthy, low carb & delicious.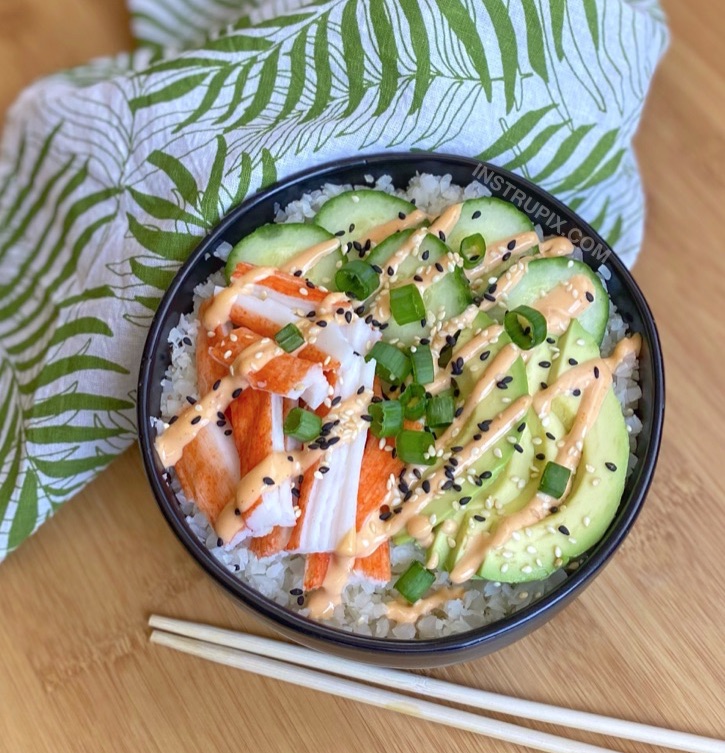 These sushi bowls are my absolute favorite quick and easy lunch idea, and are especially nice if you have a busy schedule. They are the perfect serving for two, but you can also cook and prep a few extra bags of frozen cauliflower rice so that you can meal prep for the entire week, and then everything can just be tossed together in a few minutes when you're ready to eat.
This is not only the easiest keto lunch recipe you'll ever make, these healthy sushi bowls taste just like the real thing, and with no rice! I actually like them better than regular sushi, but maybe that's because I can eat them without loading up on carbs.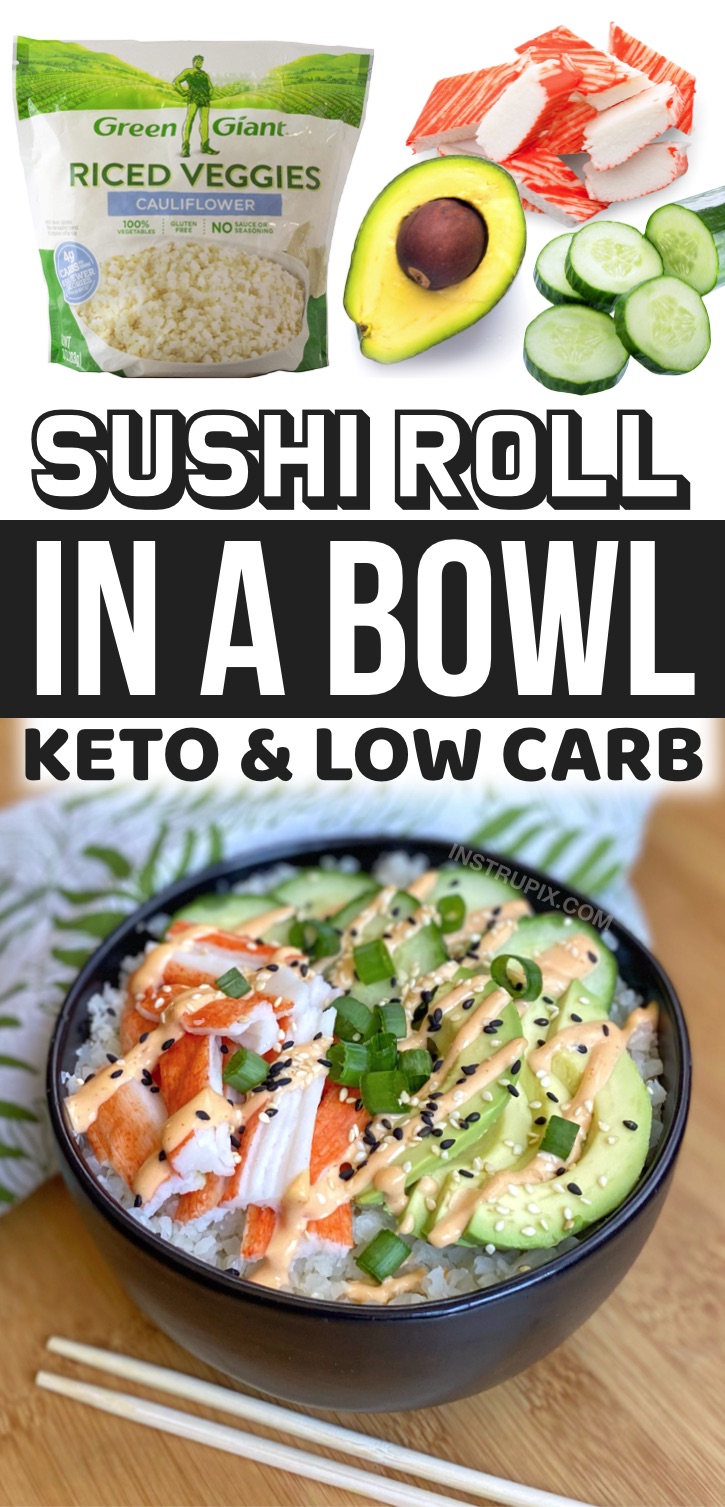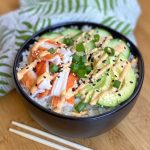 Low Carb Sushi Bowls (With Frozen Cauliflower Rice)
Looking for easy keto meal prep ideas for work? These low carb sushi bowls are perfect for last minute dinners, quick lunches or anytime you're on the go. This recipe makes just enough for two, but you can double the recipe to meal prep your lunch for the entire week. No cooking or baking required! Just serve cold for last minute meals.
Keyword:
avocados, cauliflower rice, cucumber, easy, healthy, keto, low carb, meal prep, sushi
Ingredients
1

(10oz)

bag frozen cauliflower rice

1

tbsp

seasoned rice vinegar

1

tsp

toasted sesame oil

1

avocado

(sliced)

1/2

cucumber

(sliced)

6oz

crab meat

1

nori sheet

(shredded)

2

tsp

toasted sesame seeds

1

diced green onion
Sriracha Mayo
2

tbsp

mayonnaise

2

tsp

sriracha sauce
Instructions
Microwave the cauliflower rice according to the package instructions, and then mix with the seasoned rice vinegar and toasted sesame oil; set aside to cool.

In a small bowl, mix the mayonnaise with the sriracha sauce.

Divide the cauliflower rice evenly between two bowls and mix shredded nori in with the rice. Evenly distribute the crab meat, cucumber and avocado on top. Garnish with green onion and sesame seeds, and then drizzle with your prepared sriracha sauce.
Recipe Notes
Imitation crab meat is rather high in carbs, so I'd suggest using real crab meat, cooked shrimp, salmon or any leftover seafood you have for these bowls. You can even leave the meat out if you'd like! They are just as good vegetarian.
Want to meal prep for the week? Simply double the recipe, cook and prepare the cauliflower rice, make the sriracha sauce, and dice the cucumber. Once that's done, individual portions can easily be assembled in less than a minute when you're ready to eat, or even the night before if you plan on bringing it to work.
You can also use those small packages of seaweed snacks in place of the nori sheet. They both seem to add just the right touch of salt and sushi flavor to these bowls, but you can also add a little soy sauce to the cauliflower rice if you'd like.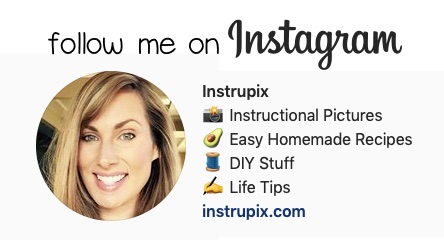 Don't forget to pin and save for later! 🙂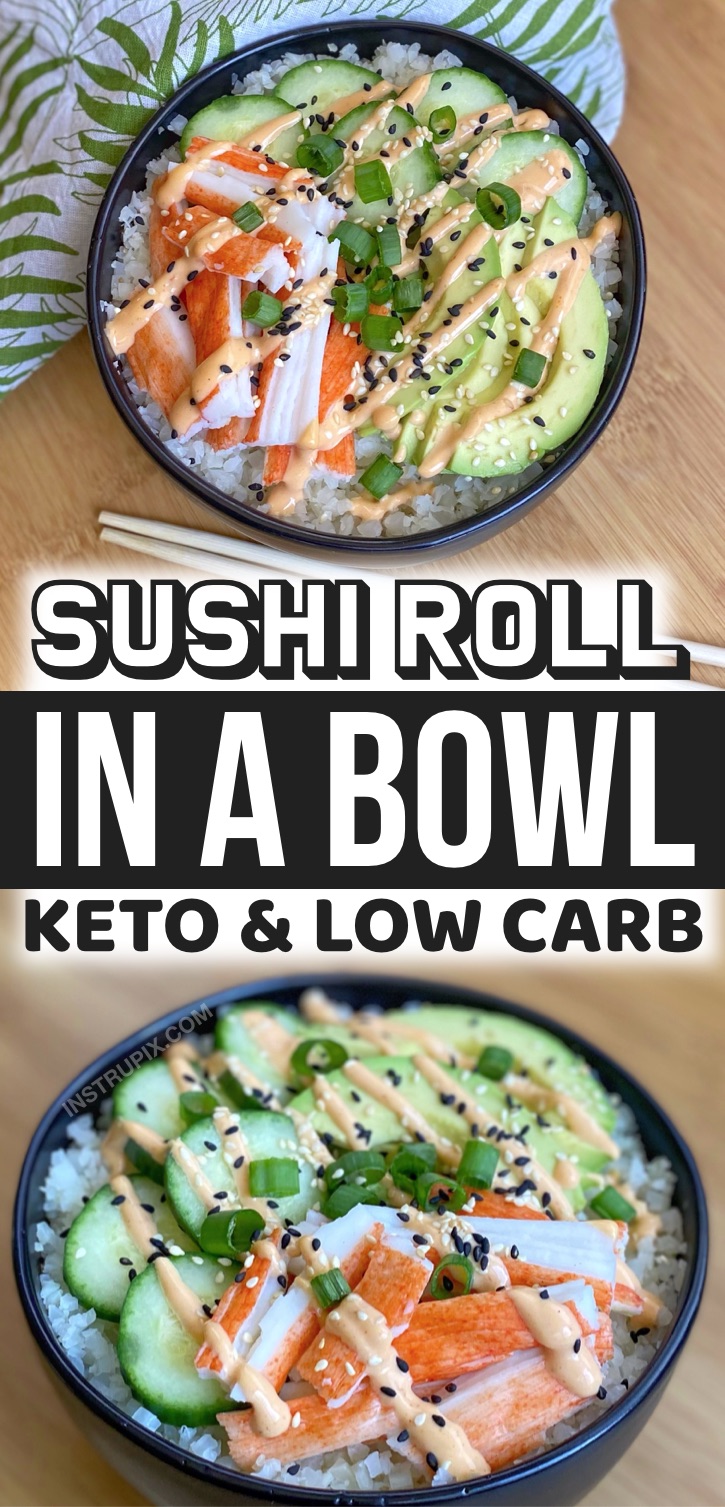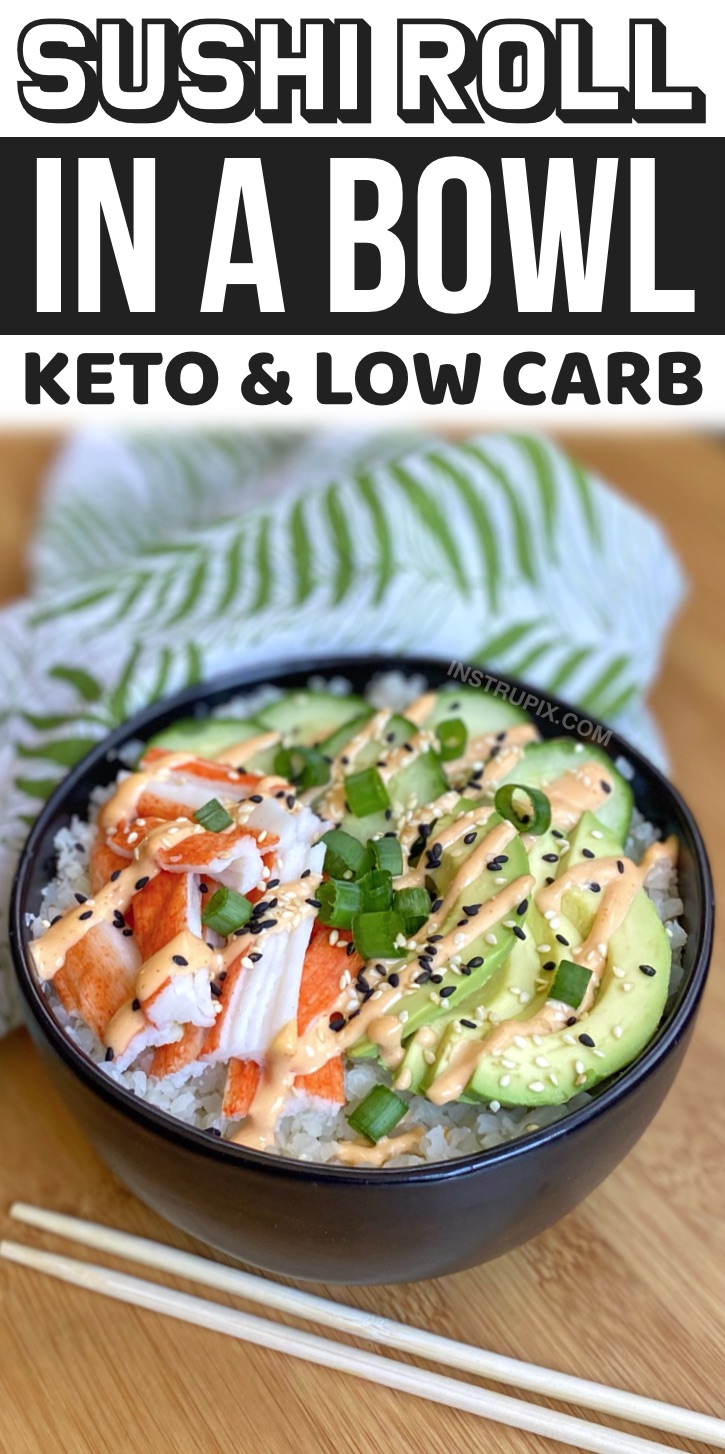 Leave a comment...