Cloud eggs are all the new rage! And not just because they're super tasty, but they're also a fun way to jazz up your otherwise boring breakfast routine. I mean, just look at how cool they look! If you're tired of scrambled, fried or boiled eggs, then you have got to try this unique breakfast idea! Feel free to spice it up a bit however you would like.
… you have got to try these little puffs of breakfast joy.
Easy Egg Clouds on Toast
Ingredients
4

large eggs

1/3

cup

grated cheddar cheese

(or cheese of your choice)

salt, pepper and garlic powder to taste
Instructions
Preheat oven to 450 degrees and line a baking sheet with parchment paper.

Separate the eggs, placing the egg whites in a large bowl for mixing, and the egg yolks in a separate bowl or container (be careful not to let them mix--they need to be separated for later use).

Use a mixer with a whisk attachment to whisk the egg whites until stiff peaks form.

Use a spatula to fold in the shredded cheese.

Spoon the whites into 4 equal sized mounds onto your lined baking sheet. Use a spoon or spatula to create a shallow hole in the middle of each egg white (large enough for the egg yolk to rest later). Sprinkle with the seasoning of your choice.

Bake for 2 minutes, and then add your separated egg yolks into the center of each egg white. Return to the oven and bake until the egg yolk is set (3-5 minutes).

Enjoy immediately! My family enjoys it on buttered toast with avocado, spinach and hot sauce.
Recipe Notes
Try folding in bacon crumbles, chives, red pepper flakes, thyme, parsley or anything else you'd like to the egg white mixture.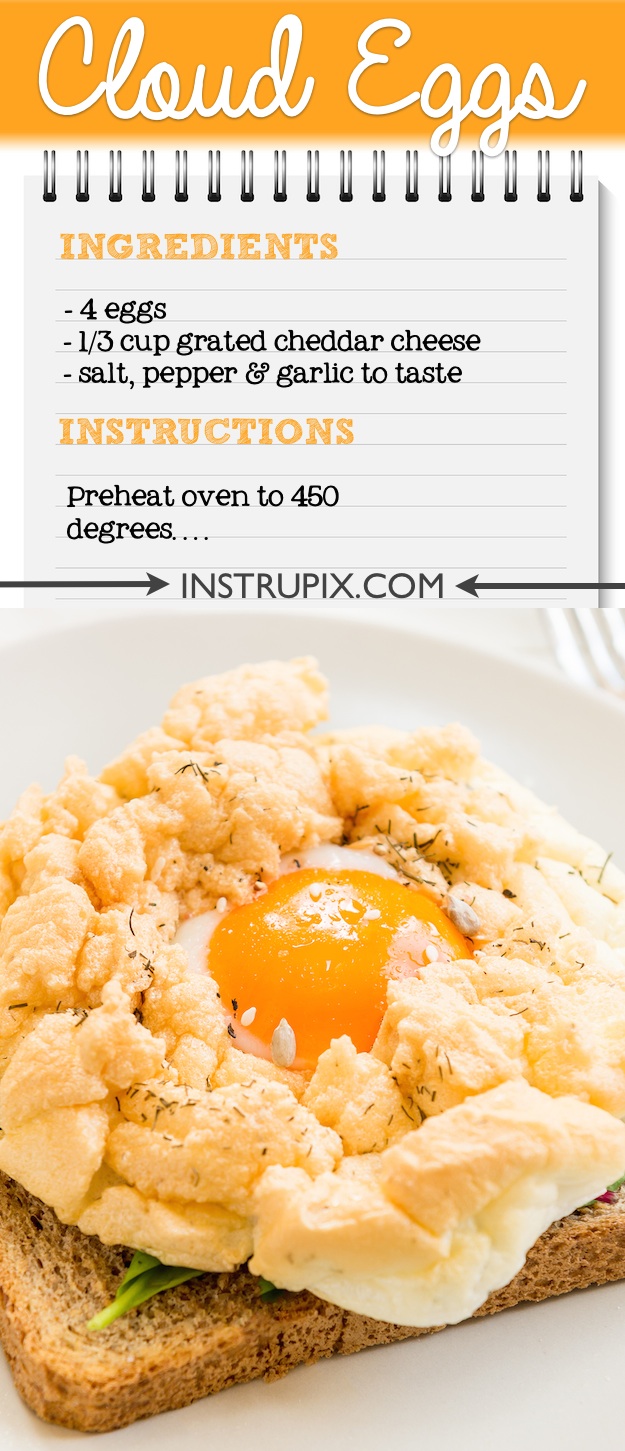 Leave a comment...