Quick & Easy Shaved Brussels Sprouts Salad
My favorite way to eat these miniature cabbages is shaved into a salad! There's no cooking required and this crisp salad is just as good leftover because the sprouts don't get soggy like lettuce.
Brussels Sprouts are a nutritious and delicious way to incorporate more greens into your diet. They're packed with fiber, vitamins, and minerals, making them an excellent healthy and low carb addition to any meal. They may not have the best reputation, but if prepared properly they are super tasty! They're probably my favorite vegetable.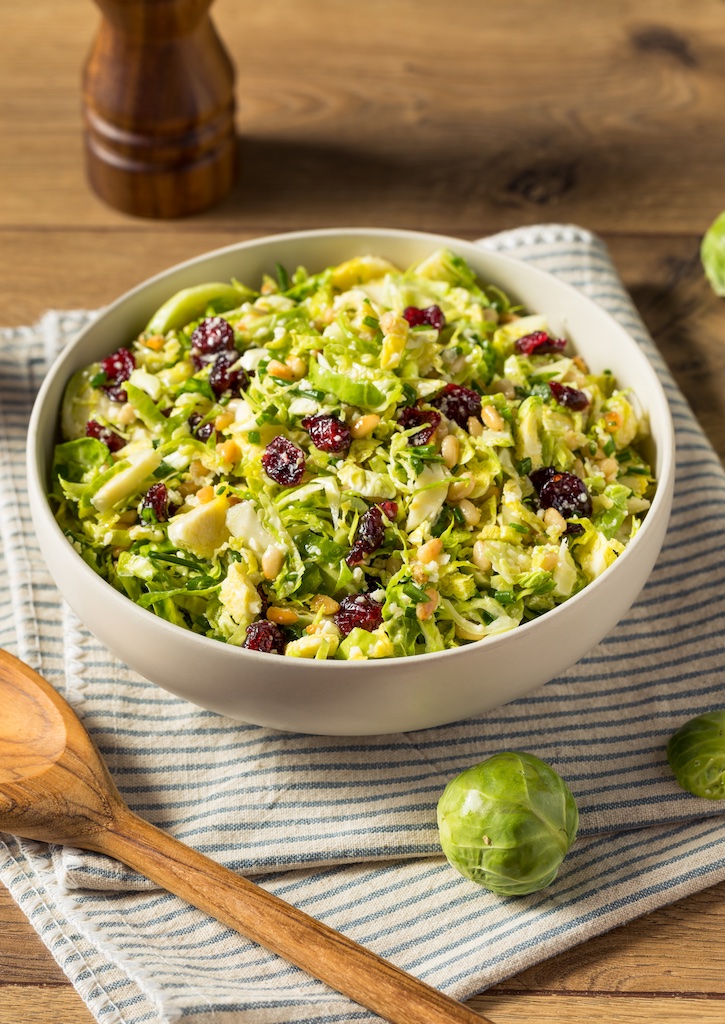 The Brussels sprouts give this delicious salad a super crunchy texture, while the dried cranberries add a touch of sweetness. The toasted pine nuts and feta cheese add a nutty flavor that complements the olive oil and lemon dressing. The combination of ingredients creates a delicious and satisfying salad that you'll want to make again and again!
Want to easily make this into a complete meal? Add rotisserie chicken!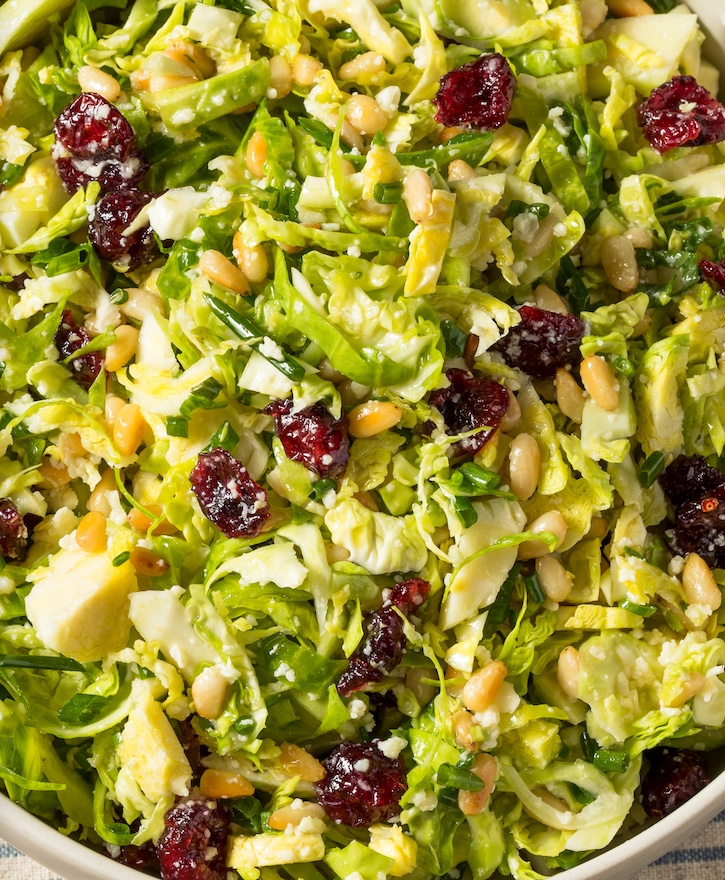 This is one of my favorite quick lunches but can also be served for dinner with just about any protein including chicken, steak, bbq, or fish. The best thing about this salad is that it's made with a clean-eating homemade dressing including ingredients I always have on hand: olive oil and lemon juice. If you want to sweeten it up add a dash of honey or maple syrup!
This salad is super versatile! Here's how to change it up to suit your personal preferences.
A good salad has a variety of textures and balanced flavors: crunchy, creamy, sweet and salty. The combination of all of these is key to making the perfect salad.
Toasted Nuts: Use your favorite toasted nuts for this salad including pine nuts, slivered almonds, pecans, walnuts, sunflower seeds or even pumpkin seeds.
Cheese: The cheese is a must because it adds the creamy saltiness. I like feta for this particular salad but choose your favorite! Shredded parmesan, goat cheese, blue cheese or white cheddar.
Something Sweet: For this salad, the dried cranberries add a touch of sweetness but you could also include raisins, strawberries, diced apples, candied pecans, or add a little bit of sweetener into your salad dressing like honey or maple syrup.
Something Crunchy: The Brussels sprouts and nuts provide all the crunch you need, but you could also toss in some shredded carrots, kale, chopped broccoli, or any leafy lettuce.
Protein: To make this salad a complete meal try adding rotisserie or grilled chicken. Bacon or boiled eggs are a yummy choice, too!
What else pairs well with this salad? Avocado, pomegranate seeds, brown rice, sweet potato, beets, etc.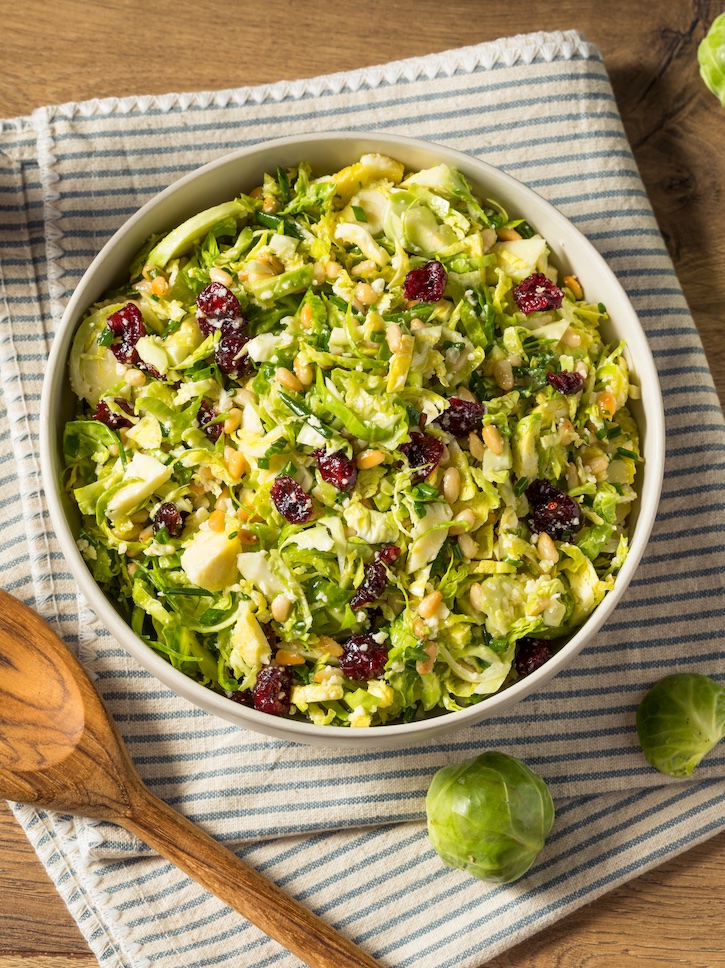 This amazing salad is wonderful served for just about any occasion, but I especially like it for family gatherings and potlucks. The Brussels sprouts don't get soggy, so it remains fresh and crisp for a lot longer than a traditional salad, even if it's sitting on the counter for hours.
But Wait! How Do I Shave Brussels Sprouts?
Clean and rinse the Brussels sprouts and then cut off the stems. Peel away any brown or damaged outer leaves and discard them.
Cut the Brussels sprouts in half: Hold each Brussels sprout by the stem end and slice it in half from top to bottom.
With the cut side facing down, thinly slice the Brussels sprouts using a sharp knife. Alternatively, you can use a mandoline or food processor with a slicing attachment to shave them into thin, even slices.
Use your fingers to separate the shavings and remove any large or tough pieces that remain intact.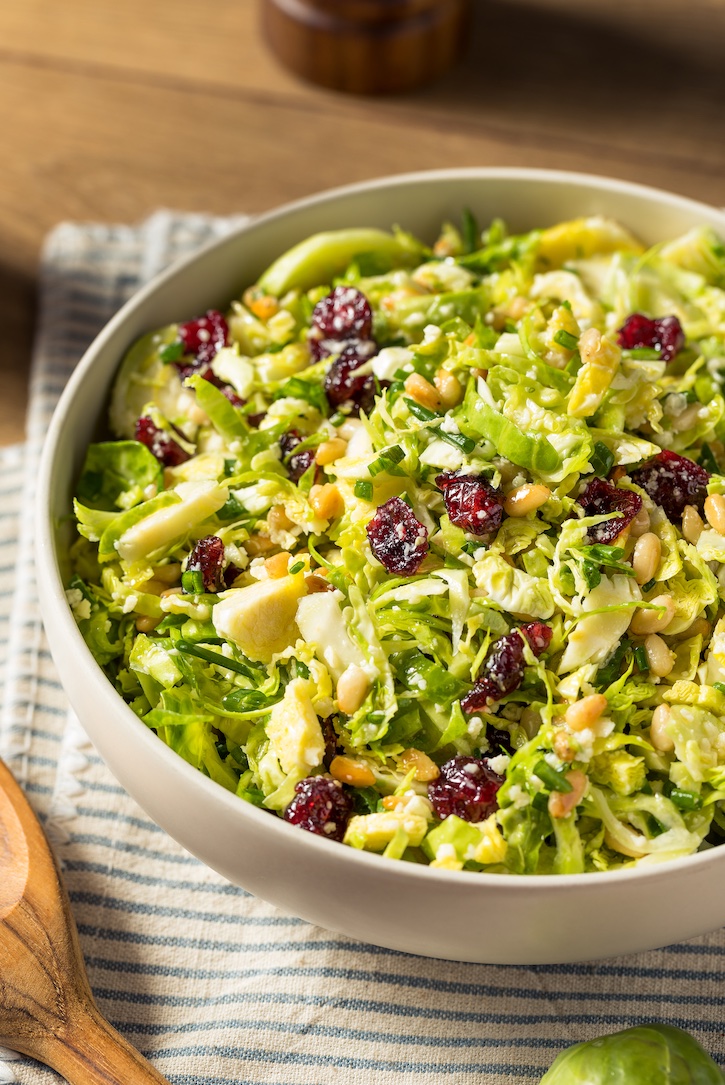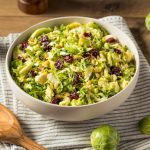 The Best Shaved Brussels Sprouts Salad
Are you looking for healthy side dishes for dinner? This yummy Brussels sprouts salad complements just about any meal! It's also wonderful as a quick and light lunch with rotisserie chicken. The salad dressing is made with just 2 clean eating ingredients including olive oil and lemon. Toss in your favorite cheese, nuts, and dried cranberries for the ultimate combination of balanced flavors and textures.
Keyword:
clean eating, cold, healthy, quick lunch, salad, side dish, vegetables, vegetarian
Ingredients
4

cups

shaved Brussels sprouts

1/4

cup

extra-virgin olive oil

1/4

cup

fresh lemon juice

1/2

cup

toasted pine nuts

(or nut of choice)

1/3

cup

dried cranberries

1/3

cup

feta cheese crumbles

salt & pepper to taste

(optional)
Instructions
Thinly slice the Brussels sprouts with a sharp knife, or mandoline if you have one. A food processor with a blade attachment also works!

Place the shaved Brussels sprouts into a medium size bowl and toss with the olive oil and lemon juice.

Toss in the rest of the ingredients and allow the mixture to sit at room temperature for about 10 minutes. Do a taste test to see if you'd prefer to drizzle on a little extra olive oil, and perhaps a pinch of salt & pepper.
Recipe Notes
Do you want to sweeten this salad up a bit? Drizzle in a little bit of honey or maple syrup (not pancake syrup).
Choose your favorite cheese! Parmesan cheese, goat cheese, blue cheese and white cheddar are also popular options for a Brussels sprouts salad.
Just about any toasted nut pairs well with this salad including pecans, slivered almonds, walnuts, sunflower seeds or pumpkin seeds. Want to really delight your senses? Try candied pecans. 
What else could you toss in a Brussels sprouts salad? Diced apples, strawberries, raisins, avocado, beets, pomegranate seeds, butternut squash, shredded carrots, kale or any leafy lettuce.
Want to make a complete meal? Serve this yummy salad with rotisserie chicken, grilled chicken, bacon or boiled eggs.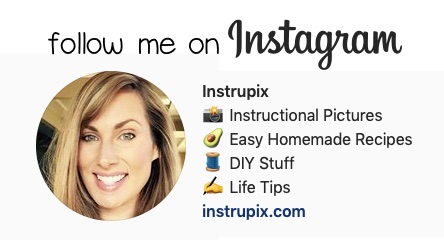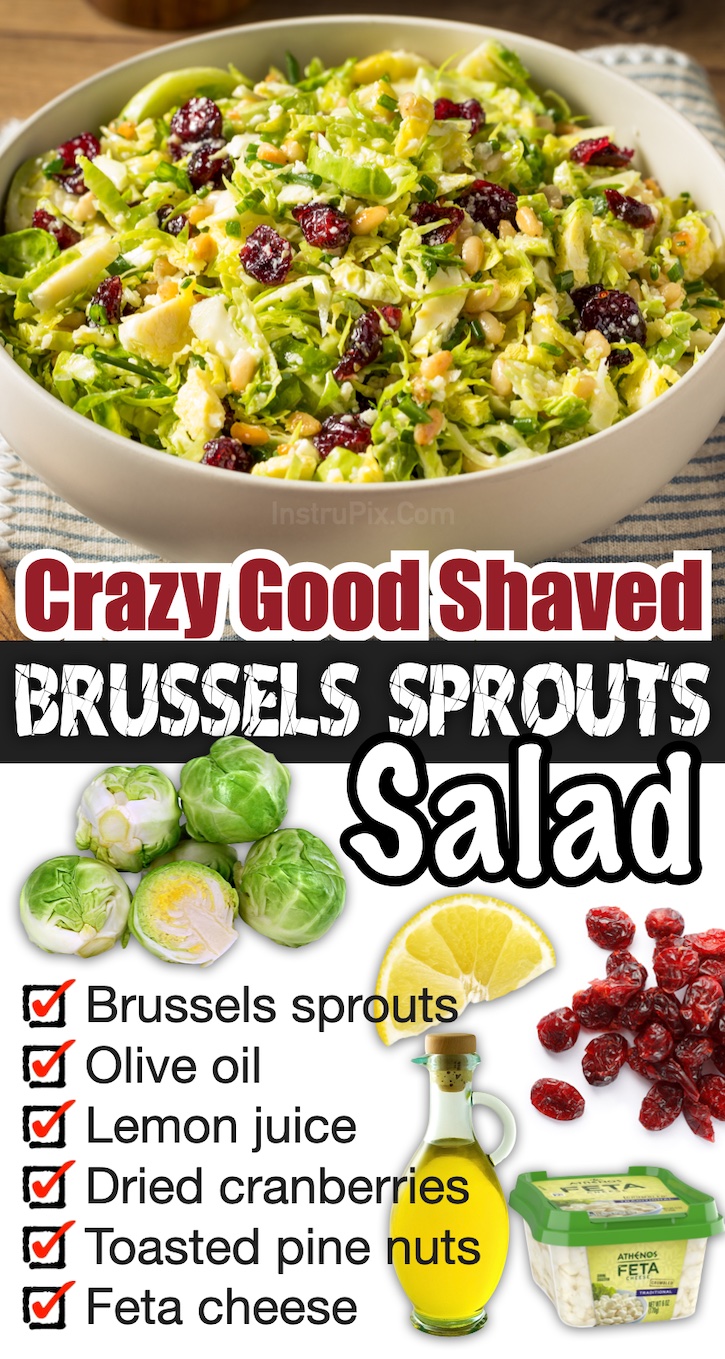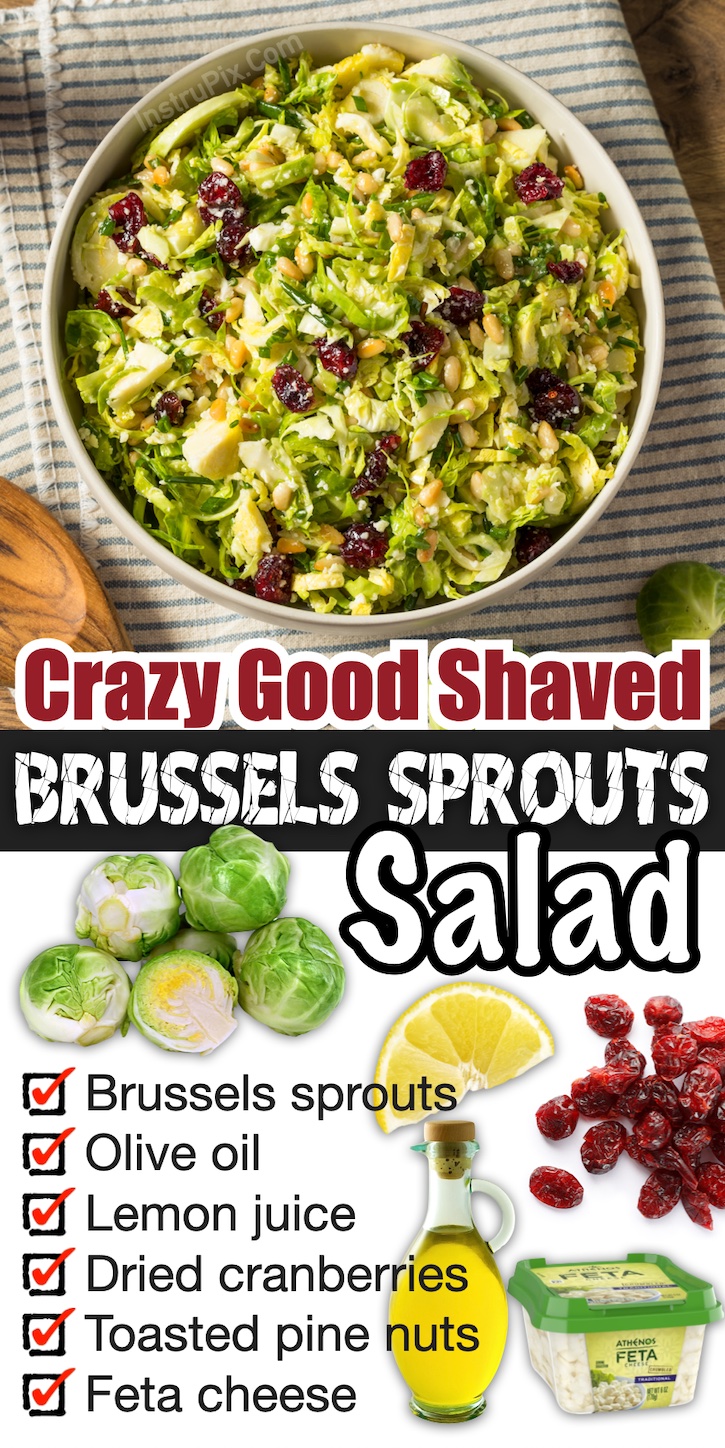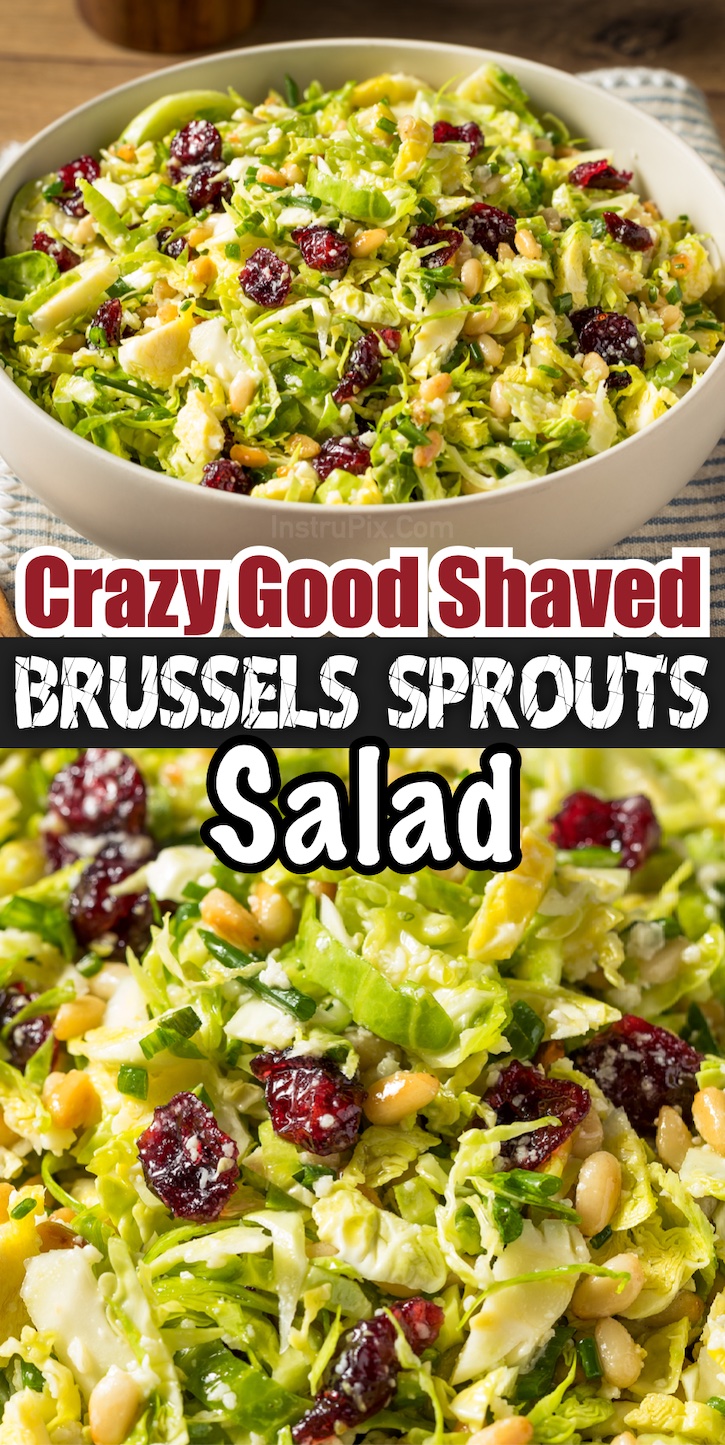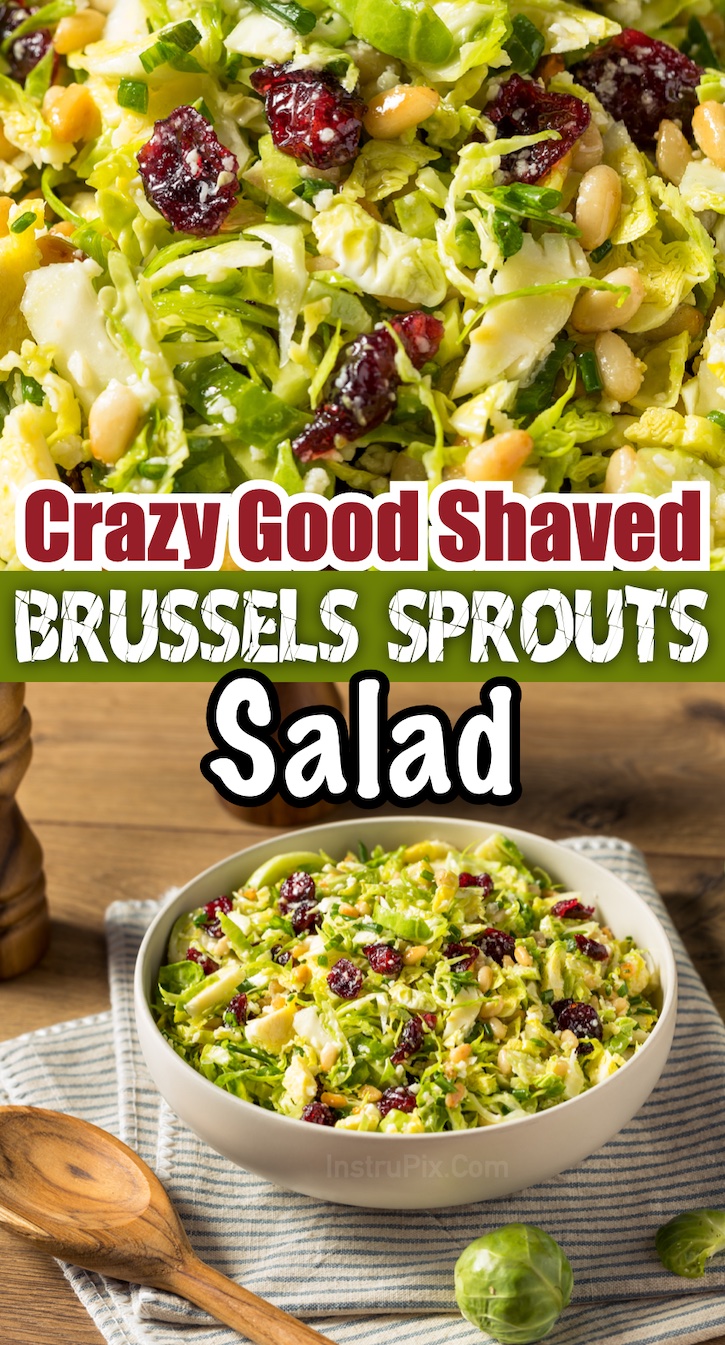 Leave a comment...