Packaged food may not always be the best, but we can all admit that it's incredibly convenient. Even the savviest of cooks sometimes use canned and boxed items to cut down on the time and hassle cooking and baking entails.
I, myself, love using packaged items and then doctoring them to my liking. I almost always add spices, herbs and veggies to boxed dinner items like Hamburger Helper or Kraft Macaroni & Cheese. Over the years, you kind of just figure out what greatly improves these convenience foods to the point where they almost taste homemade!
I've rounded up a few of my favorite packaged food hacks, everything from sweet desserts to easy dinner ideas. Sometimes you just have to think outside of the box (no pun intended) to create delicious, quick and easy meals your family will actually enjoy.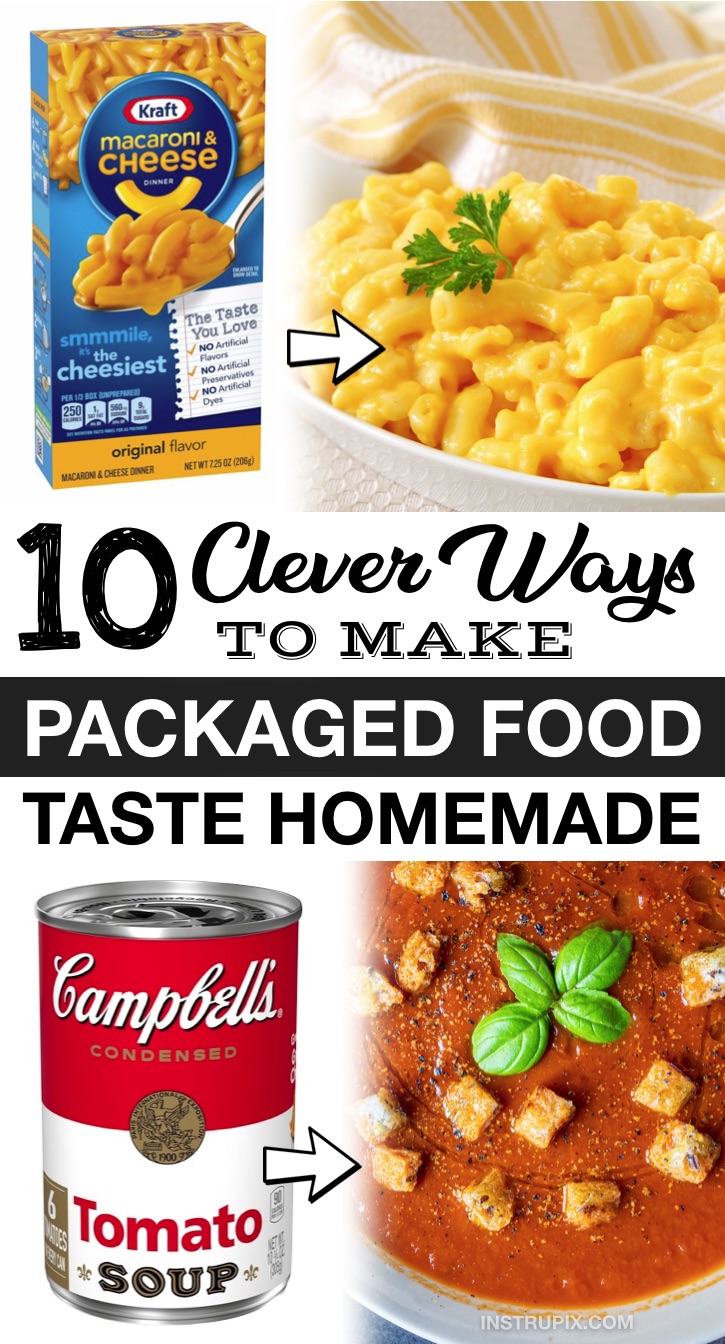 ---
1. Boxed Cake Mix
Cake mix is one of the most popular packaged grocery items, and can easily be adjusted to make it taste like something you bought from a bakery. I'm honestly not sure why the boxed instructions call for oil when melted butter tastes so much better. You can also add an additional egg to make it extra moist and dense.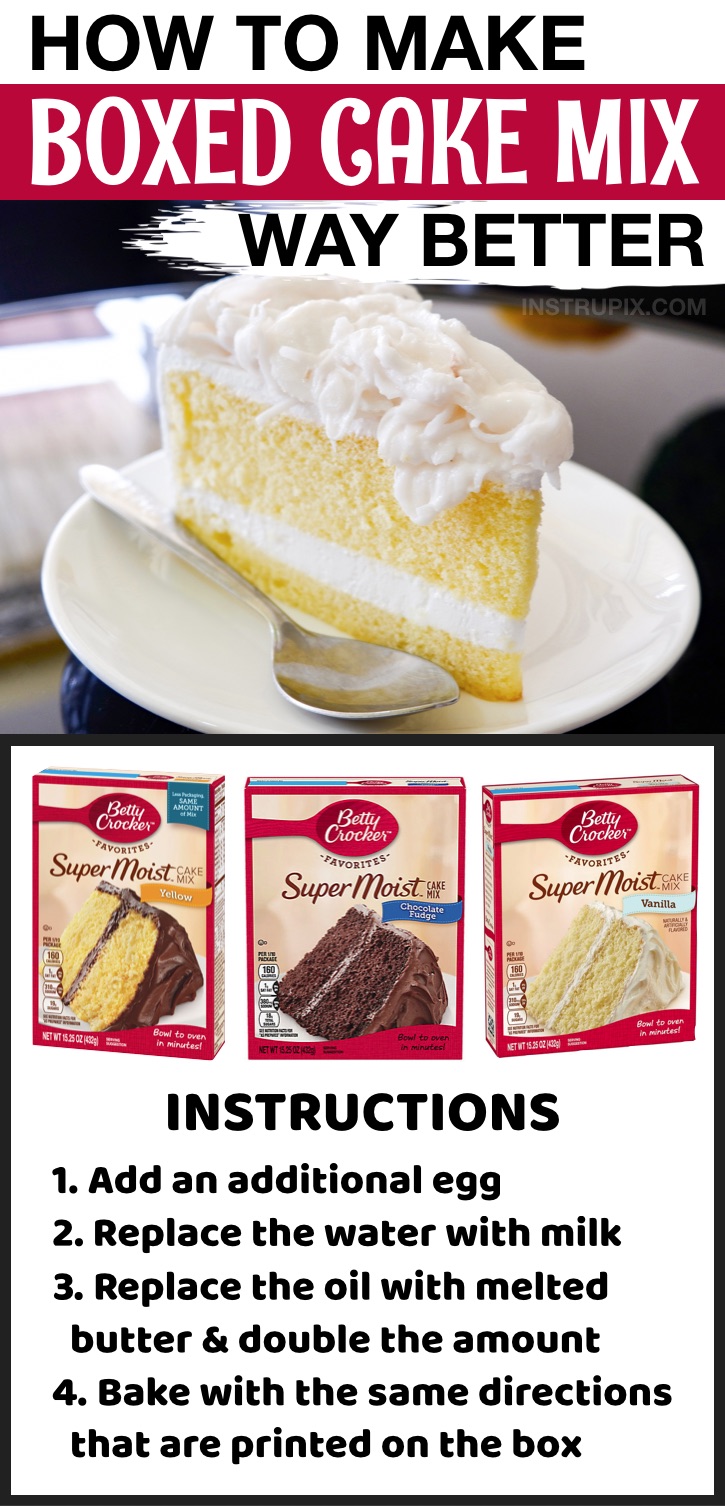 Cake Mix Tip: You can also make super soft cookies out of boxed cake mix. Simply mix the dry ingredients with 2 eggs and 1/2 cup of oil, and then bake in a 350 degree oven for 10-15 minutes. There are so many fun flavor options!
2. Canned Chili
I've never been a fan of canned chili, but it sure does make for a great base with a few additions. Mixing your own ground beef with vegetarian chili seems to make the biggest difference, as well as the addition of any fresh veggies you have on hand like onions, bell peppers or garlic. I also like to throw in a can of diced tomatoes and additional seasoning like cumin and chili powder. And, of course, don't forget to top it with goodies like cheese and sour cream!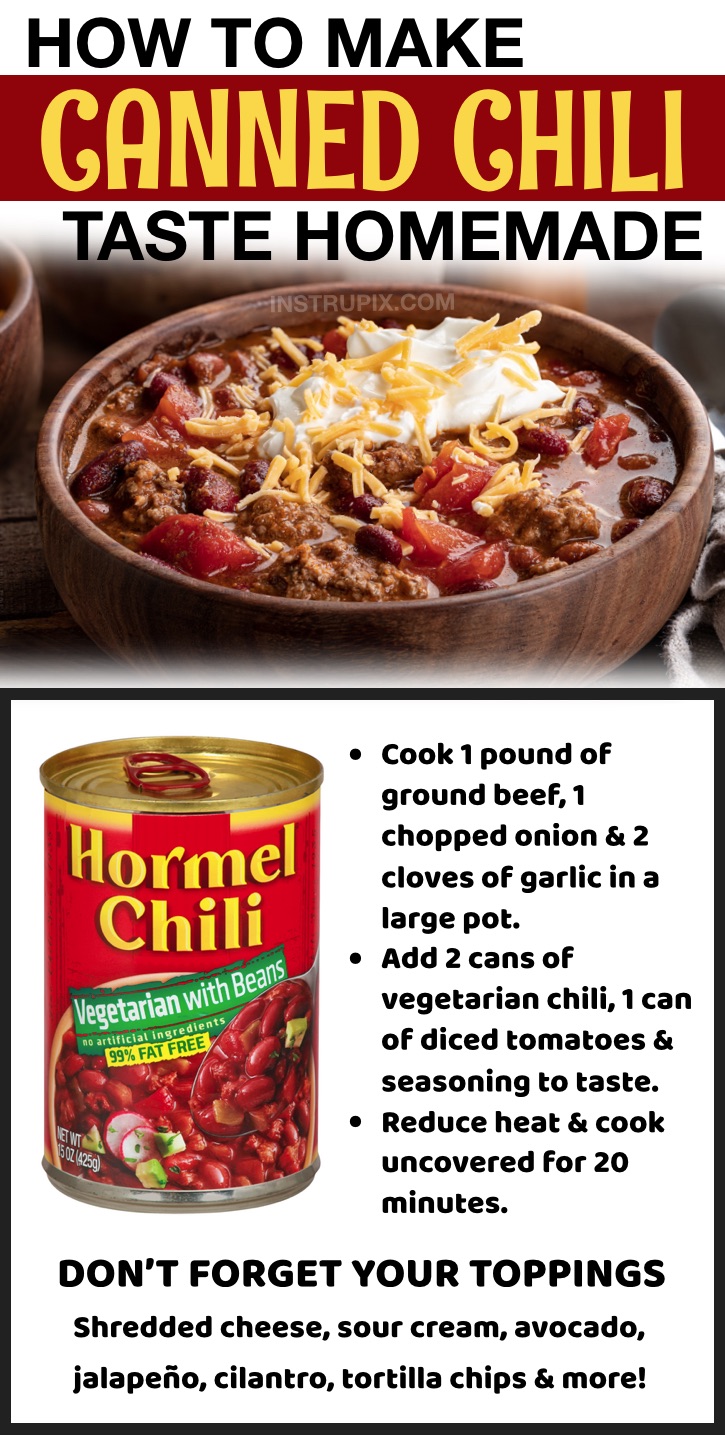 3. Boxed Corn Bread
What could possibly go better with Chili than cornbread!? Especially if it tastes like your grandma made it. The great thing about doctoring a box of cornbread mix is that you don't have to buy the 5 pound bag of cornmeal to make one batch of cornbread. Simply by making a few changes to the recipe on the Jiffy box, you get the most flavorful and moist cornbread you could eat.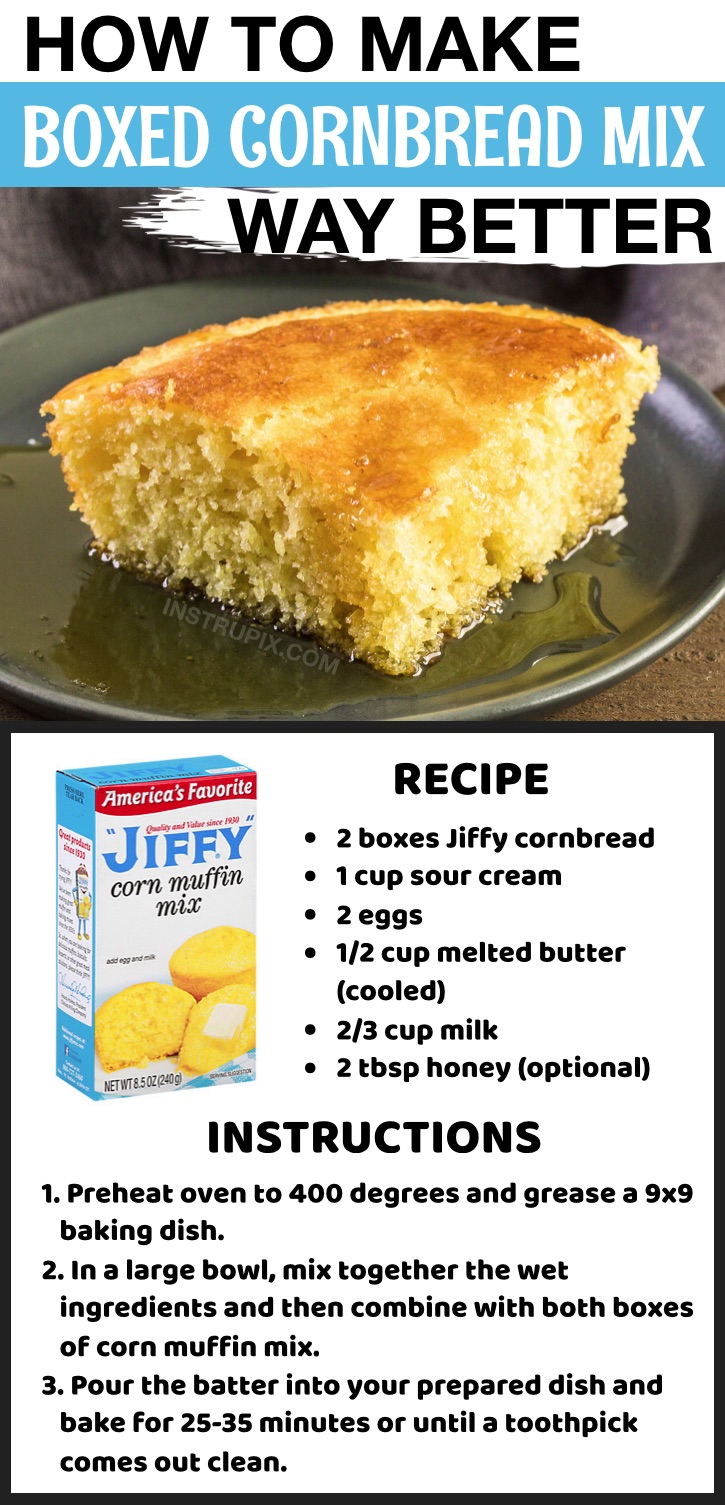 Tip: Consider other additions to your cornbread batter such as drained corn, jalapeños, bacon, scallions or cheddar cheese.
4. Boxed Brownies
To be honest, boxed brownies are pretty darn good without any changes made at all, but there are a few things you can do to up your game. For one, always replace the oil with melted butter. It's crazy what a difference it makes! And if you like your brownies super hot and fudgy served with ice cream, leave out one of the eggs and reduce the cooking time by about 5 minutes.
If you're a coffee lover like myself, you can also replace the water with coffee to enhance the flavor. So good! You've got to try it at least once.
Now, for the biggest game changer of all: MIX-INS! Just about anything you happen to have on hand can be mixed with your brownie batter before baking. Cookie bits, nuts and caramel pieces are a favorite of mine, as well as drizzling a little caramel syrup onto the top of the brownie batter before baking.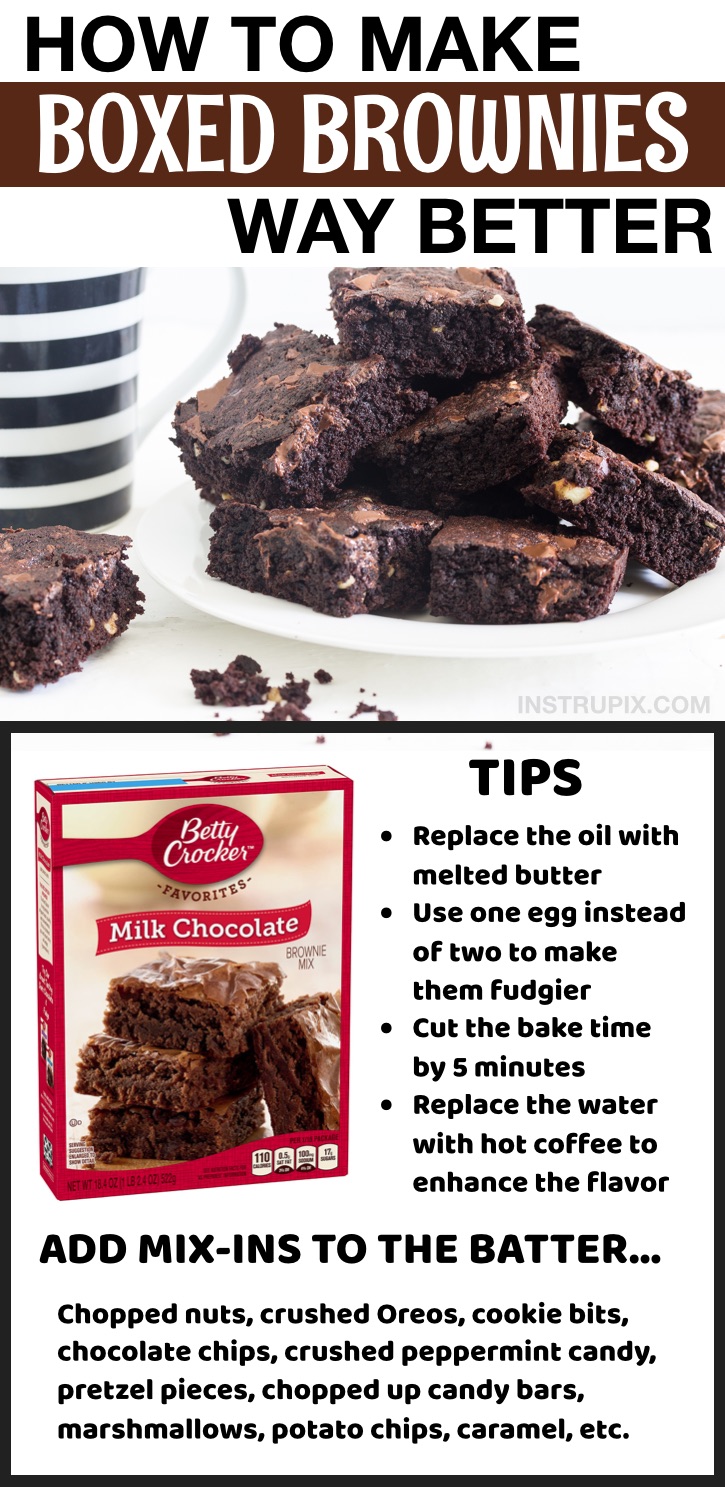 5. Boxed Mashed Potatoes
The benefit of potato flakes vs. real potatoes is that they have a long shelf life, so you always have a starchy side dish in your pantry no matter how long it's been since you've been to the grocery store. And, surprisingly, they taste a whole lot like the real thing especially with a few changes and additions.
I've found that replacing the water with chicken or even vegetable broth makes a huge difference in flavor as well as adding hidden nutrients. And just like with regular mashed potatoes, a little extra butter and sour cream doesn't hurt. Be sure to do a taste test and add a little seasoning when you're done. I almost always add garlic and onion powder.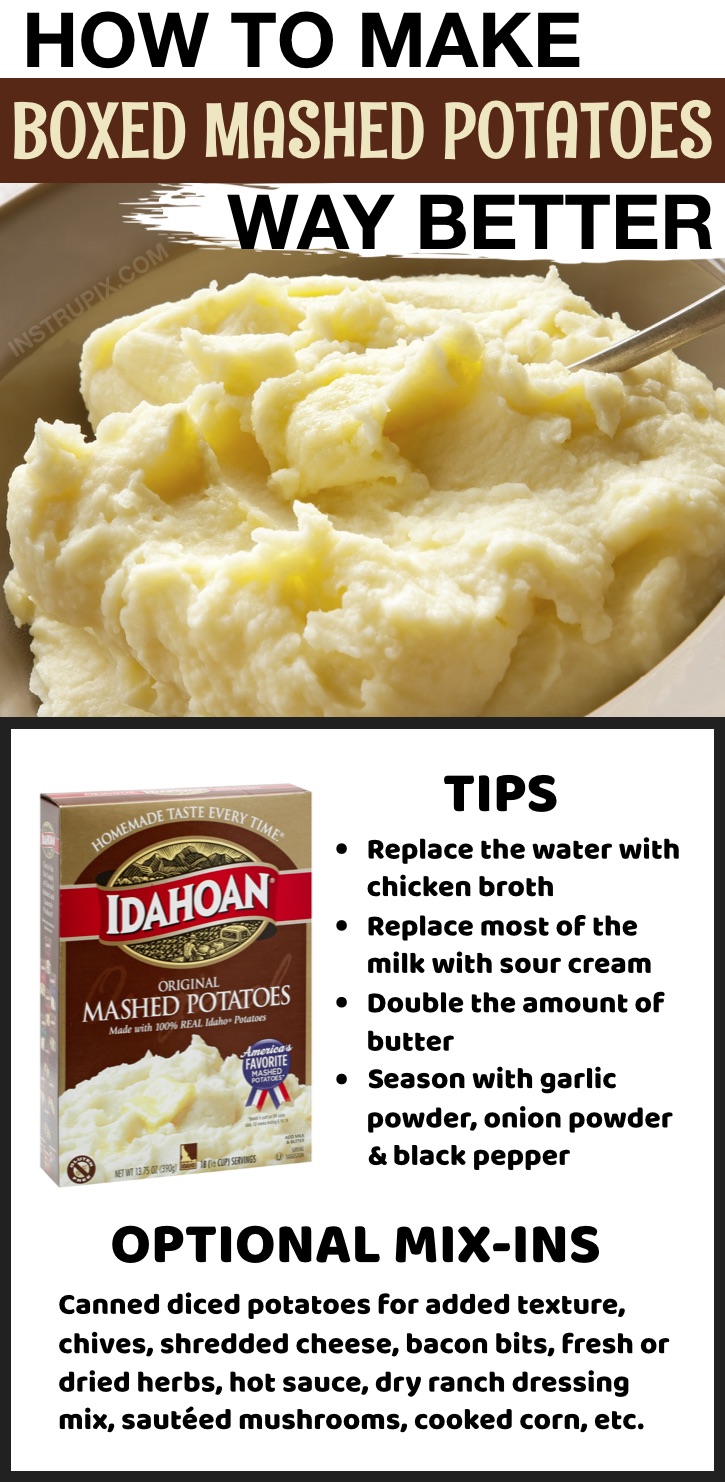 Tip: If you like a few chunks in your mashed potatoes, try adding a can of drained warm diced potatoes, and then only slightly mashing them to get that authentic mashed potato texture.
6. Canned Refried Beans
This is one of my favorite foods hacks because my family has what we call "burrito night" at least twice a month, and refried beans are a staple. But, have you ever wondered why the taste and texture in restaurant beans seems so much better, other than the fact that they are made from scratch? Try mixing in sour cream to your canned beans along with a little hot sauce. It makes a huge improvement. Also, a little melted cheddar or pepper jack cheese on top doesn't hurt.
Tip: You can also add a little taco seasoning, cumin, paprika, onion powder or chili powder to your beans for additional flavor.

Fun Fact: Did you know that most refried beans contain lard? A lot of vegetarians don't realize this and are mistakingly eating animal fat. Fortunately, there is a vegetarian option in just about every brand of refried beans.
7. Boxed Macaroni & Cheese
Alright, ya'll. There is a big debate about which boxed brand of mac n' cheese is the best, but no matter your preference, you can definitely make any box of cheesy pasta taste better by adding heavy cream and fresh shredded cheese. Duh, right!? But, another one of my favorite ways to make a meal out of macaroni and cheese is by mixing it with leftovers like bacon, taco meat or last night's veggies along with a little hot sauce or cayenne pepper.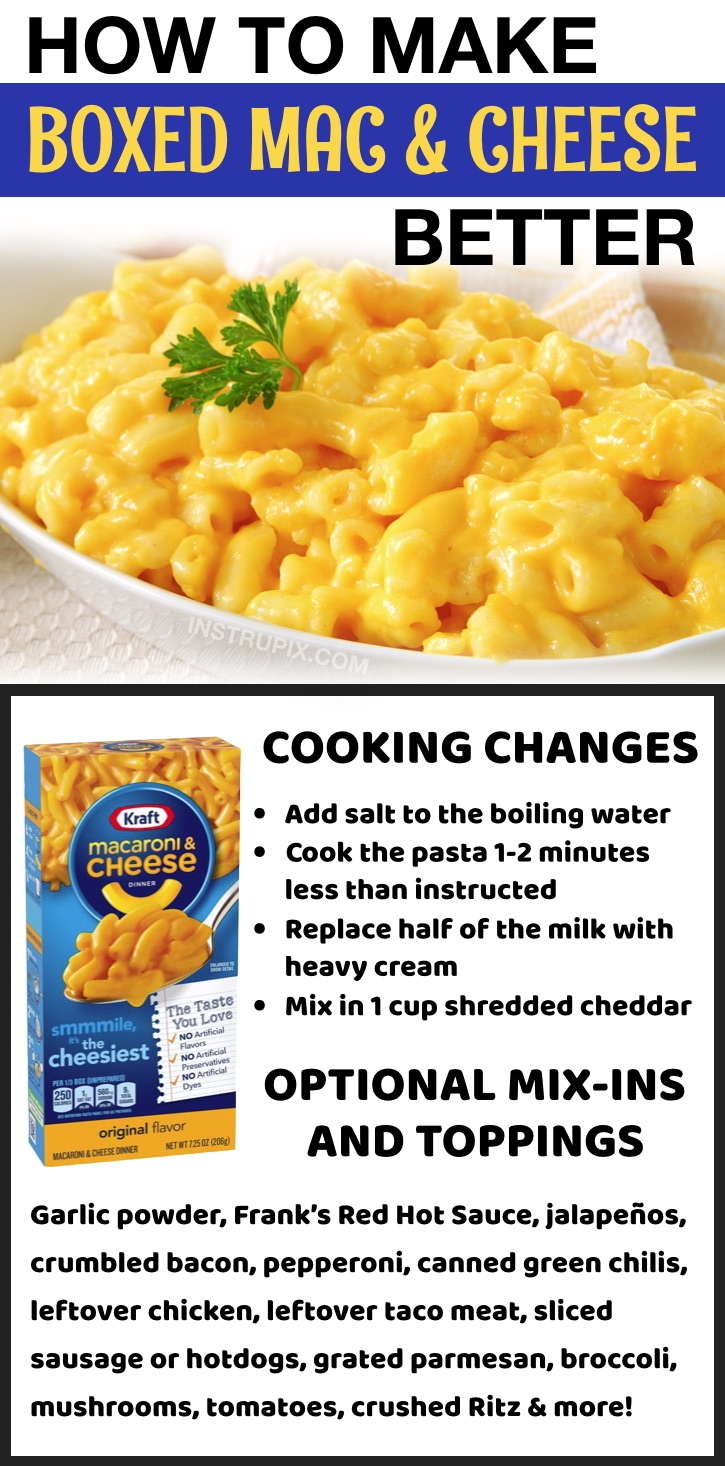 Tip: If you have the time and are willing to make the effort, you can also place the prepared macaroni and cheese into a greased baking dish and then top it with shredded cheddar. Throw it in a 400 degree oven for 5-10 minutes or until the cheese starts to brown. Everyone will think it's homemade!
8. Boxed Stuffing
The thing about boxed stuffing prepared on the stove top is that it usually turns out pretty boring and terribly mushy, but I've found that if you mix in a few fresh veggies or nuts to the mix for variety, and then stir the dry stuffing mix with about 1.5 cups of chicken broth, you can bake it in the oven instead.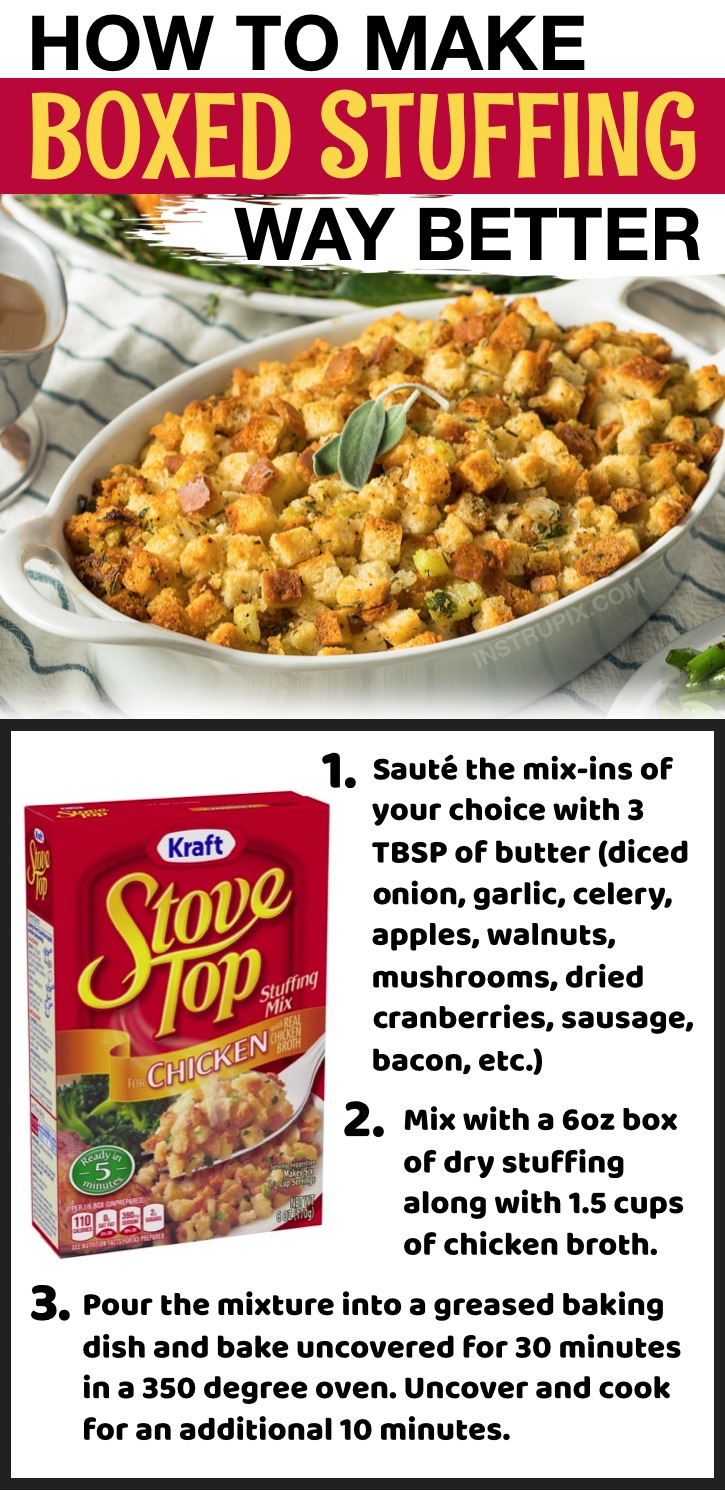 Tip: Try experimenting with different flavors and mix-in combinations. You can create something sweeter with the combination of walnuts, apples and dried cranberries, or super savory with bacon, onion and celery.
9. Canned Tomato Soup
A can of tomato soup is a classic last-minute meal idea, especially with buttered toast or a grilled cheese sandwich. My kids have always loved it, even if it does come from a can. The secret is adding flavor with additional seasoning, as well as mixing in a little heavy cream to make it rich and delicious. Wait! Before you dig in, don't forget your delicious toppings like parmesan cheese, fresh herbs, croutons, gold fish or crackers.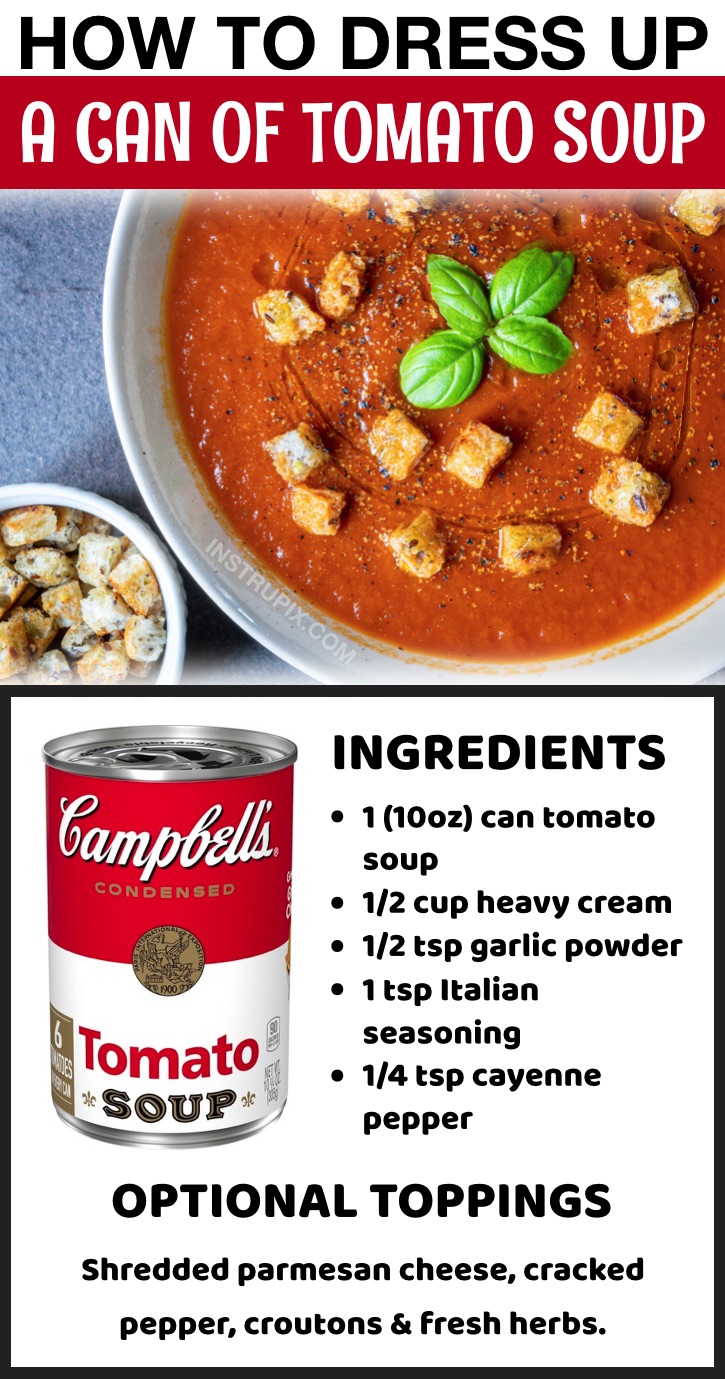 Tip: If you like your soup chunky, try adding a can of diced tomatoes.
10. Boxed Tuna Helper
This tip also applies to the boxes of Hamburger Helper. You basically add whatever fresh ingredients you have on hand that pair well, and then bake it with a crumb topping for added crunch and flavor. It tastes a heck of a lot closer to homemade when you prepare it this way! I really like the addition of carrots and broccoli to the Tuna Helper because it adds more nutrition while adding texture and flavor. You already have to dirty up a pan for the Tuna Helper, so why not throw in a few veggies to sauté first.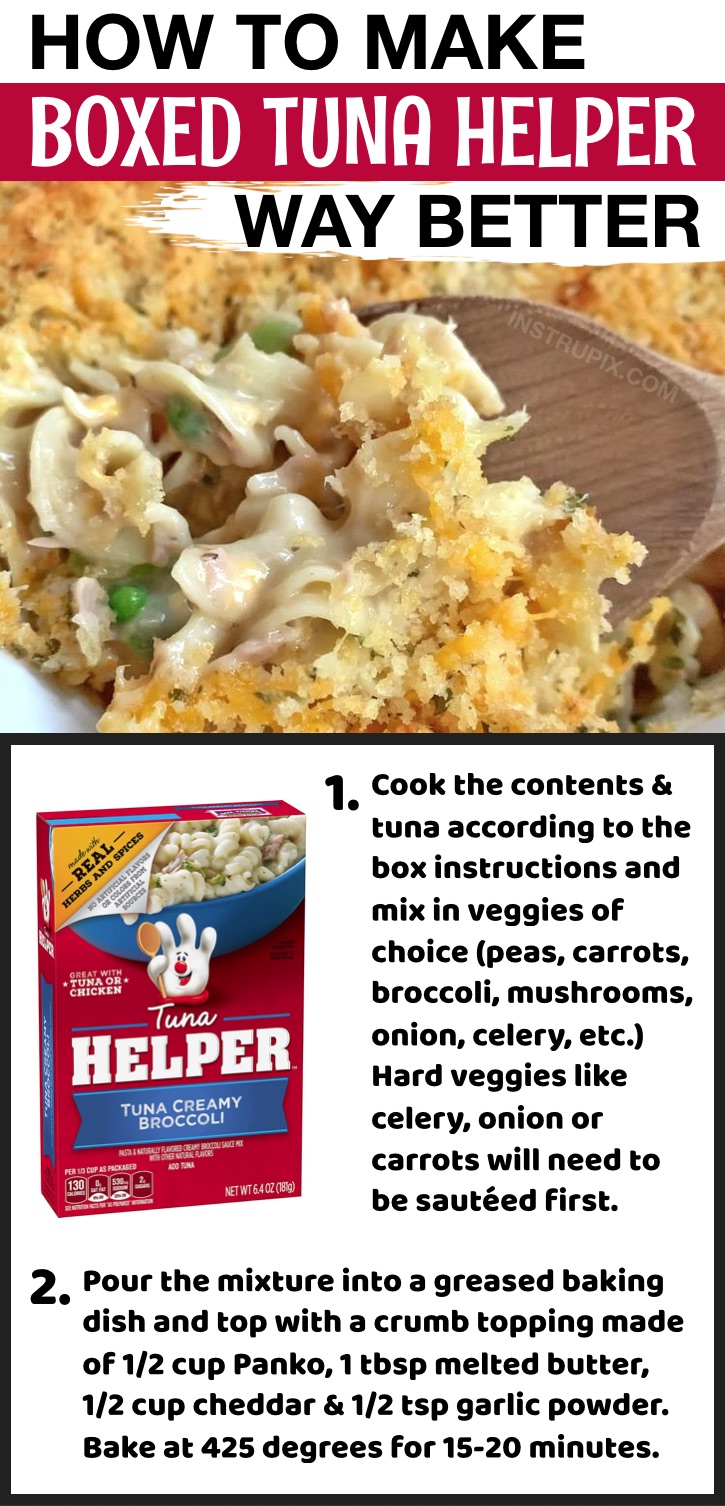 What kind of crazy things do you do to improve packaged food?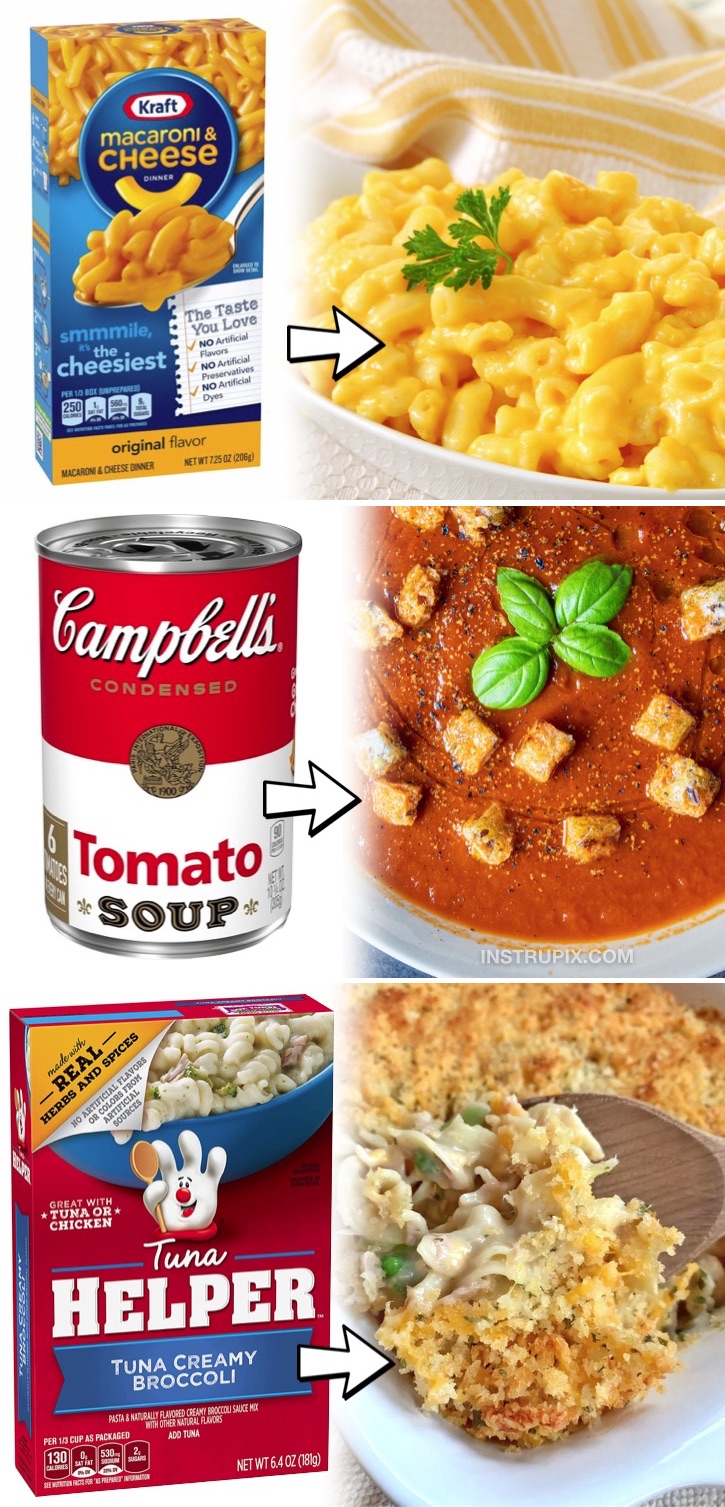 Leave a comment...