I don't know if you have ever had the pleasure of eating the cream cheese rangoons from Panda Express, but just to give you an idea, they're basically heaven in your mouth. This recipe is very similar, only they're baked instead of fried, and rolled into fun little sticks. Anyone who loves cream cheese will certainly enjoy them!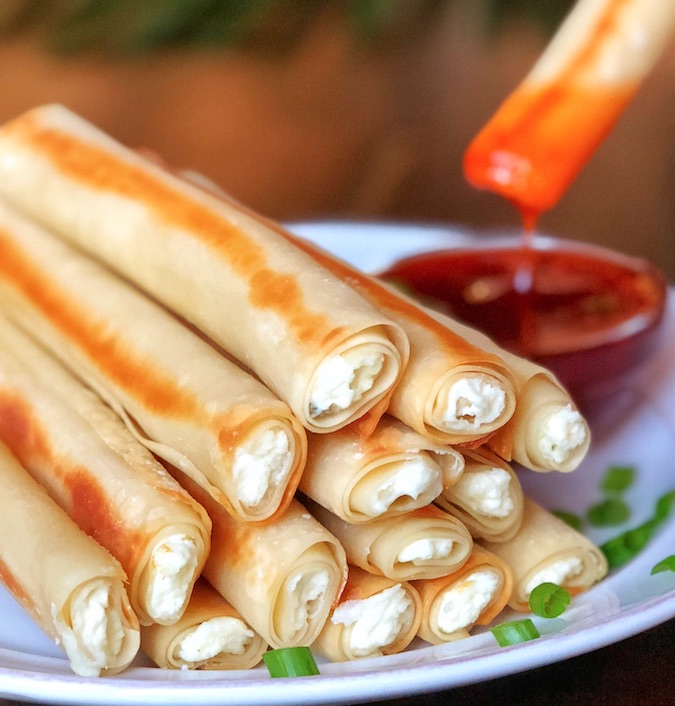 They're the perfect combination of sweet, salty, creamy and crunchy.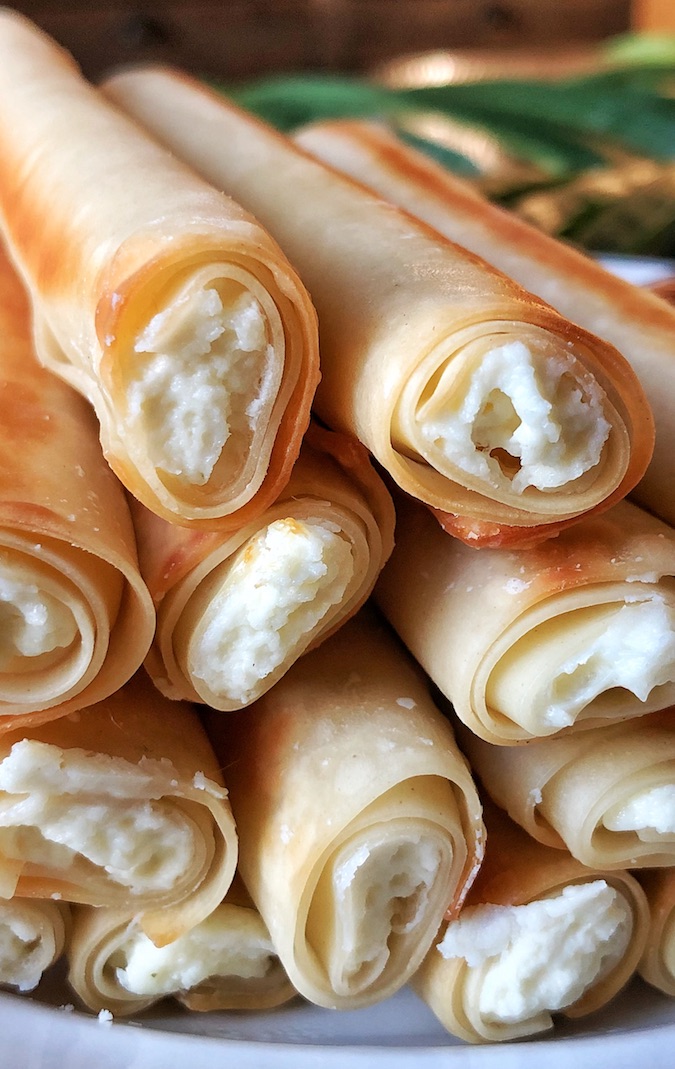 The egg roll wraps are so thin, you get that perfect crunch without the fryer. Simply fill, roll, seal, oil and bake. Don't be afraid to get creative and add anything else to the mix that would go well with cream cheese. Maybe some shredded buffalo chicken? I'm going to try that next time with ranch for dipping instead of sweet and sour sauce.
This was my first time experimenting with egg roll wraps, and I had a hard time finding them at the grocery store. Just so you know, they should be in the produce section by the tofu. Hopefully that makes your life a little easier! I was so thirsty after my search, I had to come home and drink 3 beers.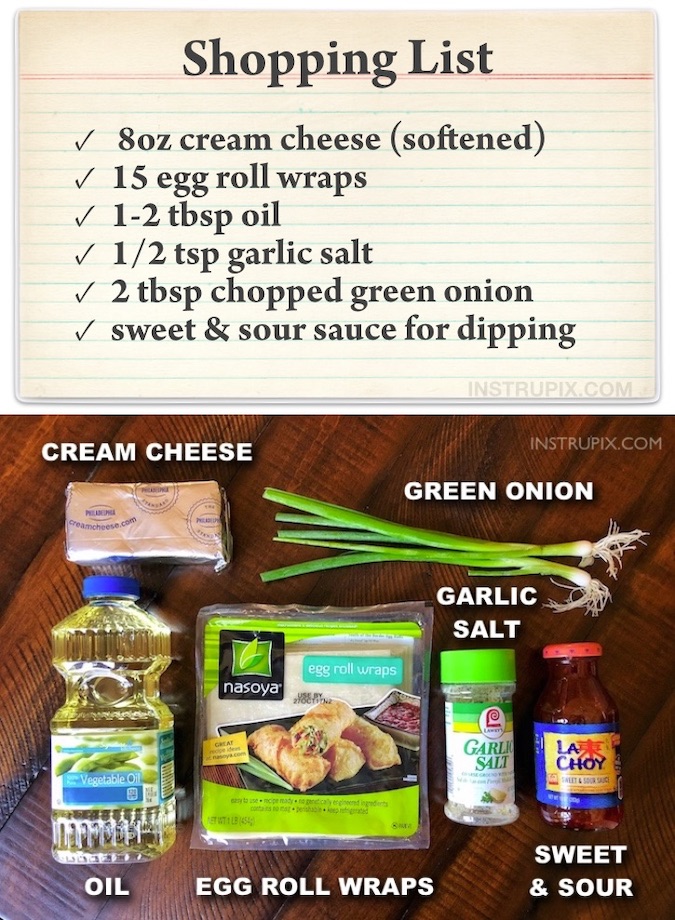 You can find the egg roll wraps in the produce section by the tofu at most grocery stores.
I was a little worried that my instructions might be confusing, so I made this pictorial so you can see where to create the seal for the wraps, and to also give you an idea of how much cream cheese I used for each one.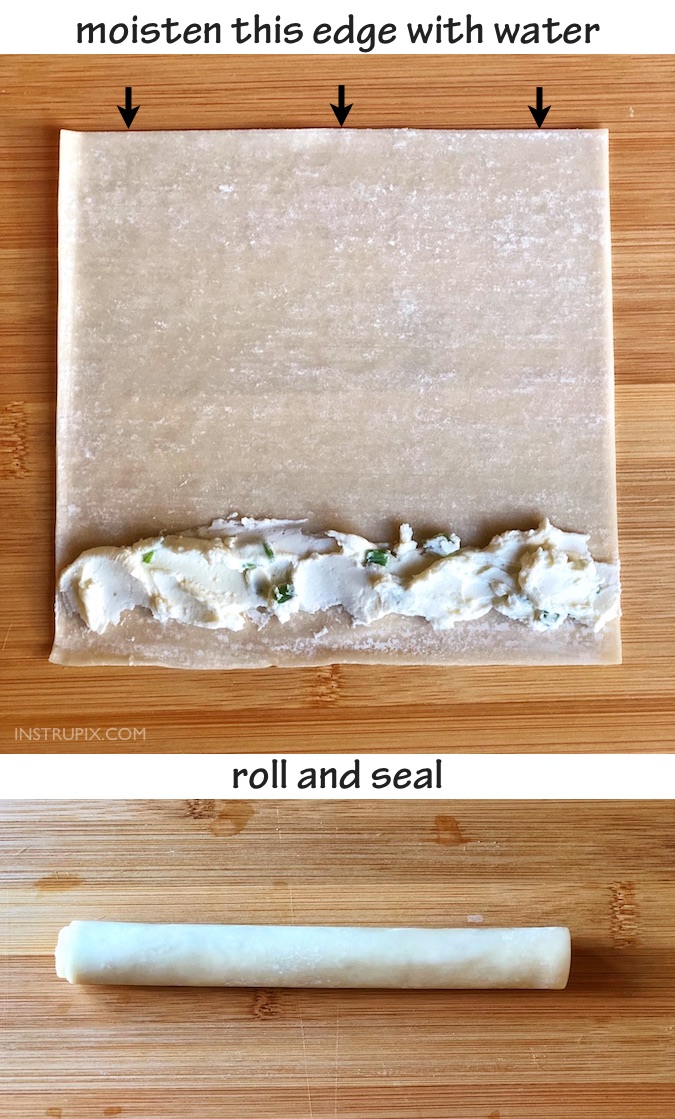 I coated the wraps with a pretty generous amount of oil.
Some of the seals came slightly undone while cooking, but they still kept their shape and tasted AMAZING! They're best eaten immediately while still warm. Dip them in sweet and sour for that perfect salty, sweet combo.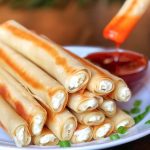 Easy Baked Cream Cheese Rangoon Rolls
This recipe is so easy and delicious! It's just like Panda Express, only with a fun little twist. Serve them up as a fun snack or even party appetizer, either way, it's the best finger food idea, EVER. 
Keyword:
cream cheese, panda express, snacks
Ingredients
8

ounces

cream cheese

(softened)

15

egg roll wraps

1-2

tbsp

vegetable or canola oil

1/2

tsp

garlic salt

2

tbsp

finely chopped green onions

2-3

tbsp

sweet and sour sauce

(for dipping)
Instructions
Allow the cream cheese to soften on the counter for about 30 minutes (or soften in the microwave on defrost if you're in a hurry).

Preheat your oven to 375 degrees, and line a baking sheet with parchment paper or non-stick foil.

In a medium sized bowl, use a fork or spoon to mix the softened cream cheese with the garlic salt and green onions until well combined.

Get a small bowl of water ready for dipping your fingers in, and pour about 2 tbsp of vegetable oil on a plate or shallow dish.

One at a time, lay your egg roll wraps out on a flat surface, and then line about 2 tbsp of the cream cheese mixture onto the bottom portion of the egg roll wrap (the cream cheese does expand a little during the cooking process, so there's no need to spread the cream cheese all the way to the edges).

Next, dip your fingers in water and generously moisten the top edge of the wrap, and then tightly roll the wrap around the cream cheese. Rub the moistened edge to seal it shut (just like an envelope). Add more water if needed.

After all of your egg roll wraps are tightly rolled with the cream cheese mixture, roll them around one at a time in the plate of oil until they are well coated, paying special attention to the edges where they tend to cook the fastest. You can also use a basting brush if you'd prefer.

Place them on your lined baking sheet and bake 12-15 minutes, flipping them over half way through.
Don't forget to pin and save for later! 🙂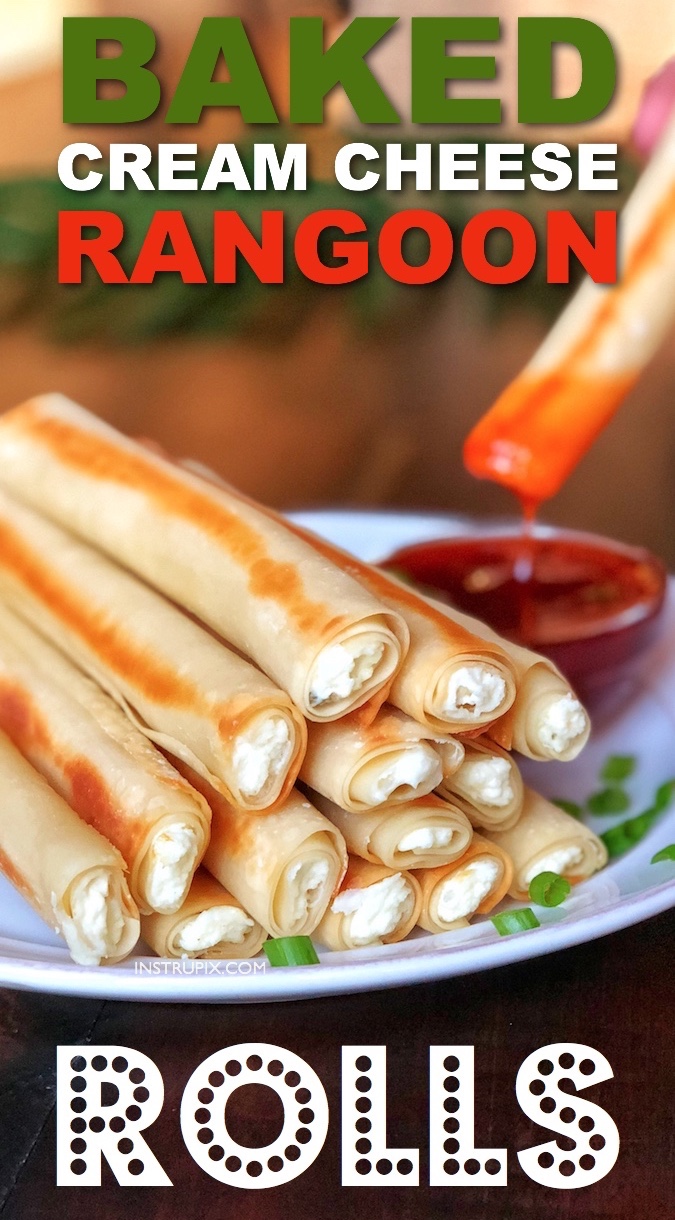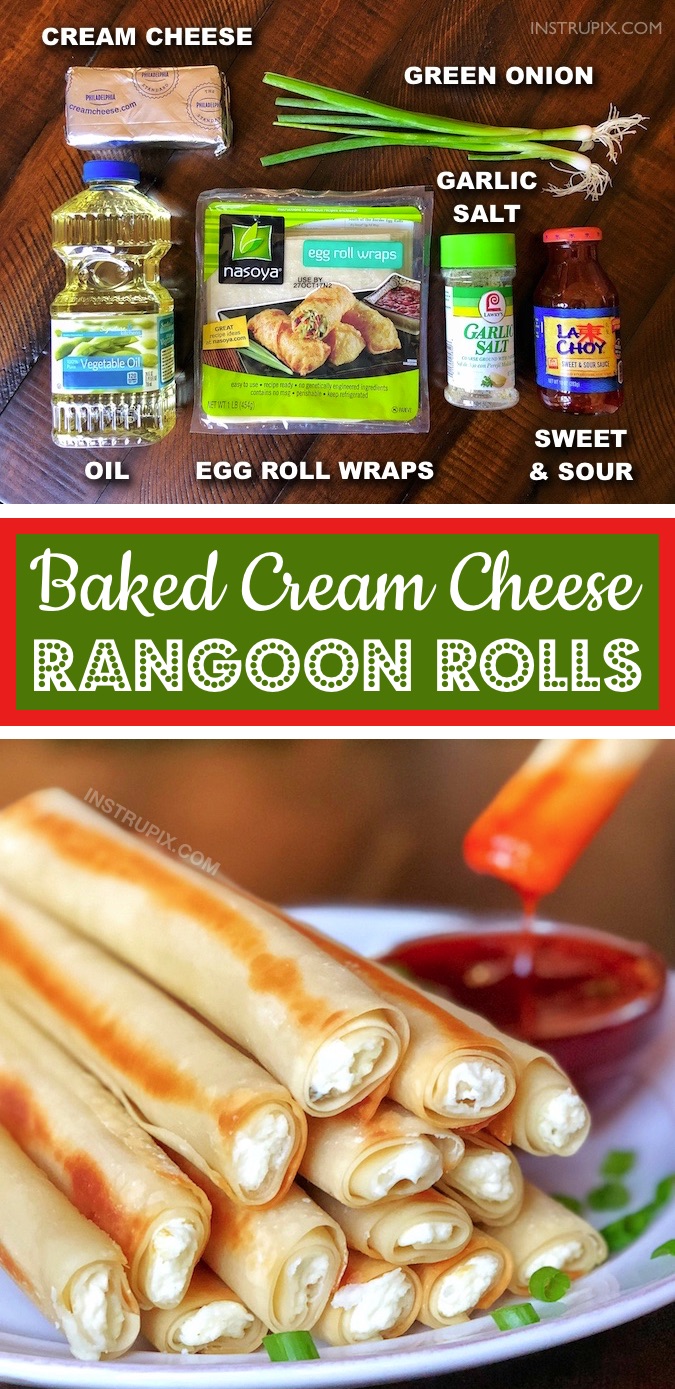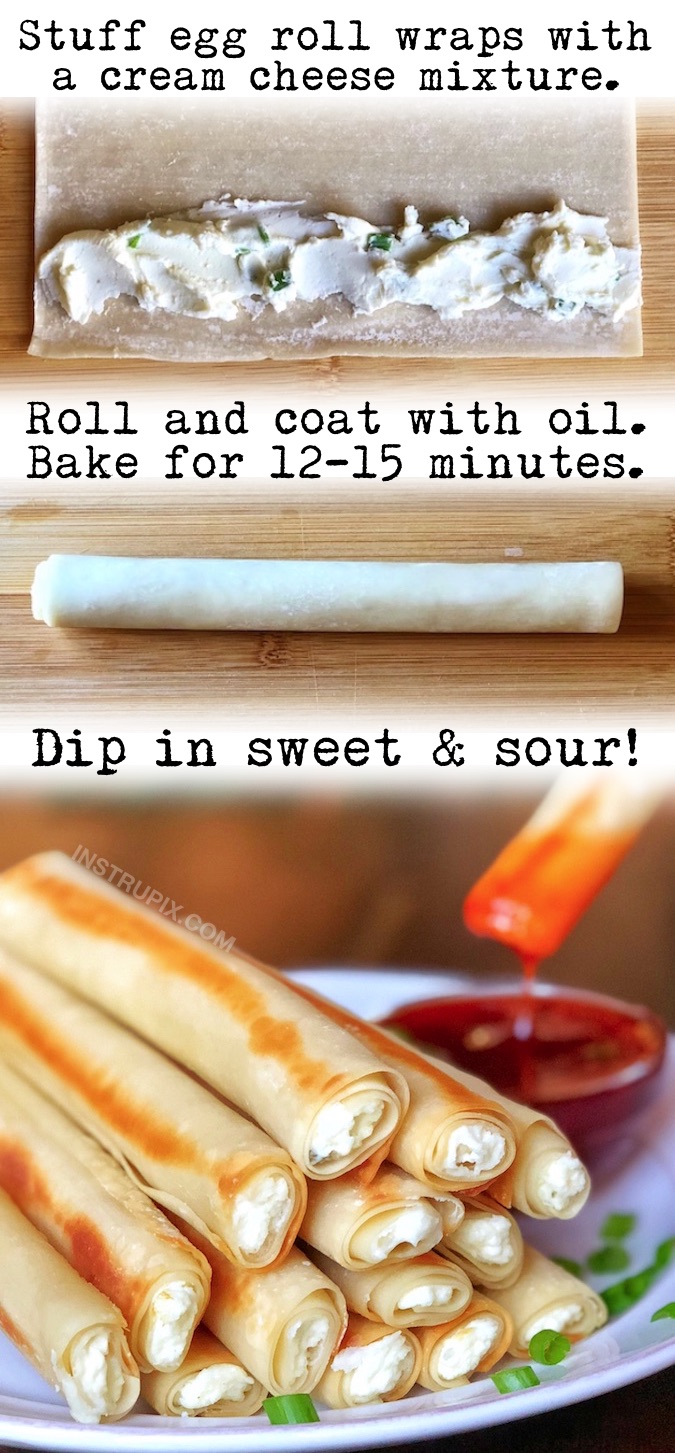 Leave a comment...