Disclosure: Some of the links below are affiliate links which means I may earn a commission if you click through and make a purchase.
Whether you're young with acne prone skin or getting older and starting to notice wrinkles and large pores, you may discover that aspirin is just what your skin is craving.
This aspirin mask has been around for quite some time, and it's still one of the easiest, most affordable and effective ways to fight many skin conditions, including acne, blackheads, large pores, scars, redness and even wrinkles.
Helps combat acne, blackheads, large pores, scars, redness and wrinkles…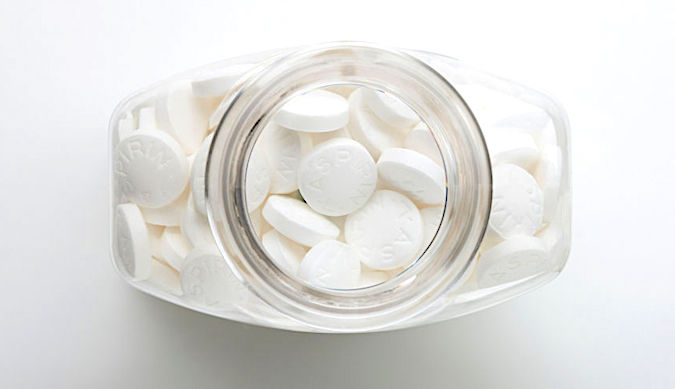 The Science Behind Aspirin & Why You Should Use It On Your Skin
Aspirin contains salicylic acid (a common ingredient in many acne products) which helps clean out your pores, fight acne and blackheads, reduce swelling and redness as well as exfoliate, tighten and smooth out wrinkles.
In short, aspirin not only helps with acne and blackhead prone skin, it also has anti-aging properties, so it's ideal for most skin types.
How To Use It
Crush 8-10 uncoated aspirin tablets in a small bowl and then mix in about a tsp of filtered water (just enough to make a paste). Use your fingers to apply it to your face (or anywhere prone to breakouts) and gently scrub it into your skin, paying special attention to problem areas. Leave it on for about 15 minutes, and then wash off. Repeat up to twice a week.
Aspirin Mask Tips & Additions
To help minimize pores, replace the water with apple cider vinegar (do not scrub if you're using ACV because it's very harsh).
Replace the water with olive oil, rosehip oil or jojoba oil for dry or irritated skin.
To make the mask thicker with extra healing properties, add a tsp of organic honey to the mix.
***Some people are allergic to aspirin, so do a spot test on your wrist before applying it all over your face***
You might also like this super easy and effective detox mask for acne & much more! It pulls your skin super tight leaving it softer than ever.
Leave a comment...