These little cheesy puffs of heaven are my new favorite on-the-go snack!
Easy Keto Sausage Balls Recipe
I'm a little new to this low-carb thing, but in the short time that I've been trying to cut out sugar, I've realized how hard it is to have quick and easy snacks available. String cheese, nuts, and boiled eggs have started to get old and boring, so it's definitely nice to have a few exciting on-the-go recipes that can last an entire week.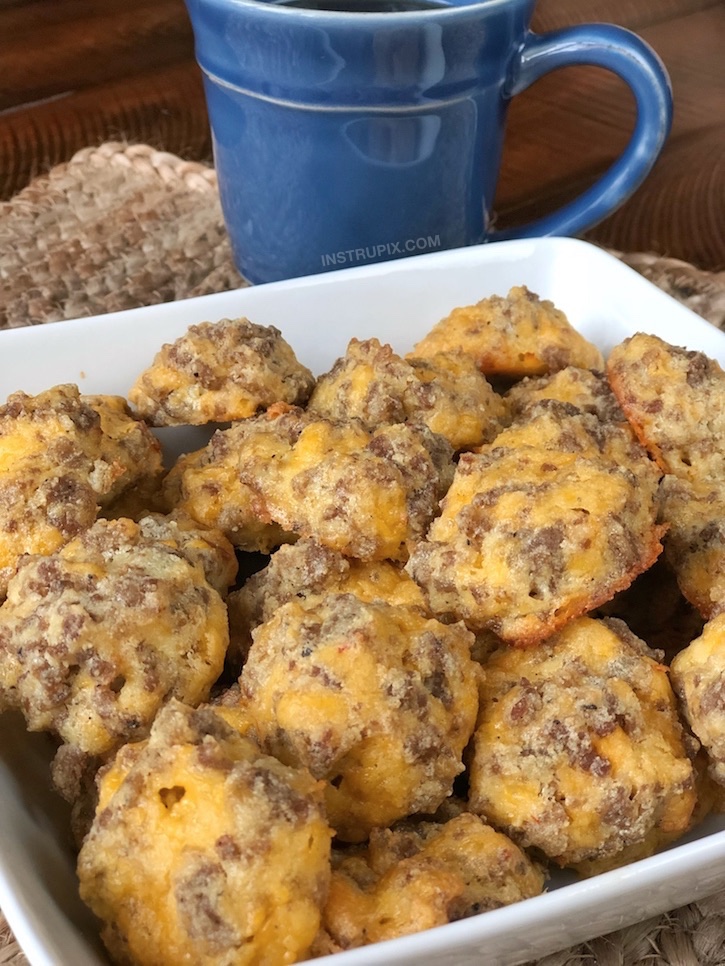 These cheesy sausage puffs are my favorite low carb snack recipe. They are absolutely delicious! I'm talking, little balls of heaven. They're also pretty quick and easy which is a huge bonus in my book. With the exception of the sausage, I usually have all of the ingredients on hand.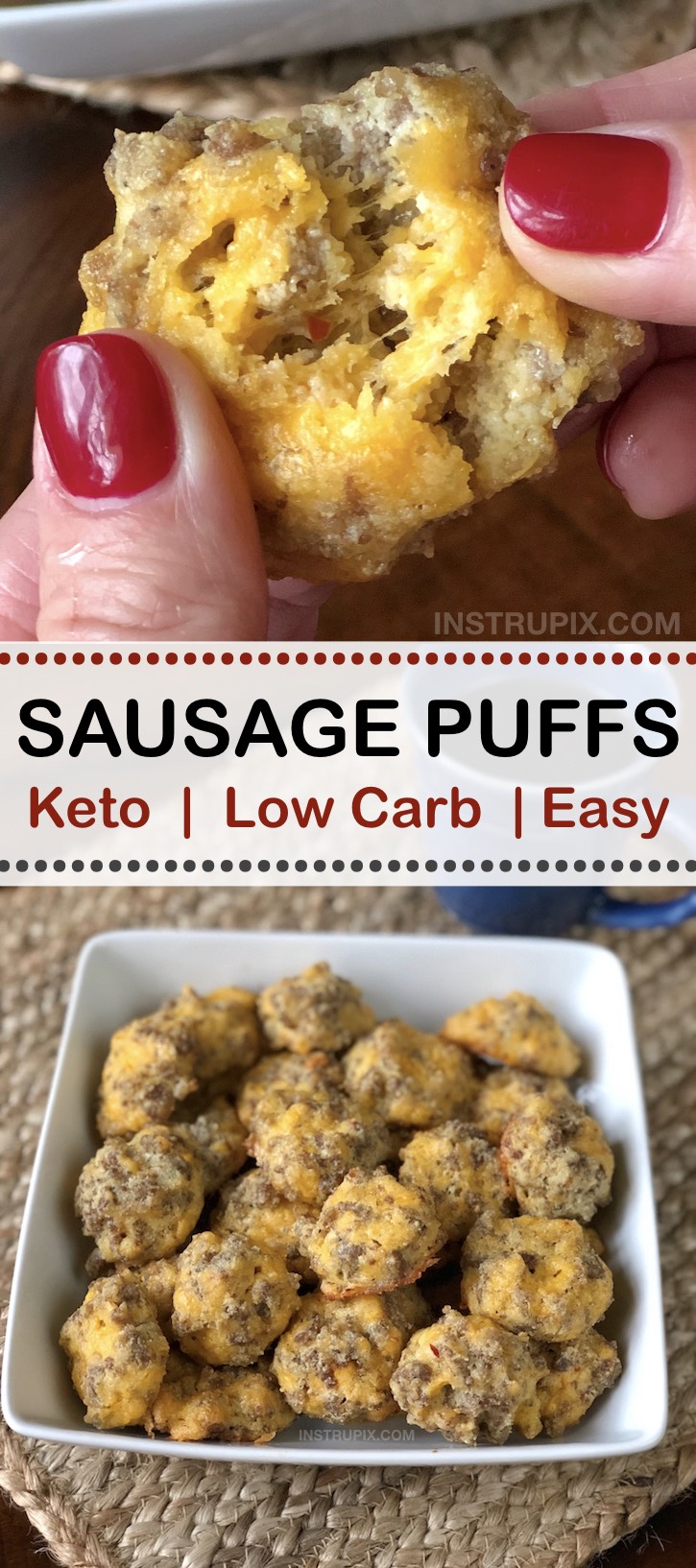 These sausage puffs are incredibly hearty, so you only need 2 or 3 to satisfy your tummy. They're absolutely delicious for breakfast and snacking.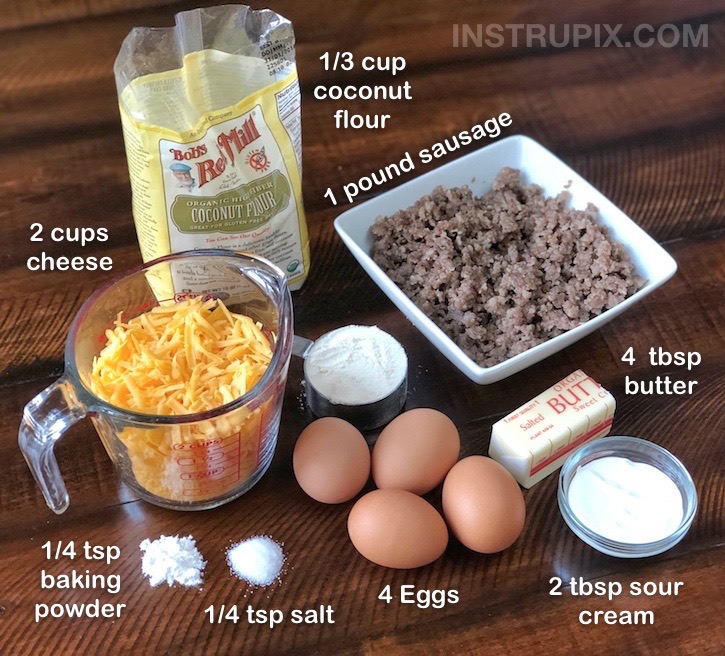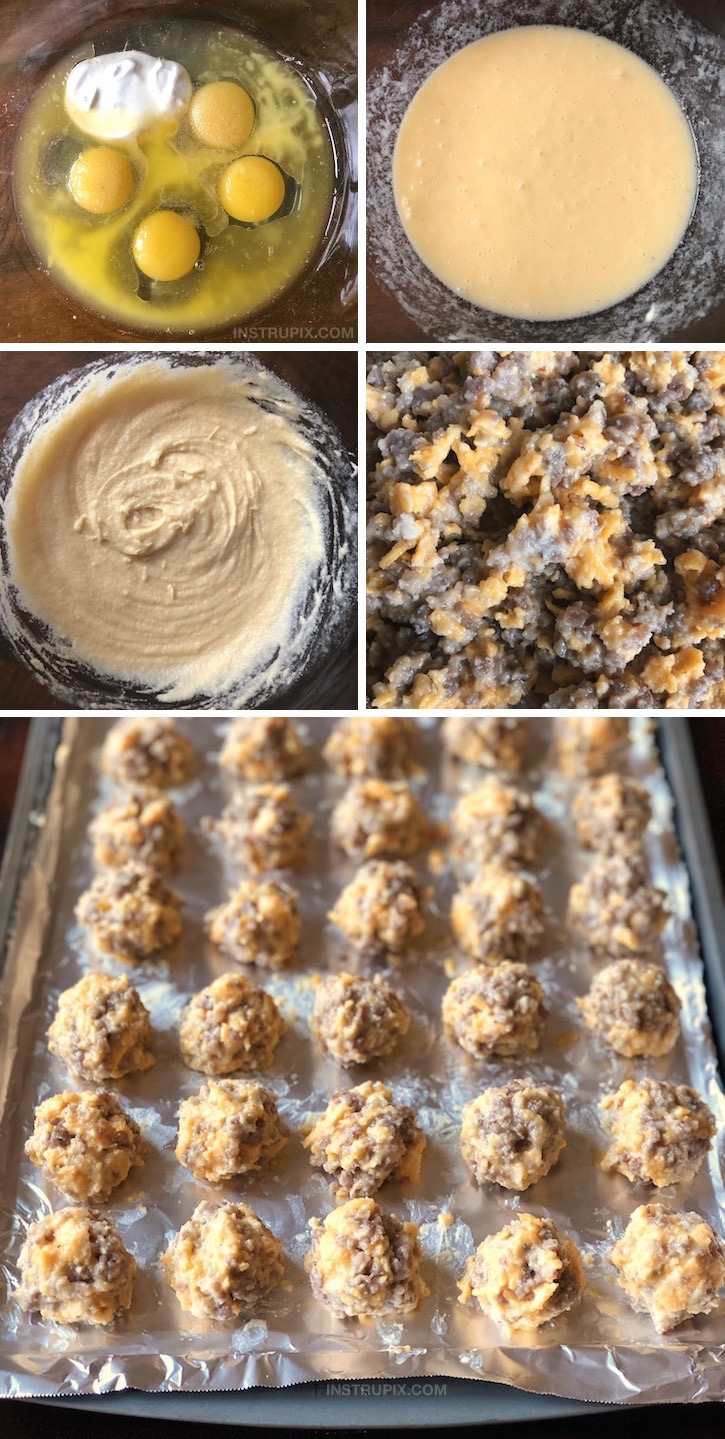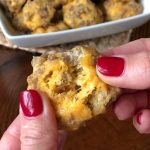 Cheesy Sausage Puffs (The BEST Low Carb Keto Snack)
This quick and easy low carb keto recipe is delicious for breakfast or snacking throughout the day, and perfect for on the go!
Ingredients
1

pound

Jimmy Dean Sausage

(I like the hot variety)

2

cups

freshly shredded cheddar cheese

4

eggs

4.5

tbsp

butter, melted

2

tbsp

sour cream (or softened cream cheese)

1/3

cup

coconut flour

(heaping)

1/4

tsp

baking powder

1/4

tsp

salt

1/4

tsp

garlic powder

(optional, but I love garlic!)
Instructions
Melt the butter and set it aside to cool.

Meanwhile, preheat the oven to 375 degrees and line a large baking sheet with non-stick foil or parchment paper.

Brown the sausage, chopping it into small chunks. Pat it dry with a paper towel to remove excess grease; set aside.

In a medium to large size bowl, combine the melted butter, eggs, sour cream, salt and garlic. Whisk together.

Add the coconut flour (slightly more than 1/3 cup) and baking powder to the mixture and whisk until well combined.

Stir in the browned sausage and cheese.

Roll or drop batter into 1 inch balls onto your lined baking sheet. I make 35 and they fit perfectly (5 rows of 7). They only need to be about 1/2 inch apart.

Bake for 14-18 minutes or until slightly browned. Enjoy immediately, and store any leftovers in the fridge for up to a week.
Recipe Notes
Although a little drier, 1/2 cup of coconut flour will give you more of a bread-like texture which is kind of nice when you haven't had bread in ages! The 1/3 cup that the recipe calls for makes them super moist and hearty. It's really just a personal preference.
I've had a lot of questions about using almond flour in place of the coconut flour. Out of my own curiosity, I tested the recipe a few times with almond flour, and have determined that 1 1/4 cup of almond flour gives them a good consistency (I was also able to add a little more cheese with the almond flour).
I've noticed that a few of the reviewers have had problems with the sausage balls flattening out and not keeping their shape. My only guess for this is the type of cheese that is being used. I always freshly grate my cheese. If you buy the packaged pre-shredded cheese it may be a lot denser with less air (plus other additives). You may need to use less cheese if this is the case.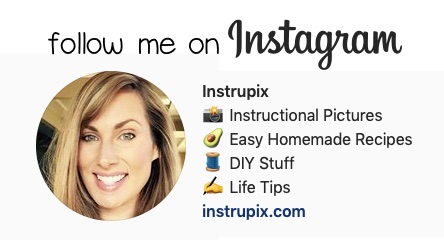 Don't forget to pin and save for later! 🙂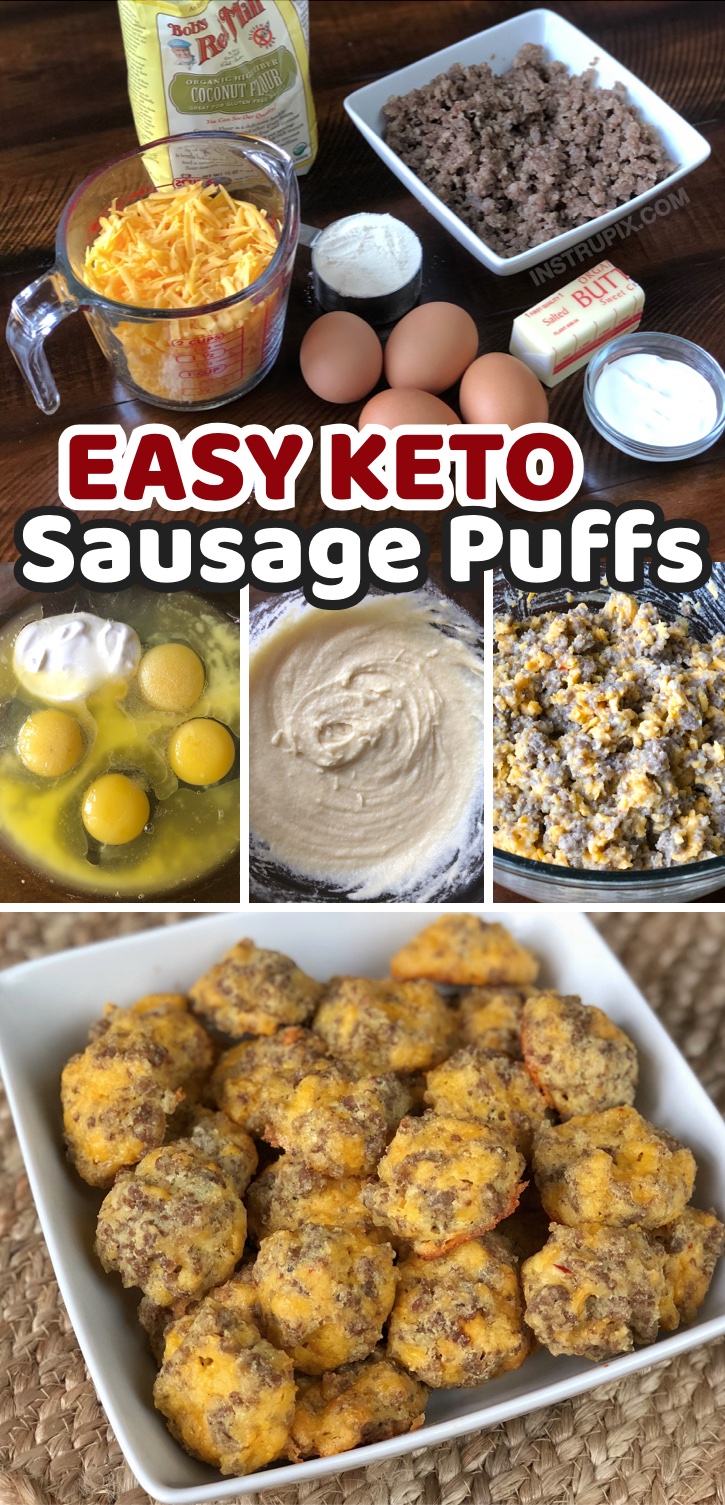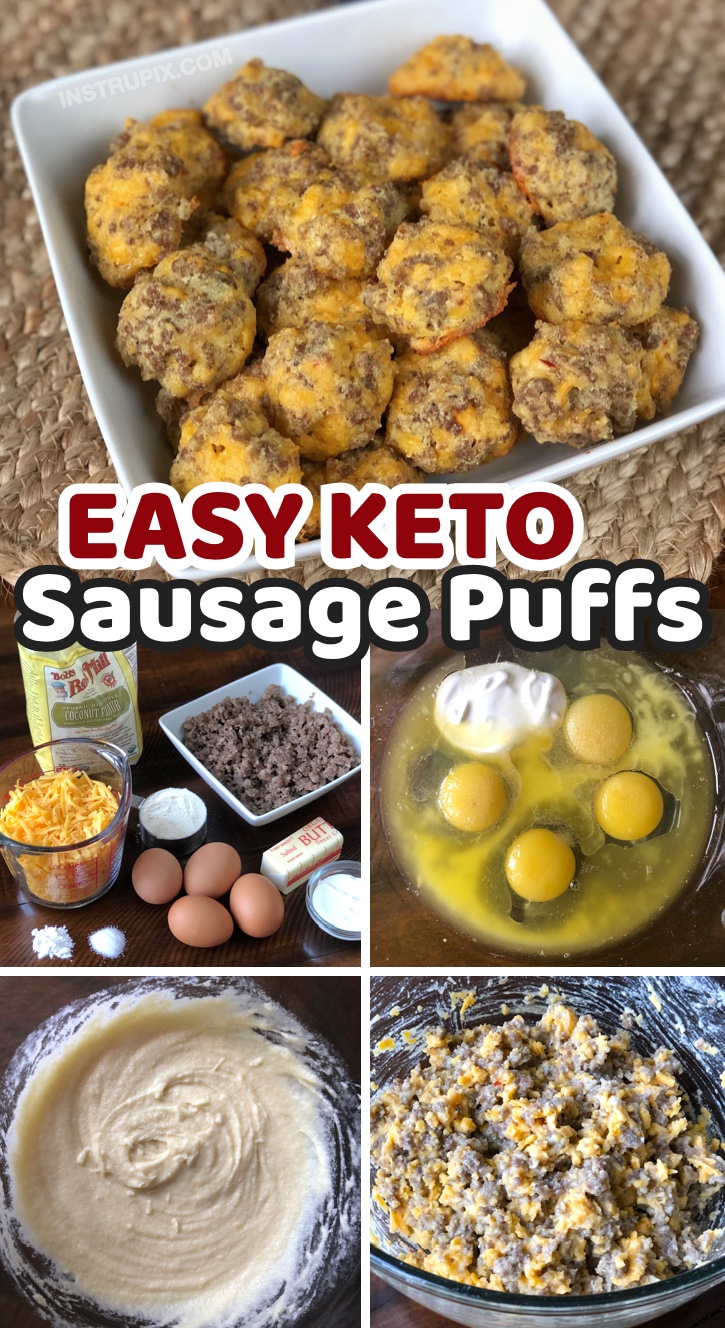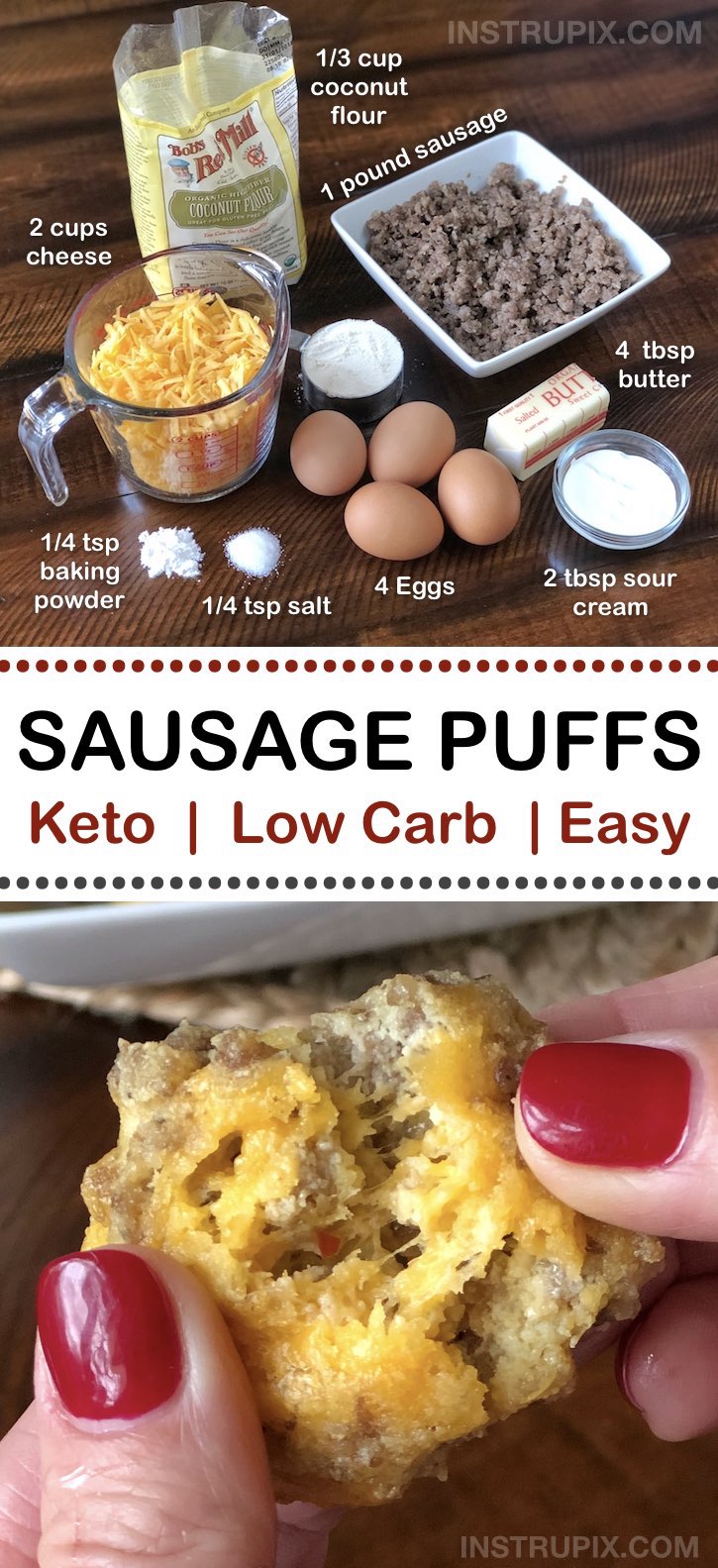 Leave a comment...